Travel Trends of Summer 2023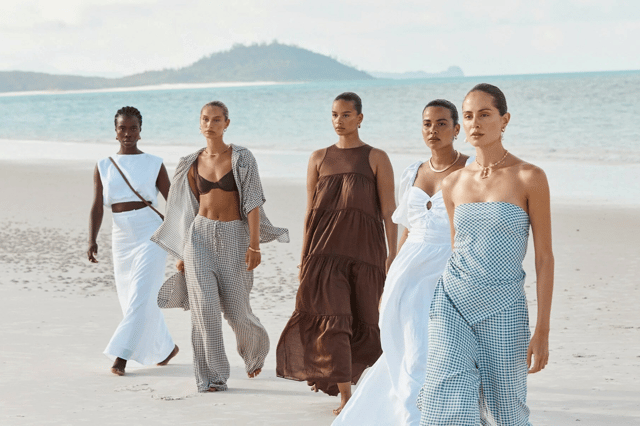 Travel season is upon us as consumers are itching to get out of the house and experience new places this summer. Discover updates in vacation-wear below as escapism makes its mark on travel attire.
---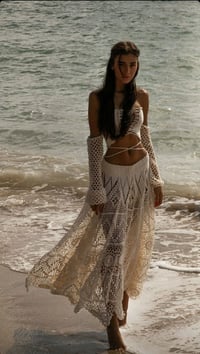 WOMENS
This summer, women are living out their escapism fantasies as they are seeking out adventure and paradise by traveling to tropical places with a softer way of life. Beach-to-bar attire is the theme for this year's vacation season with a bit of flare from Mermaidcore elements, such as crochet, seashells and metallic shine.
Must-Pack Apparel
Women are in search of easy to wear, stylish options for this travel season. We are seeing a theme of relaxed bohemian styles take over womenswear as the bohemian kimono (+290% to LY), crochet dress (+25% to LY), linen dress (+18% to LY), crochet cropped sweater (+454% to LY) and the sheer maxi skirt (+177% to LY) are top picks. Pop culture influences like the TV show White Lotus have greatly impacted the desire for chic (and slightly over-the-top) attire that can be worn on the beach or to a nice dinner.
Swim Staples
Beachwear is a necessity this summer as consumers are craving sunshine and ocean waves. The strapless bikini (+22% to LY) and metallic bikini (+96% to LY) are fan-favorites this season, further driving the Mermaidcore aesthetic. Ditching basic cover-ups, opt for a sarong set (+245% to LY) from brands like Asos and Urban Outfitters for an affordable packing list.
Vacay Footwear Updates
This season, staple footwear updates are giving basic shoes a trendy twist. The classic kitten heel flip flop (+600% to LY) is a safe bet trend for the summer while crochet slides (+258% to LY) and shell sandals (+59% to LY) are growing in popularity--perfect for any coastal look.
Accessories
Vacation accessories are simple this year, drawing inspiration from natural elements, organic shapes and earthy tones. Seashell earrings (+424% to LY) and the cowrie shell necklace (+153% to LY) are top trends along with molten jewelry. The crochet tote (+28% to LY) is a seasonal staple, easy to wear beach-to-bar and can hold all of your travel necessities.
---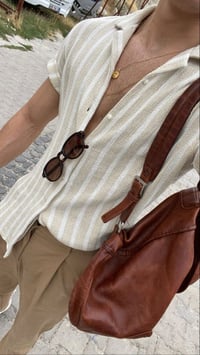 MENS
Men's fashion is taking a chic, retro turn as lightweight knits, luxe linen and vintage design details reign supreme in the market this season. Men are in search of travel attire that is comfortable but stylish, leaning into the soft luxury aesthetic that can be worn lounging on a beach chair or at the bar.
Must-Pack Apparel
Men are in search of lightweight fabrics this season, opting for the mens knitted shirt (+95% to LY) and mens linen pants (+29% to LY) for their breathability in warmer weather. Mens baggy shorts (+88% to LY) and mens pleated shorts (+223% to LY) are this summer's go-to bottoms paired with a wrinkle free shirt (+60% to LY)––the perfect travel top ––for an easy and classic look.
Swim Staples
Beachside vacays are anyone's go-to, and consumers are wanting trendy but sun-safe items to wear at the beach. Mens floral swim trunks (+53% to LY) are a fan-favorite this season with Chubbies as a popular brand. Mens beach pants (+29% to LY) are an emerging trend as they are new to market and can be paired with a UV shirt (+13% to LY) for more sun protection.
Vacay Footwear Updates
Comfort is king in the men's footwear market especially when it comes to travel. Mens Birkenstocks (+42% to LY) are a safe bet trend as their cork sole and durability is unmatched. Consumers are also packing mens strap sandals (+27% to LY) in their suitcases as well as tassel loafers (+14% to LY) for dressier occasions.
Accessories
A nice pair of shades are the go-to accessory in menswear as it adds an extra dose of style and attitude to any look. Futuristic sunglasses (+97% to LY) are growing in searches as luxury brands like Balenciaga and Loewe are hopping on this trend. Pilot sunglasses (+37% to LY) are a top choice, too, as this classic accessory has garnered much attention after the release of the latest Top Gun movie. Also, large tote bags (+24% to LY) are having a moment in both women's and men's markets as this bag is the perfect option for travel.
---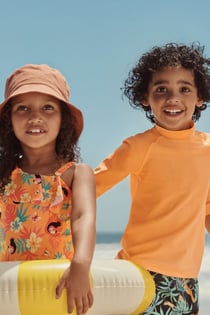 KIDS
For kids, traveling is a fun experience that requires apparel and accessories that are just as exciting. Consumers are selecting childrenswear products with tropical prints and Mermaidcore vibes for the summer, similar to what's trending in adult markets.
Must-Pack Apparel
We are seeing trend-driven updates in childrenswear that reflect the likes of parents. In girls, crochet and linen are ruling the market as the girls crochet top (+155% to LY), crochet shorts (+18% to LY) and girls linen dress (+50% to LY) continue to grow in consumer searches. Seashell prints (+28% to LY) and mermaid graphics (+55% to LY) are key, especially as the live action The Little Mermaid is set to release this year. Boys clothing is cute and comfy this season with seersucker shorts (+10% to LY) and boys striped shirts (+46% to LY) ruling the market, alongside the palm tree shirt (+39% to LY) and boys denim shorts (+4% to LY).
Swim Staples
Having fun in the sun is arguably the best part of vacation and requires play-friendly swimwear. Consumers are reaching for orange swim trunks (+19% to LY), tropical bikinis (+29% to LY) and UV swim shirts (+45% to LY) this season with Coral Reef Swim and Land's End as popular retailers.
Vacay Footwear Updates
Children's footwear is an exciting sector of the market as designers play with color and design; however, this travel season kids are sticking to the basics packing shoes like the girls leather sandal (+23% to LY) and boys slides (+29% to LY). An extreme search volume trend, Crocs (+33% to LY) are a top pick for all ages and perfect for a beach vacation due to their comfort and water resistance.
Accessories
As for accessories, girls beach hats (+39% to LY) and girls round sunglasses (+70% to LY) are having a moment this travel season not only for sun protection but to add a bit of flare, too. Kids are packing their suitcases with the essentials including easy to pack pool games (+12% to LY) to have fun with the whole fam.
---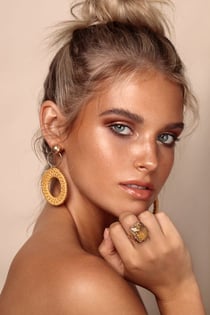 BEAUTY
This travel season, beauty is focused on travel-friendly products as well as looks inspired by the Mermaidcore aesthetic that bring attention to natural features. Consumers are opting for heatless hair, glowy makeup and glossy nails for their vacations.
Makeup-On-The-Go
Consumers are reaching for their multi-use, easy application items when packing their makeup bags. The blush stick (+117% to LY), contour stick (+67% to LY), highlighter stick (+56% to LY) and stick concealer (+24% to LY) are all experiencing exponential growth. SPF tinted moisturizer (+43% to LY) is a necessity along with bronze makeup (+27% to LY), glossy eyelids (+143% to LY) and a glass lip (+67% to LY).
Silky Skin
Glowy skin (+42% to LY) is the vibe this summer for the face and body as shimmering body oil (+45% to LY) and bronzing drops (+4,947% to LY) are fan-favorites and TikTok trending. To protect from the sun, scalp sunscreen (+35% to LY) and SPF sticks (+67% to LY) are top picks that consumers are packing in their beach bags.
Vacation Hair
Consumers are ditching their straightener and curling iron, and simply packing hair ties and claw clips for heatless hair styles. Easy up-dos (+159% to LY) are a top trend while braids are becoming more and more of a prominent trend due to the Mermaidcore aesthetic. Boho braids (+91% to LY) and bubble braids (+70% to LY) are safe bet hair styles, especially beachside, this summer.
Nail Trends
Whether going to the salon or using glue on nails, consumers are looking for a glossy, pearlescent manicure that will look good by the ocean. Pearl nails (+18% to LY), lip gloss nails (+399% to LY) and metallic nails (+48% to LY) are go-to styles this season.
---