July 2022 Top Trends
From preppy styles to 90's kids classics, these are the July 2022 top trends that are expected to impact the womenswear, menswear, kids, and beauty markets for months to come.
Women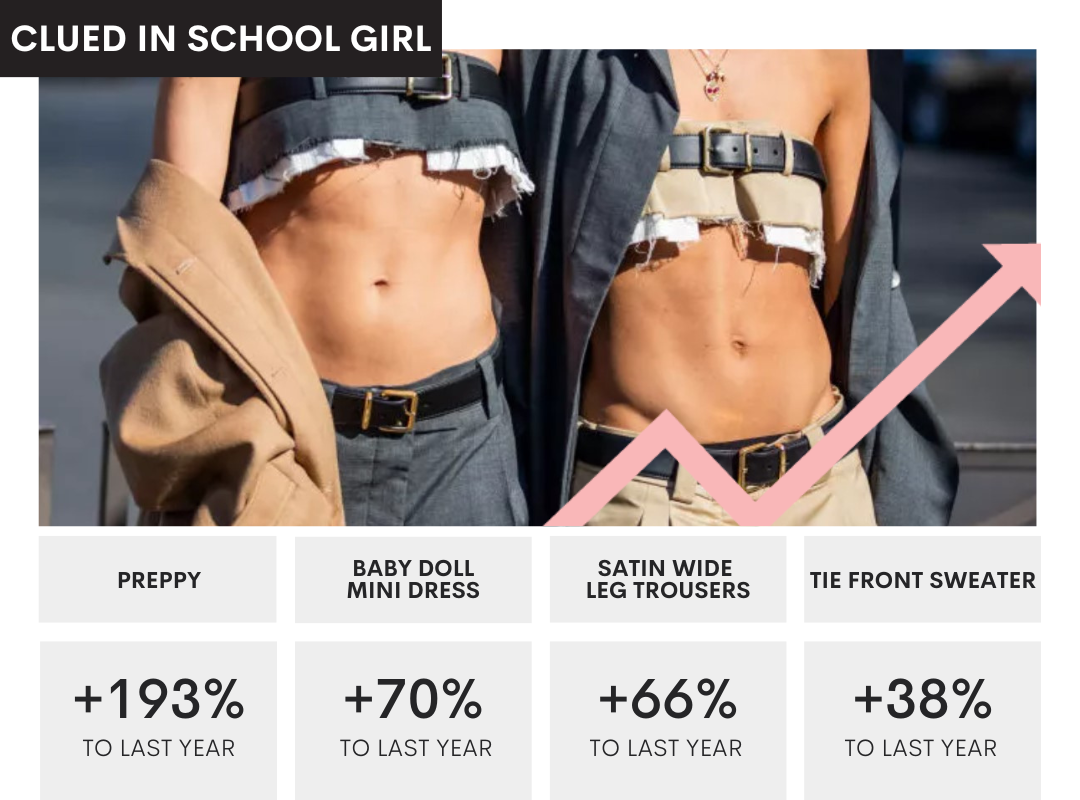 One key take away from Couture Week's streetstyle and runway was the grungy school girl aesthetic. Brands like Miu Miu and Marc Jacobs have been key players in translating this trend from the runway to red carpet. Often characterized with preppy (+193% to LY) inspired staples like tie front sweaters (+38% to LY), satin wide leg trousers (+66% to LY) and babydoll mini dresses (+70 to LY), this look has continued to be a favorite among Gen Zers.
Men
The fashion industry is at the center of questioning systematic gender roles. Harry Styles and Machine Gun Kelly are iconic for challenging masculinity by wearing expected feminine styles. Men's lace shirts (+139% to LY) and men's sheer shirts (61% to LY) are safe bets, as are pink trousers (+68% to LY) and men's layered necklaces (+180% to LY). Men's short shorts (+14% to LY) are a daring emerging trend, speaking to men embracing a sexy skinification typically championed in womenswear.
Beauty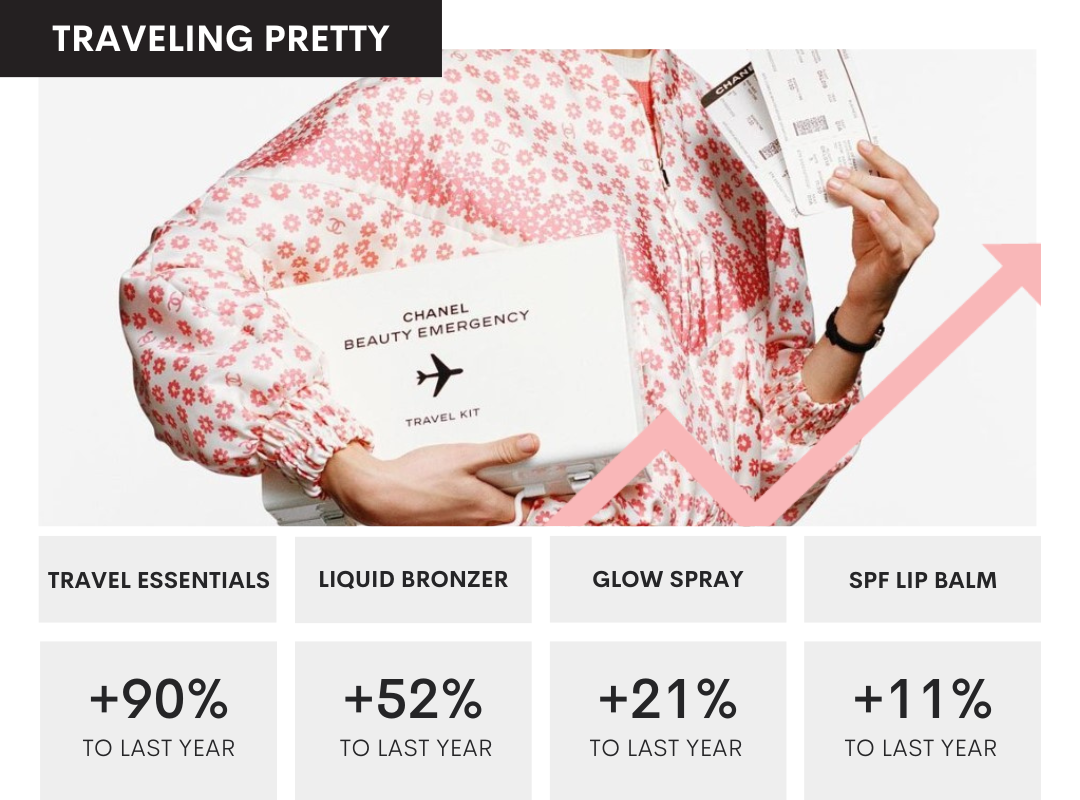 The beauty industry is seizing the travel moment, leaning into products that not only bring a sun-kissed glow but deliver a much-needed edit in your travel beauty routine. Products like liquid bronzer (+52% to LY), SPF lip balm (+11% to LY) and glow spray (+21% to LY) are essential for a day at the beach. Travel essentials (+90% to LY) and easy beauty(+10% to LY) are consumer favorites as they pack key, easy to use beauty necessities.
Kids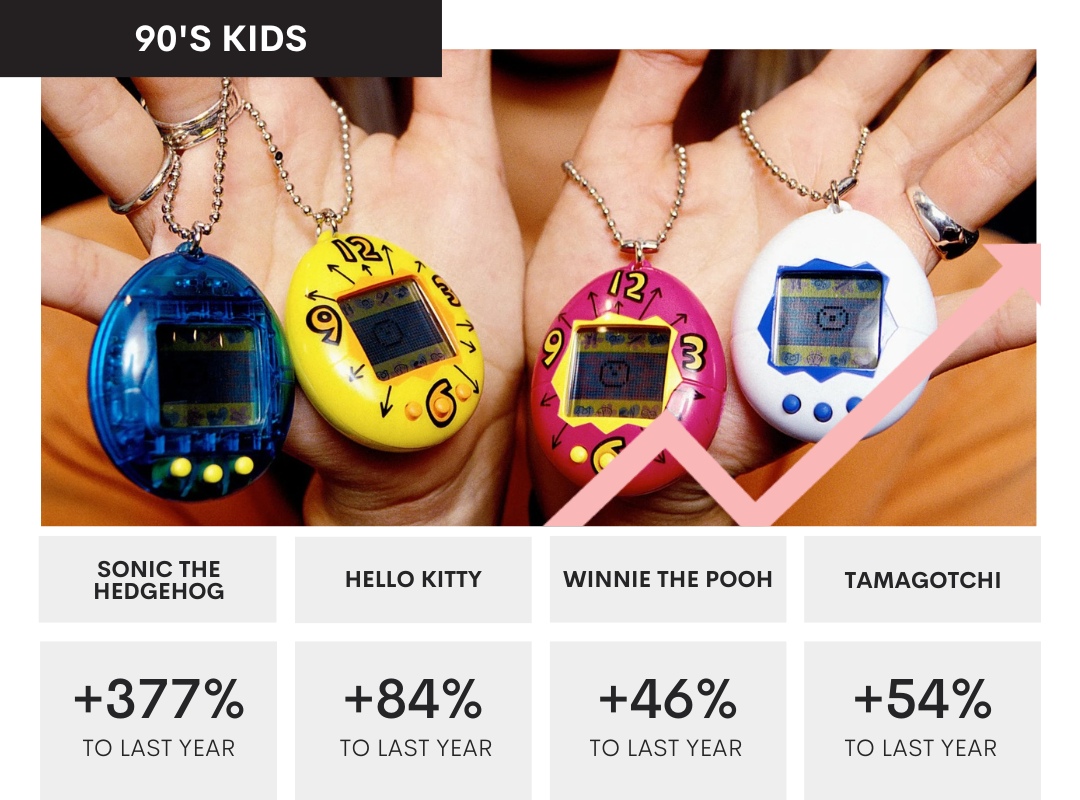 As Millennials enter into parenthood, classic kids' icons are being introduced to a new generation. The Tamagotchi (+54% to LY)–a trend with extreme search volume–recently made an appearance in the new Disney film "Turning Red". Harking back to more classic characters, Hello Kitty (+84% to LY) and Winnie the Pooh (+46% to LY) are making a resurgence, and the sequel to "Sonic the Hedgehog" continues to push Sonic the Hedgehog (+377% to LY) to the forefront within licensed characters.
---
To learn more about trends that are growing — and dying, please contact hello@trendalytics.co.