January 2022 Top Trends
From statement-making dresses to normcore sweaters, these are the January 2022 top trends that are expected to impact the womenswear, menswear, kids, and beauty markets for months to come.
Women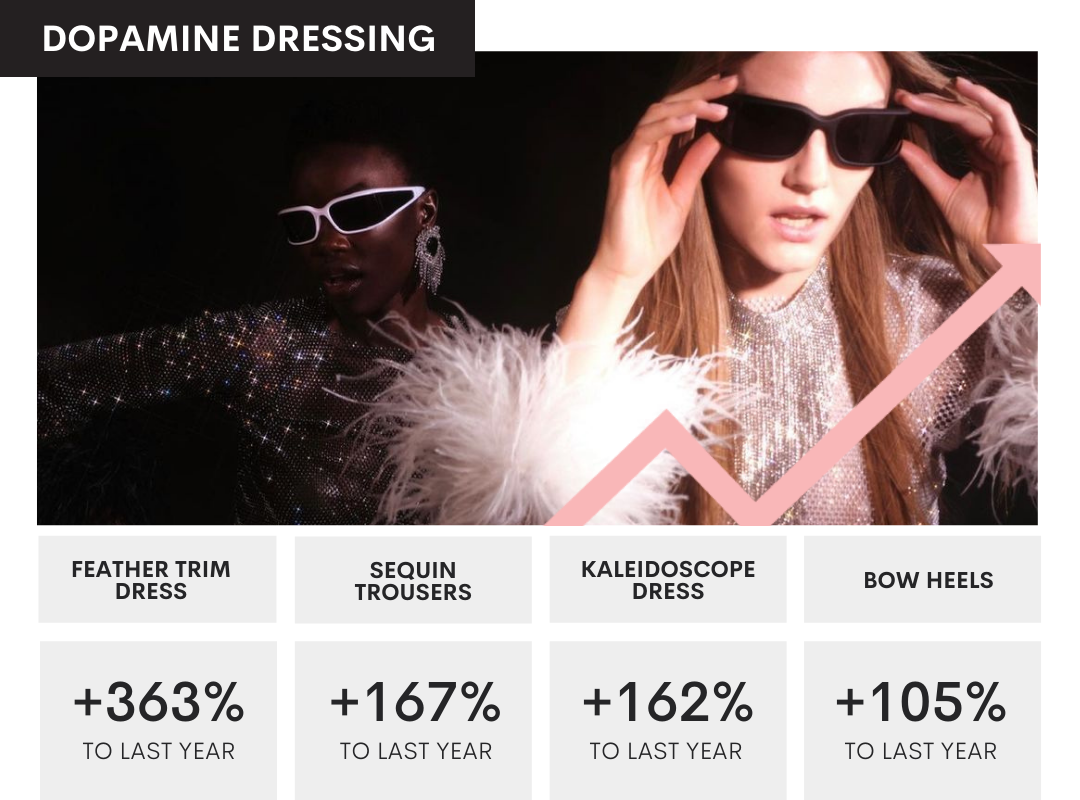 With social gatherings few and far between, it's important to make the most of them. Women are rediscovering the joy of dressing with bold patterns and statement-making styles. Emerging trends to watch, feather trim dresses (+363% to LY), sequin trousers (+167% to LY), and kaleidoscope dresses (+162% to LY) are experiencing accelerated growth. A playful take on formal footwear, searches for bow heels are +105% to last year, social buzz is +73% to last year, and market adoption is +11% in the last 30 days.
Men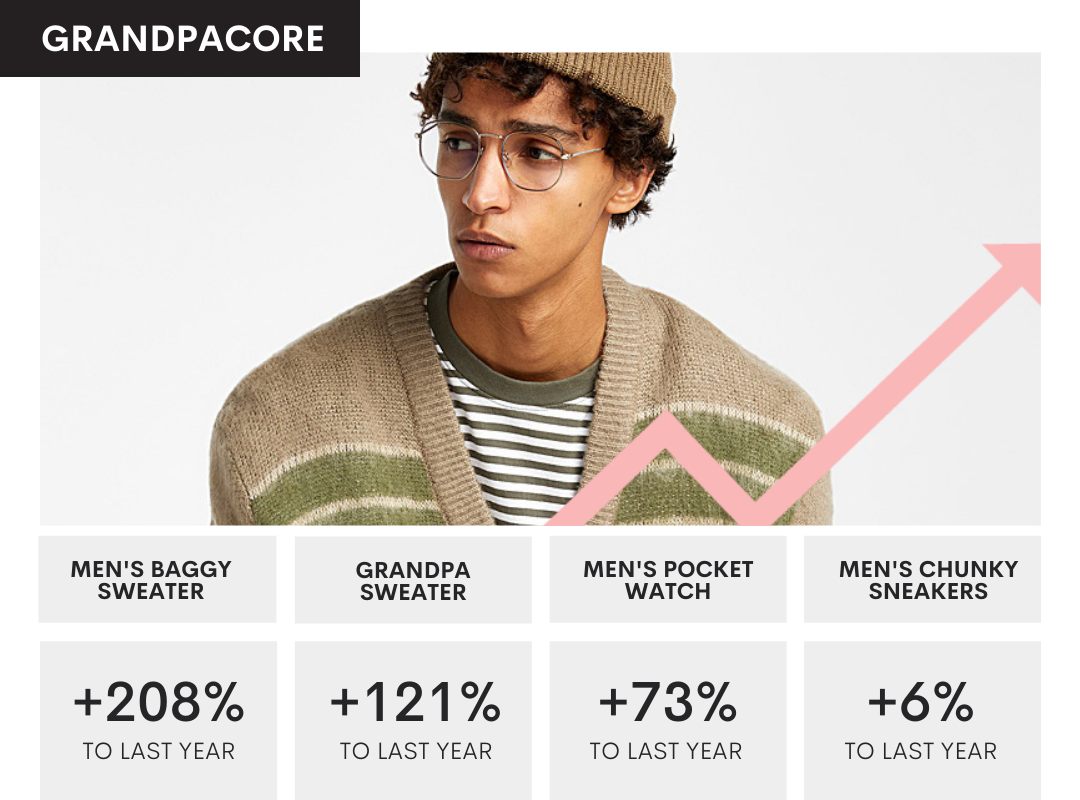 Sporting thrifted finds and other unpretentious looks, men welcome the effortless nature of normcore with open arms as they dust off grandpa's favorites. Men's baggy sweaters (+208% to LY) and men's chunky sneakers (+6% to LY) are emerging trends to watch. A safe bet, grandpa sweaters are experiencing accelerated growth–searches are +121% to last year and market adoption is +14% in the last 30 days.
Beauty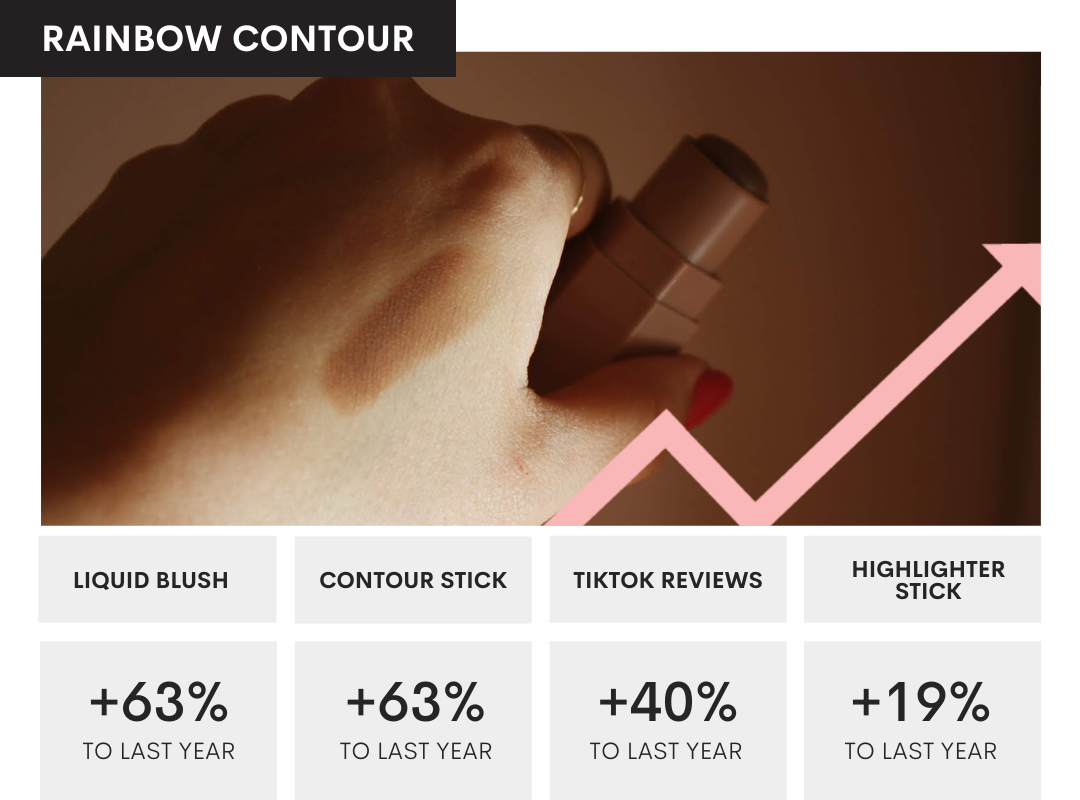 Turning to TikTok for the latest beauty looks and reviews (+40% to LY), Gen Z is popularizing easy-to-apply stick formulas and blending products. The new foundation-free 'rainbow contour' technique involves drawing stripes of cream blush, concealer, and contour across your face before blending out. Searches for contour sticks and highlighter sticks are +63% and +19% to last year, respectively. A safe bet, both searches and social buzz for liquid blush are +63% to last year.
Kids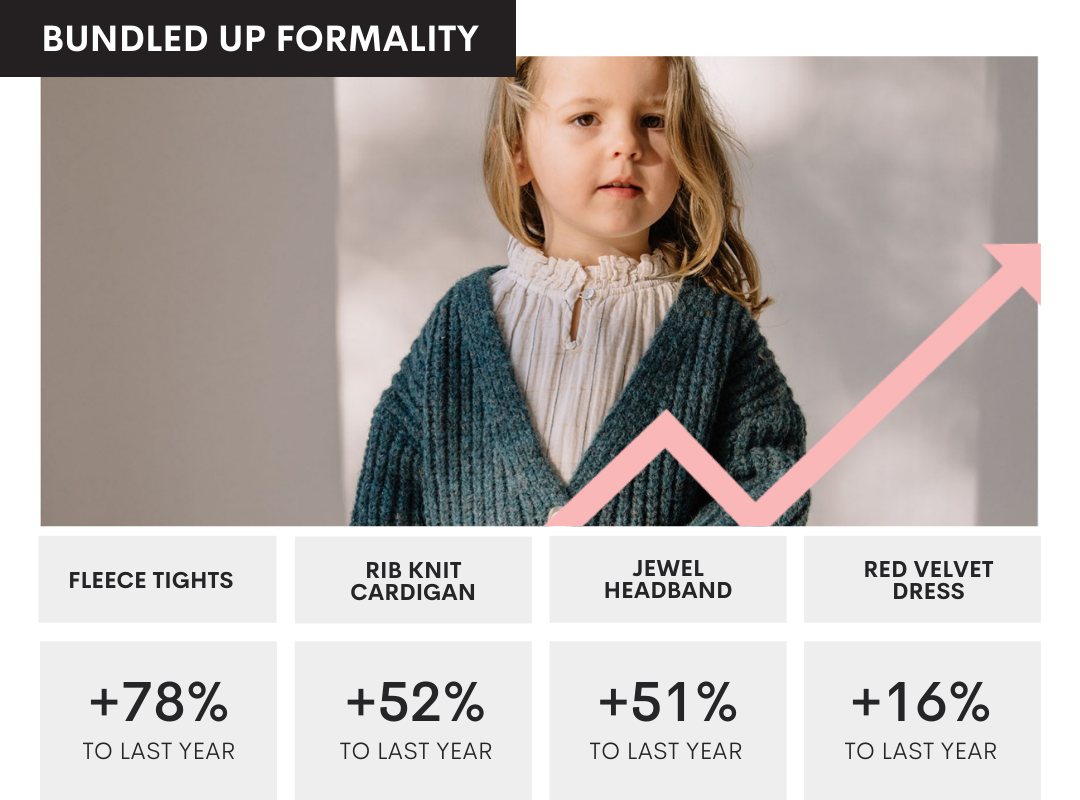 The cold weather won't stop kids from putting their best foot forward. Parents are searching for items that will keep their kids both cozy and classy. Fleece tights (+78% to LY) and rib knit cardigans (+52% to LY) are safe bets, and expected to continue growing for another year. Emerging trends, including jewel headbands (+51% to LY), red velvet dresses (+16% to LY), and sequin sweaters (+7% to LY), offer effortless elegance.
---
To learn more about trends that are growing — and dying, please contact hello@trendalytics.co.