June 2023 Top Trends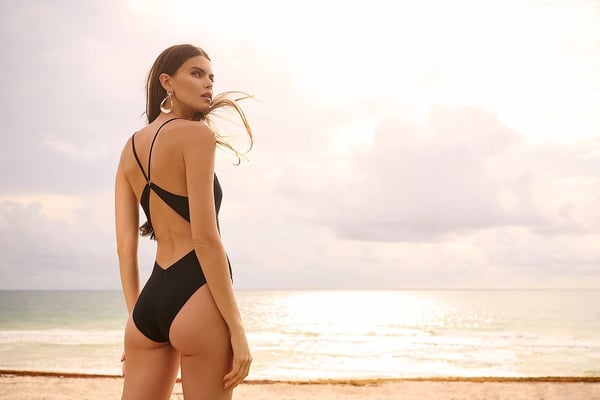 From the Coastal Cowgirl aesthetic to natural ingredients in beauty, these are the June 2023 top trends that are expected to impact the womenswear, menswear, kids, and beauty markets for months to come.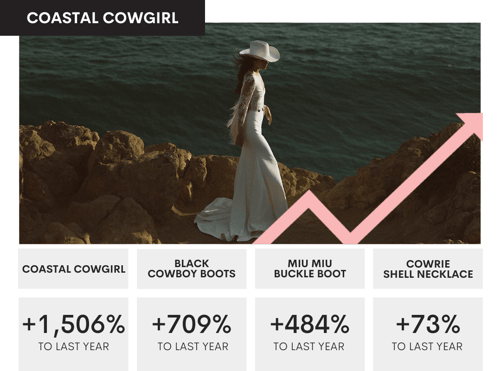 Thanks to TikTok, this summer's reigning aesthetic is Coastal Cowgirl which is up +1,506% AWS to LY. To pull off the look, there needs to be a juxtaposition between Western attire like tall black cowboy boots (+709% to LY) or the Miu Miu buckle boot (+484% to LY) with seaside trends like the cowrie shell necklace (+73% to LY).
A new season brings fresh fashion risks to the scene and mens are upping the ante in both apparel and accessories. From silk to linen, mens co-ords are on the rise, up +98% to LY. When it comes to accessories, mens wrap around sunglasses (+118% to LY) are performing as well as streetwear-approved sneakers like Reebok x Vetements (+72% to LY) and Onitsuka Tiger Corsairs (+67% to LY).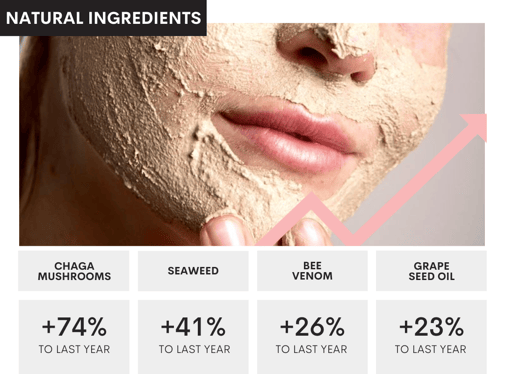 Consumers are reaching for natural ingredients when it comes to beauty products this summer. A market favorite, chaga mushrooms are up +74% to last year with 81% of products in the market at full price. Seaweed (+41% to LY) is an extreme search volume trend most saturated in luxury beauty products with +3% market adoption in the last 30 days. Grape seed oil (+23% to LY) and bee venom (+26% to LY) are emerging ingredient trends with collagen producing benefits.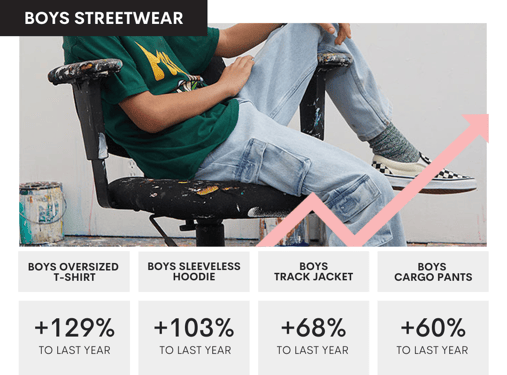 Boys apparel is seeing trendy updates this year as inspiration from the men's market is saturating childrenswear. Similar to men, the boys oversized t-shirt (+129% to LY) and boys cargo pants (+60% to LY) are it-items with moderate to low discount rates. The boys track jacket (+68% to LY) and boys sleeveless hoodie (+103% to LY) are streetwear-approved styles for the season.
---
To learn more about trends that are growing — and dying, please contact hello@trendalytics.co.