April 2023 Top Trends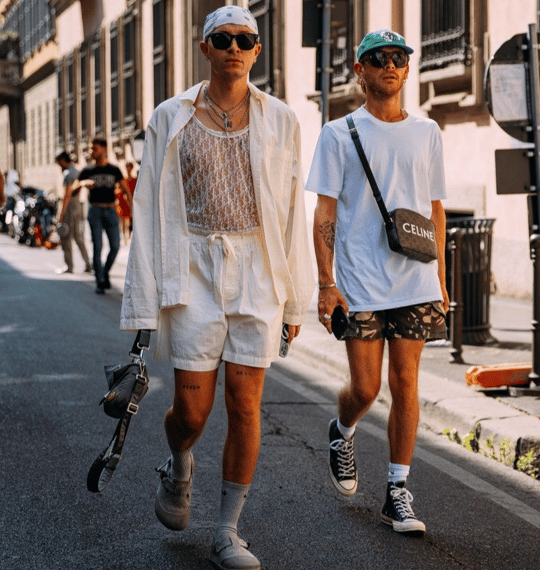 From fresh fragrances to preschool preppy, these are the April 2023 top trends that are expected to impact the womenswear, menswear, kids, and beauty markets for months to come.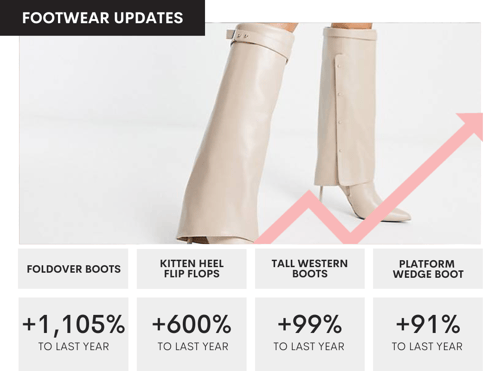 Even with warmer weather arriving, we're still talking about boots––plus, with skirts being a focal point of spring fashion, it's no surprise that the coolest styling cue is with boots. Currently, we're seeing foldover boots (+1,105% to LY), tall western boots (+99% to LY), and the platform wedge boot (+91% to LY) rise while kitten heel flip flops (+600% to LY) are the first spark of a new season.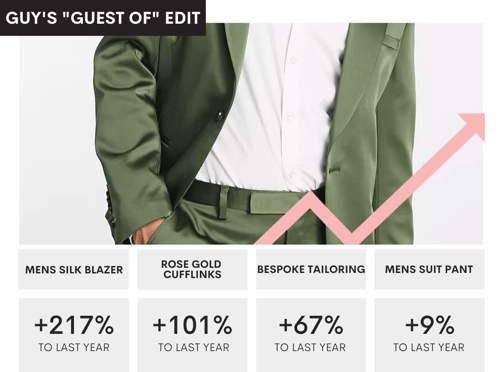 The boys are making a case for the best dressed during wedding season this year as trend-forward yet elevated items like mens silk blazer (+217% to LY), rose gold cufflinks (101% to LY), mens suit pants (9% to LY), and bespoke tailoring (+67% to LY) are trending for consumers.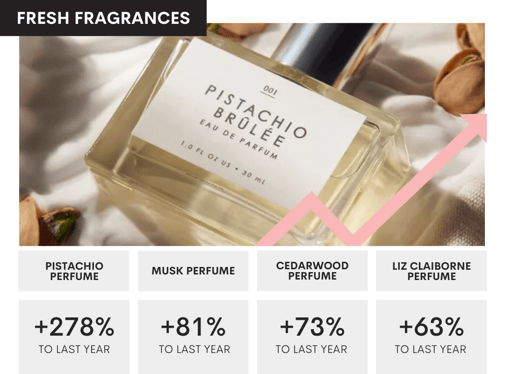 Fresh smelling fragrances are top picks for the warmer seasons including scents like pistachio perfume (+278% to LY), cedarwood perfume (+73% to LY) and musk perfume (+81% to LY), with pistachio, especially, garnering much buzz on TikTok. Interestingly enough, Liz Claiborne perfume (+63% to LY) and body mists are a fan favorite right now––talk about a throwback.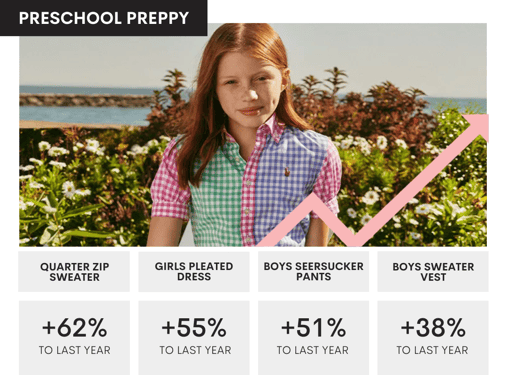 Retro prep is taking over adult markets and this is being reflected in childrenswear, too. Boys seersucker pants are a summer favorite with searches +51% to last year. The boys sweater vest (+38% to LY) and quarter zip sweater (+62% to LY) are preppy classics. The girls pleated dress (+55% to LY) is experiencing accelerated growth, expected to grow for months to come.
---
To learn more about trends that are growing — and dying, please contact hello@trendalytics.co.