Just the Data: Prom Season Trends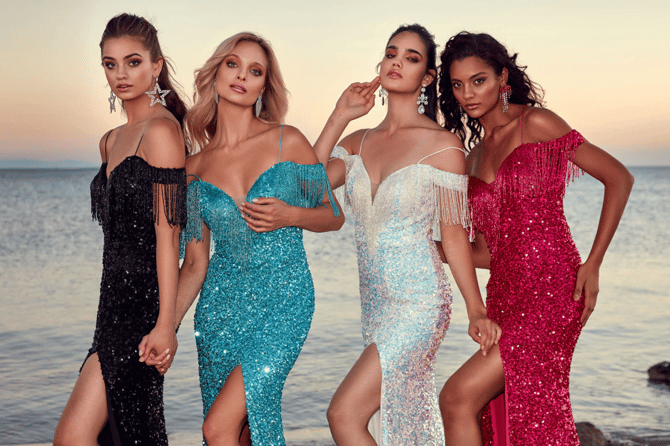 Get ready to dance the night away! Here are some need-to-know looks that will be sure to make a statement on Prom night.
Looking through a Gen-Z lens, ruffles are proving to be a key player within this youthful aesthetic. Ruffle dresses are a high search volume trend (+11% to LY) as this playful detail is a fan favorite in a variety of market options for the Spring/Summer season while notably trickling into Prom looks, too. Retailers like Farfetch, Nordstrom and Macy's are playing into this trend with over 1000+ products offered in their assortments.
Fabrics like tulle and lace continue to be top fabrications when it comes to prom dresses, including details like sequins, ruching, and embellishments that add a bit of flare to the look. Interesting to note, floral print is a top pick with 117 products in the market, ahead of solids at 76.
While the traditional black dress is always a classic option, brighter colors are seeing growth this year with reds, blues and pinks saturating the market this Prom season. Shades like turquoise (142k searches) and hot pink (+13% to LY) are the stars of assortments, and neon prom dresses (+22% to LY) are having a moment as well.
An extreme search volume trend, sequin dresses are +13% to last year with 71k average weekly searches. This shimmery detail is one way to turn heads, and this trend is proving popular with over 785 products in the market that are calling out sequins/shine within the prom dress assortment.
For those interested in a more simple and classic style dress, leaning into accessories can help add depth to any look. Chunky earrings are seeing growth with searches up +24% to last year, proving to be a great statement jewelry piece. Arm cuffs are another Prom staple, with searches for this trend +17% and growing. Accessorizing with a clutch handbag (+4% to LY) or a mini-shoulder bag (+28% to LY) are other functional yet stylish options, too.
As interest in thrifting (+40% to LY) reaches new heights with Gen-Z, some consumers are embracing the ability to personalize or upcycle pre-worn dresses. That being said, the hunt is on to find the perfect vintage prom dress, which is showing accelerated growth as searches jump up +31% to last year. This trend is even gaining popularity on TikTok, as creators are showing off how they would revamp a vintage gown into their own style to create a one-of-a-kind outfit for their special night. The hashtag #VintagePromDress is currently sitting at 24.7M views and growing as more people join in on this nostalgic fashion trend.
When it comes to Prom beauty, the main goal for many is to look and feel their best. To guarantee picture-perfect makeup, reach for a luminous matte foundation (+69% to LY) to create a flawless base for any glam look. For those feeling bold, playing around with statement eyeliner (+401% to LY) or bold lips (+26% to LY) are two ways to spice up a look as well. Most importantly, setting makeup in place with a finishing powder (+16% to LY) is key to lock in the look for a fun night of pictures and dancing ahead.
As for menswear trends, savile row suits (+55% to LY) are a timeless choice, or opt-in for the traditional black suit (+0.5% to LY) from top brands like Armani, Tagliatore, or Ermenegildo Zegna. Pair either suit choice with a men's bracelet watch (+22% to LY) and a suede loafer (21% to LY) for an effortlessly classy look.
---
To learn more about trends that are growing — and dying, please contact hello@trendalytics.co.