Top Trends at Magic Tradeshow Las Vegas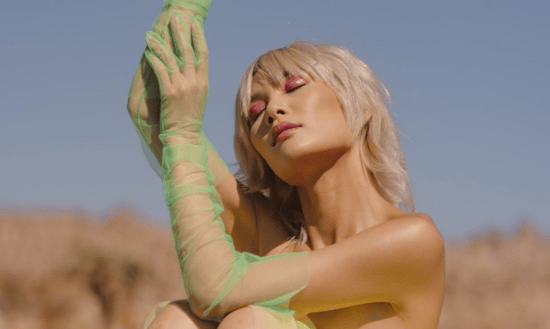 Discover the top trends at the Magic Fashion Tradeshow in Las Vegas that will continue to grow in popularity through next year.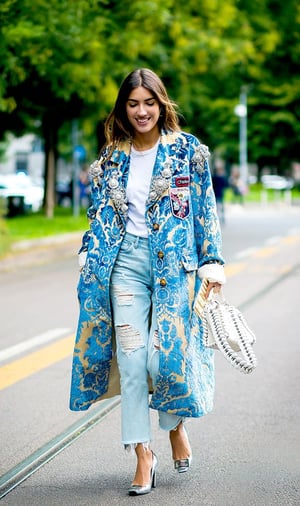 Jacquard
Jacquard textiles are taking over the market this Fall and Winter through the Spring as market adoption is up +35% to last year and is expected to grow. Jacquard jackets are +11% in average weekly searches to last year. Similarly, jacquard blazers are +1% in market adoption in the last 30 days as brands like Gucci inspire this trend. Jacquard boots and accessories are trickling into the market as well as this textile offers a retro-glam look that consumers are loving.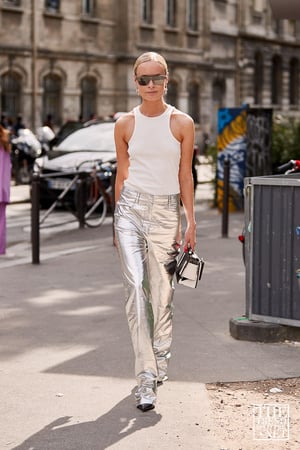 Metallic
Metallic (+2% to LY) pieces have been having a moment in the fashion industry as metallic clothing and accessories made a splash on runways this year. Typically seen as a night-time trend, metallics are translating into daywear pieces such as metallic jackets (+28% to LY) in leather and denim, as well as everyday metallic skirts (+160% to LY), metallic pants (+140% to LY) and matching sets. This trend adds a bit of texture and iridescence to day-to-day looks.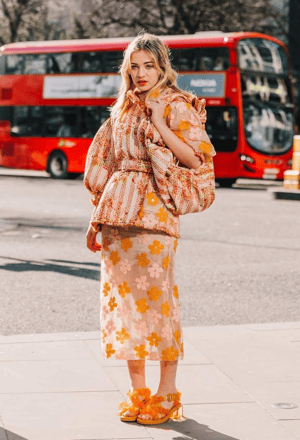 Feminine Prints
Barbiecore has brought a fun and flirty ethos into womenswear lately, evolving from simple pinks to graphic floral prints (+97% to LY) and cherry prints (+21% to LY). Daisy prints are a top trend for this Fall and Winter as floral graphics and embroideries adorn sweaters, woven jackets, skirts and denim. Cherry prints are up +3% in market adoption in the last 30 days as luxury brands test out in this print and offer kitschy cherry accessories.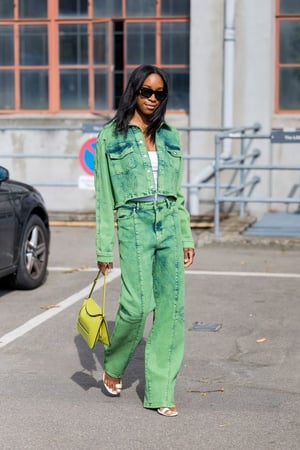 Comeback Washes
Consumers are switching to throwback washes when it comes to denim. We are seeing an abundance of acid wash as average weekly searches are over 3K, +40% to last year. Acid wash is in high demand whether we are talking about cable knit sweaters or jeans. Consumers are also opting for light washes in hues of grey jeans (+18% to LY) and other near neutrals like light wash denim (+44% to LY) in steely blues.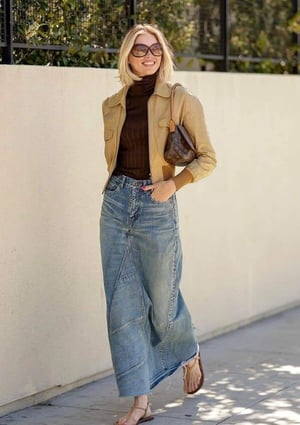 Maxi Lengths

Maxi lengths are here to stay through the colder months and into next year as this wearable trend continues to gain traction. Maxi skirts (+42% to LY) are in high demand, more specifically denim maxi skirts are a top market mover up +477% to last year in searches as this piece is it-girl approved. Maxi cardigans are making a comeback this year with +5% market adoption in the last 30 days whereas the maxi coat is up +58% in market adoption to last year, too.

---
To learn more about trends that are growing — and dying, please contact hello@trendalytics.co.