Just the Data: Kids Spring/Summer Trends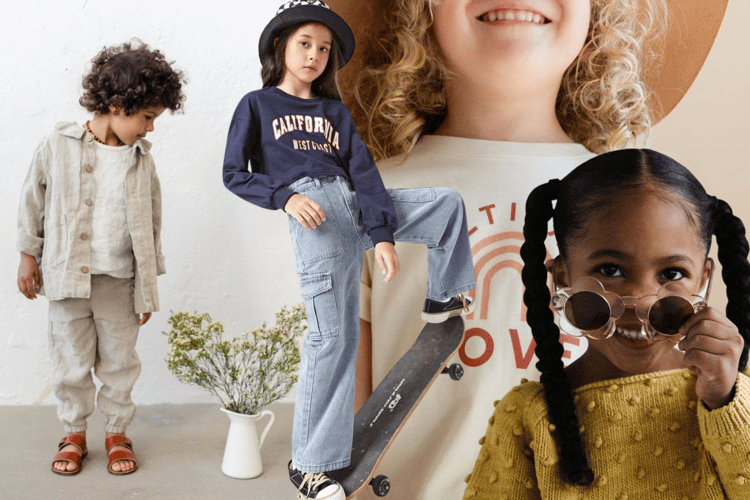 With sunnier days just around the corner, here are some warm weather must-haves for kids this Spring/Summer season.
Given their comfortability and breathability, linen pants are making their way into childrenswear, with searches +49% to last year. This seasonal trend is perfect for those warmer days ahead, and we can expect to see searches accelerate in April and peak in May. In addition to the traditional solid linen pant that we are used to seeing, fun prints and patterns like stripes, colorblock and checks are being incorporated into this pant style to freshen up the look. With the top retailer for this trend being Farfetch and brands like Bruno Cuccinelli and Chloe carrying them, it's helpful to note this trend has room for growth across mass and specialty retailers.
Keeping up with womenswear trends, girls cargo pants are seeing growth with searches +108% to last year. This durable yet stylish pant is proving popular in Fast Fashion markets, with brands like Shein offering 78+ products in their assortment. Additionally, nearly 3% of all girls pants for Fast Fashion retailers are being called out as cargo pants.
Ballet flats are not only picking up in womenswear markets, but we are seeing a youthful iteration kick off in childrenswear, too. Brands like Sam Edelman are leading this trend with department stores like Macy's, Dillards, and Nordstrom carrying variations of girls ballet flats for Spring. The Mary Jane Flat is one style that is both timeless and comfortable, and it's quickly becoming a go-to option as searches jump up +44% from last year.
With warmer days approaching, staying protected from the sun is no easy feat. With high average weekly searches, seasonal items like kids sunglasses (7k searches) and baseball hats (+26%) are both proving to be great options for keeping safe this Spring and Summer season. UPF shirts are another sun-safe style, and searches for this protective top will both accelerate and peak in May.
A non-tie shoe, zip sneakers are the perfect option for those active, on-the-go youth. Nordstrom and Zappos are leading the way amongst other retailers, each carrying 15+ products in their assortments from brands like Naturino and Vans who are tapping into this easy to get on-and-off style.
Comfort is key when it comes to kids, but it doesn't have to compromise style. Graphics are more important than ever when it comes to childrenswear, with classic icons like Hello Kitty (+60%) and Winnie the Pooh (+87%) taking over the market. Instead of neutral tops and bottoms, kids are reaching for more colorful prints and patterns, like colorful tops and printed pants, which will remain stable over the next year.
---
To learn more about trends that are growing — and dying, please contact hello@trendalytics.co.