Just the Data: Travel Accessories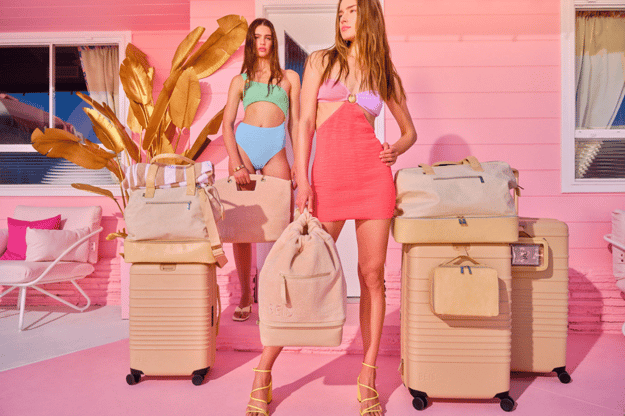 Travel season is taking off in big ways this summer as consumers set out to new destinations. Sharing their trips on social media, the hashtag #TravelTiktok is at 39B views and growing. Discover the top trends in each category of travel essentials below.
LUGGAGE STAPLES
For those aiming to find stylish yet durable luggage pieces, many are looking to brands like Rimowa, Bric's and Beis. At a variety of price points, these brands have all seen tremendous growth compared to last year. At the highest price point of the three, Rimowa (+37% to LY) has been steadily increasing in Google searches since March 2021. Most of the brand's popularity is coming from West Coast metro areas like Honolulu, HI, San Francisco-Oakland-San Jose, CA, and Los Angeles, CA, based on search interest over the last year. With over 851,000 followers on Instagram, Rimowa has seen an increase in followers over the past year with a 25% growth rate.
At over 314K followers on TikTok, Shay Mitchell's luggage brand Beis has quickly become a top pick for jet-setters around the world. The brand has seen a 50% growth rate in followers on Instagram over the past year, and searches are +59% to last year with over 67,000 average weekly searches, clearly proving to be a favorite for many. Offering a variety of fun colors for the traditional hardside luggage (+13% to LY) and weekender bags (+40% to LY), the new Sherbet Collection is giving all the tropical destination feels with bright hues like orange, citron, and berry pink.
With an extreme search volume, Bric's has seen the most growth across these brands with searches +185% to last year and 284,000 average weekly searches. Peaking in early April of 2023 with over 536,000 searches, this brand is undoubtedly one-to-watch. This Italian-made brand offers both functionality and style within each of its Italian-inspired collections, resonating with those who prioritize luxury and quality in their travel bags.
TRAVEL ESSENTIALS
Traveling as a whole has picked up again and travelers are searching for items to keep them organized from city to city as seen on TikTok with hashtags like #OrganizingTiktok (4.1B views) and #PackWithMe (3.3B views). While some travelers are staying organized with passport holders (+21% to LY) and travel organizers (+20% to LY), others are customizing their luggage in fun ways with personalized luggage tags (+100% to LY) and monogram tote bags (+26% to LY), too.
Packing cubes (+21% to LY) are a travel must-have for those who like to stay organized (or who tend to overpack). As interest rises for this product, brands like Tumi (+6% to LY), Patagonia (+0.2% to LY), and Peak Design (+14% to LY) are tapping into the trend. With strong engagement to match, the hashtag #PackingCubes is currently sitting at 127M views on TikTok and growing.
A Trendalytics Safe Bet trend, the Baggu cloud bag has been growing over the last 4 months, and based on our data model, it's predicted to grow over the next year, too, as searches have jumped up +256% compared to last year. More recently, this bag had its moment on social media, gaining over 151M views for this fan favorite on Tiktok. People were buzzing over the bag's ability to be both large enough to fit any essentials but small enough to fold away when not in use, making this lightweight and purposefully designed packable tote (+70% to LY) the 'it' bag for anyone on the go. Baggu continues to grow as a brand overall, with a high search volume of over 69,000 average weekly searches, +111% to last year.
Perfect for practical-focused travelers, travel backpacks have seen continued growth, even compared to pre pandemic searches, increasing +32% to last year with over 63,000 average weekly searches. Notably, the TikTok viral garment duffle bag is also making it easy to maximize packing space, serving as both a garment bag and a duffle, as its name suggests. This trend quickly boomed in interest with searches +109% to LY and accumulating 265M views on the platform.
FLIGHT FAVORITES
To allow for a more comfortable experience, neck pillows (+24% to LY) have become a non-negotiable item on many travelers' packing lists, especially for those long international flights. Specifically, the TRTL travel pillow has seen tremendous growth with searches +97% to last year, landing itself as a Safe Bet trend. This brand's non-traditional design caught the attention of users on Tiktok, attracting over 28M views for this unique product.
Helping to make flights easier, many are adding tech gadgets to the top of their lists to help minimize stress on already hectic travel days. Consumers are taking extra precaution with Apple's Airtag (+66% to LY) by attaching the tracking device to their own belongings. This allows the Apple user to see the location of the device, making it easier to track down any lost luggage or bags. This extreme search volume trend has 383,000 average weekly searches and will continue to grow over the next year.
Both fashion-forward and functional, Apple Airpods Max (+47% to LY) have become a staple accessory for frequent flyers. They can even be used with the Airfly Bluetooth Adapter, a device by the brand Twelve South that allows passengers to directly connect the audio from their plane seat to their own wireless or noise canceling headphones (+9% to LY) via Bluetooth signal, making it easy for people to connect to the same device and listen to a movie together. This low search volume trend has recently caught wind on TikTok, now boasting 203M views for the product.
For those headed abroad this summer, which we've seen on social media with all the #EuropeanSummer (1.1B views on TikTok) posts, staying prepared with a universal adapter (+21% to LY) allows for peace of mind when charging devices. Portable chargers (+5% to LY) and foldable charging stations (+1% to LY) are useful, too, while you play tourist.
TRAVEL TOILETRIES
Travel size products are +14% to last year, with travel perfume (+32% to LY) and travel size makeup (+6% to LY) proving to be go-to packing items in consumer's cosmetic bags (+8% to LY). Top brands like Ulta and Target are carrying both of these travel sized products. While trying to pack everything but not overpack at the same time, many are reaching for multi-functional tools like the Shark Flexstyle (+26,201% to LY), whose multiple styling attachments make it easier to maximize space while minimizing the number of products needed to complete their beauty routine.
---
Ready to learn more? Be sure to set up a demo to learn more about Trendalytics' platform capabilities.