July 2021 Top Trends
From prep-school essentials to the return of festival makeup, these are the trends that emerged in July and are expected to impact the womenswear, menswear, childrenswear, and beauty markets for months to come.
Women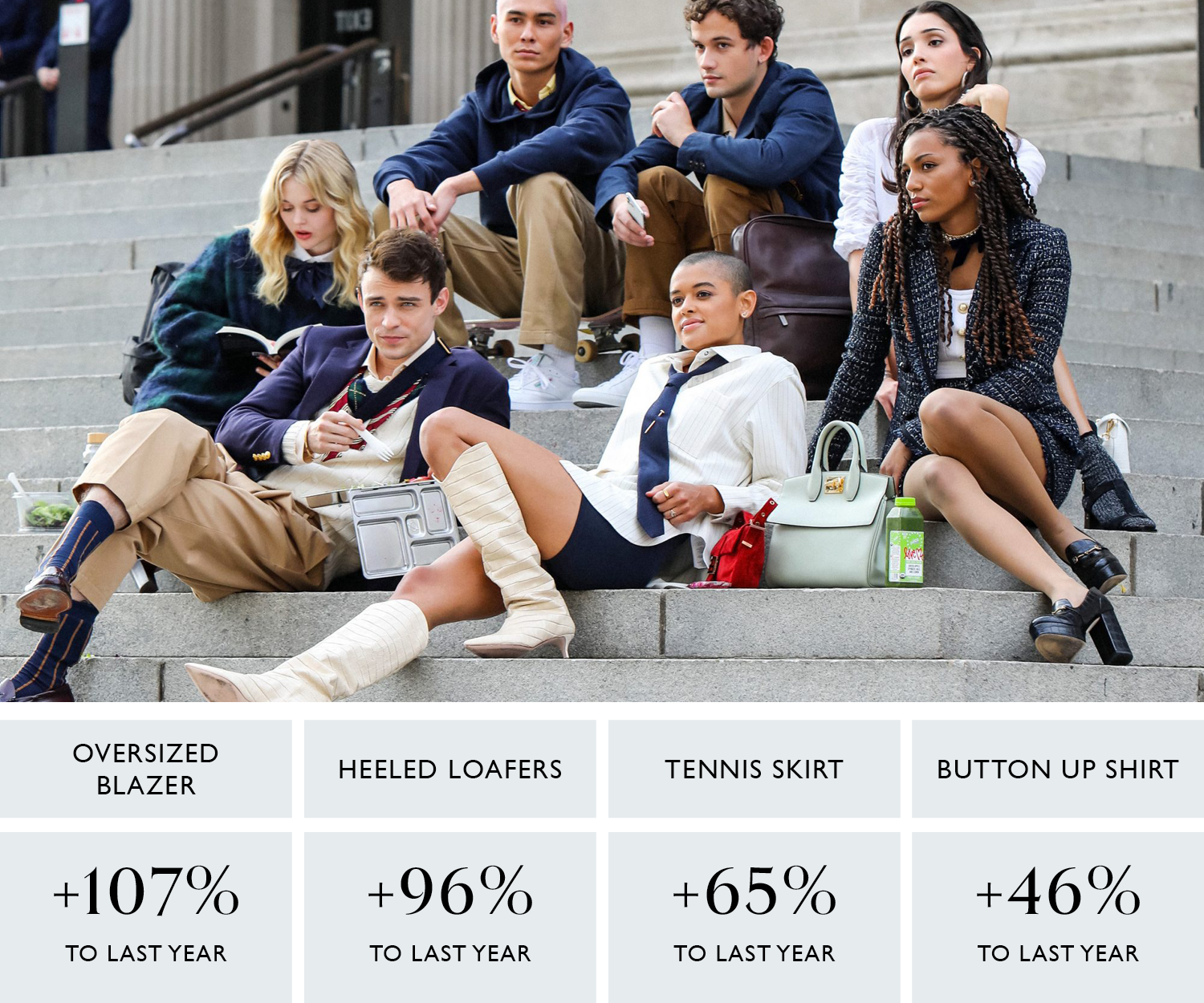 In anticipation of the Gossip Girl reboot that premiered this month, women are searching for styles that would look at home in the halls of Constance Billard. Spotted on the steps of the MET, the show's stars wear button up shirts (+46% to LY), heeled loafers (+96% to LY), and logo bags (+29% to LY). Inspired by the show, Monse's FW21 collection featured distressed sweaters (+43% to LY), tennis skirts (+65% to LY), and oversized blazers (+107% to LY).
Men
Men are using the warmer weather as an excuse to explore the great outdoors. Gorpcore, a term coined by The Cut writer Jason Chen in 2017, describes a style focused around outdoors-inspired gear. Emerging trends like men's utility jackets (+77% to LY), Teva sandals (+29% to LY), and windbreakers (+13% to LY) perfectly encapsulate this trend. A blend of fashion and function, waterproof pants (+17% to LY) and waterproof coats (+50% to LY) offer protection from the elements.
Beauty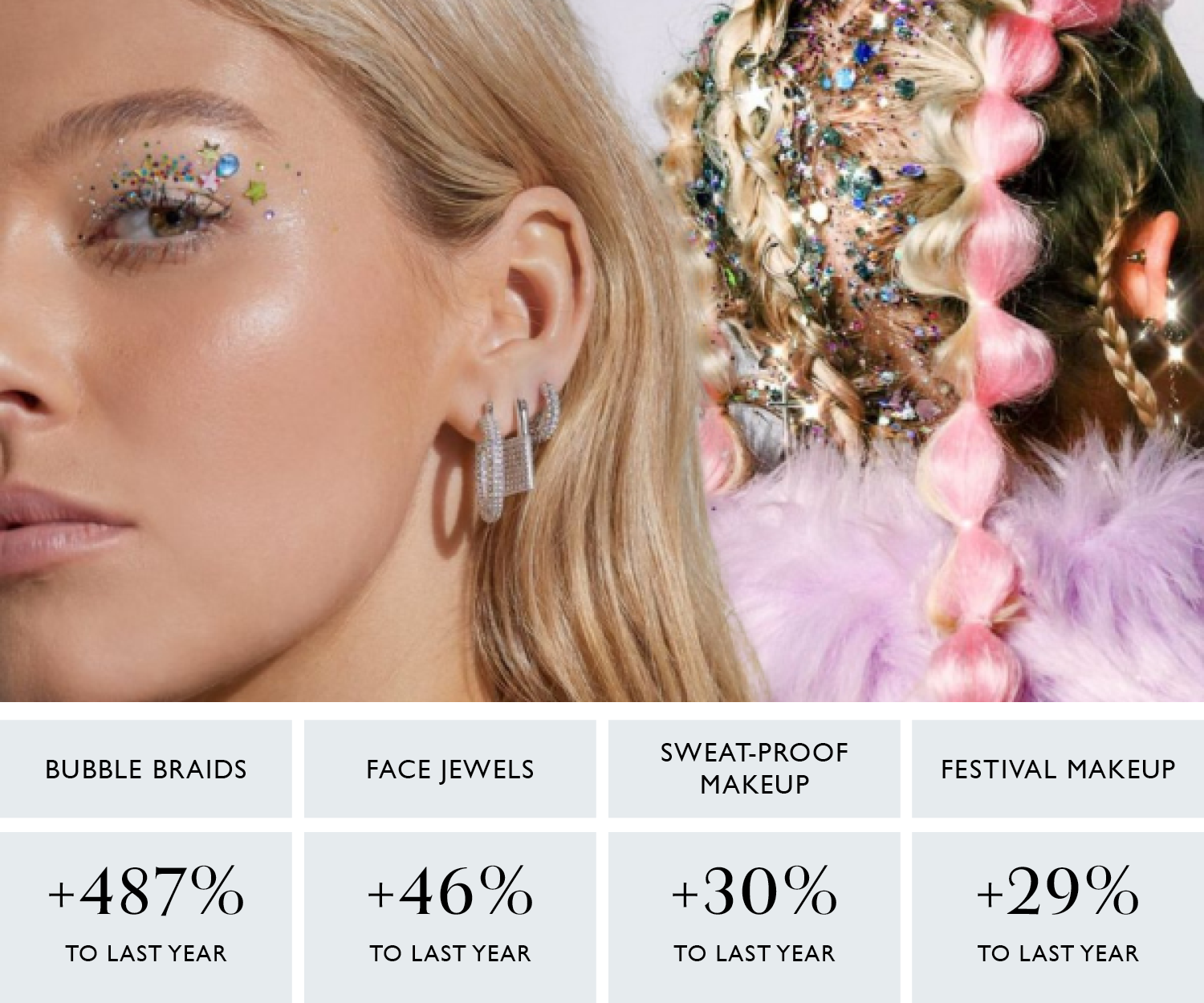 Everything good is worth waiting for, and consumers have been more than patient. With the return of concerts comes playful looks like bubble braids (+487% to LY) and face jewels (+46% to LY), both safe bets, while festival makeup (+29% to LY) is an emerging trend to watch. Long-lasting lipstick (+90% to LY) and sweat-proof makeup (+30% to LY) ensure consumers will be ready to dance the night away.
Kids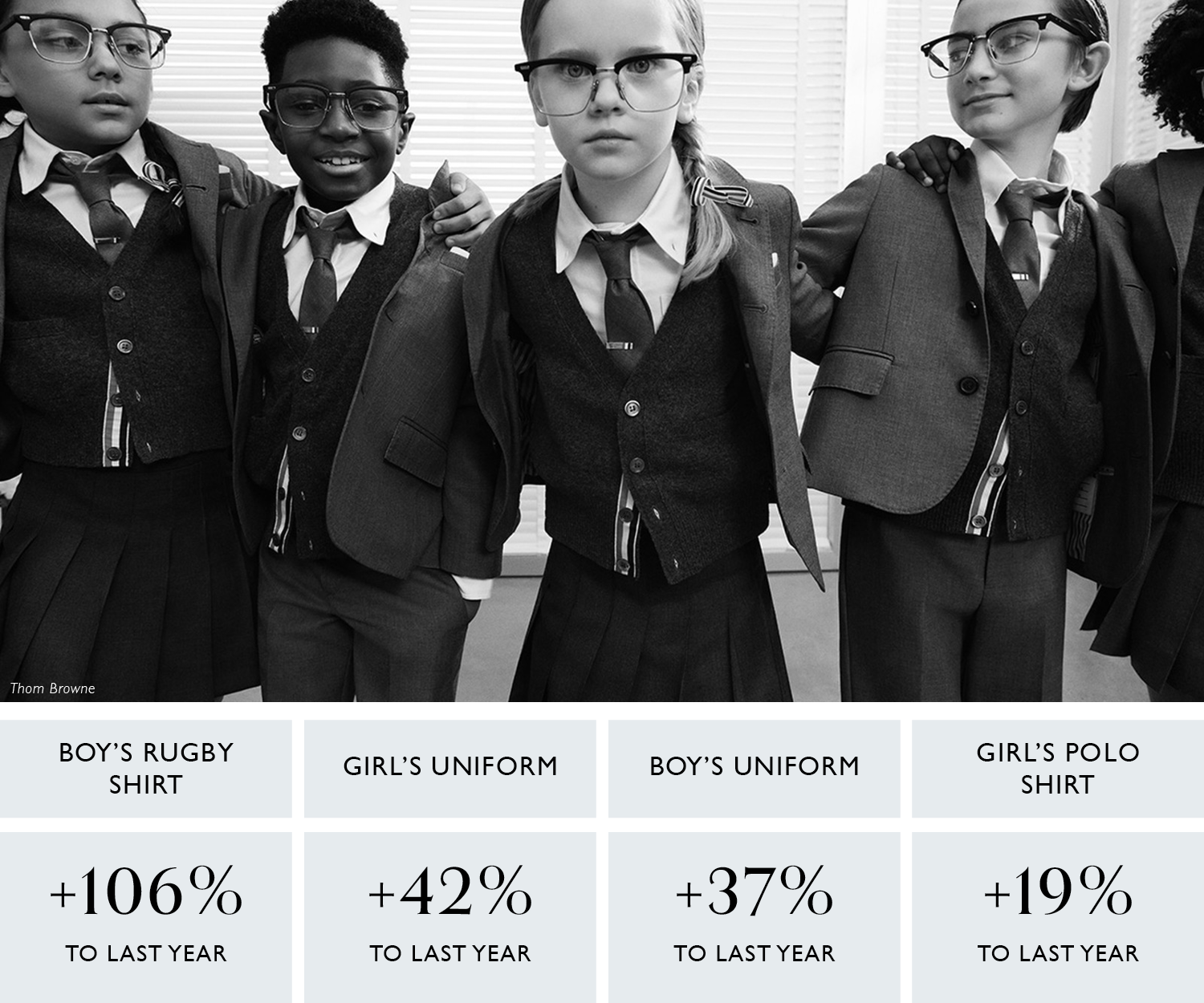 According to Deloitte's 2021 back-to-school survey, 40% of K-12 households are planning to spend more on items, including clothing, supplies and technology—up from 22% in 2020. Searches for both girl's (+42% to LY) and boy's uniforms (+37% to LY) have increased ahead of August when they're expected to peak. Prep school-inspired styles like polos for boys (+66% to LY) and girls (+19% to LY), boy's rugby shirts (+106% to LY), and boy's oxford shirts (+72% to LY) are emerging trends to watch.
---
For the full report or to learn more about trends that are growing — and dying, please contact hello@trendalytics.co.