Just the Data: Fragrance Trends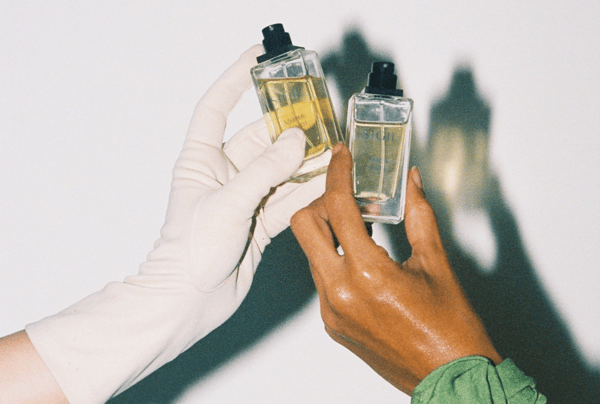 As an emotional buy––and oftentimes an investment––consumers move through the fragrance market with intention and the mission to convey their personality through a scent. The movements within the fragrance market are a prime representation of the cultural zeitgeist; currently, the top products in the market nod to natural ingredients, sweeter scents, genderless fragrances as well as social media-approved set of brands. Below, discover the notes that consumers are drawn to this year, backed by Trendalytics data.
FRAGRANCE NOTES
Pistachio perfume has been having a moment on social media as this safe bet trend has 723M views on TikTok with consumer search growth up +570% to last year. This scent is growing in popularity along with the rise in gourmand fragrances due to its sweet scent reminiscent of pistachio desserts. Expect to see this perfume continue to grow in popularity, especially through the holiday season.
Fruity fragrances are making a comeback, too. A consumer favorite, peach perfumes are +42% to last year offering a light and delicate aroma. Tom Ford's Bitter Peach Eau de Parfum is one to note, combining the playfulness of fruity fragrance with luxurious sophistication.
Aquatic perfumes are on the rise this year, drawing inspiration from fresh oceanic scents. These fragrances are +33% to last year in market adoption with high engagement rates online. Aquatic perfumes are known for being "saltier" to give a marine freshness unlike other scents––case in point, it's the ultimate company for a vacation or escapism at home. Within the market, Armani's Aqua de Gioia is the new aquatic go-to perfume with notes of jasmine and cedar.
Similarly, coconut perfume is trending with an average of 4K weekly searches and an increase of +300% in market adoption to last year. This fragrance feels nostalgic as it has been a tried-and-true scent with its tropical, nutty notes and milky nuances often paired with vanilla.
An elevated floral scent, jasmine perfume is +29% to last year in searches as consumers crave this sweet, sultry fragrance that has a hint of muskiness. This trending fragrance makes a statement, leaning into the masculine musk notes and feminine sweetness for an all around alluring aroma. Dior's Jasmine des Anges fragrance is a preferred choice along with the Gucci Flora Jasmine Eau de Parfum.
Vetiver perfume is growing at an accelerated rate as it is +22% in searches to last year; this fragrance is sharp and earthy, offering an enticing smoky scent filled with citrus and floral notes. Chanel and Hermes are top selling brands as both men and women indulge in this trend.
Unisex fragrances are growing in popularity, up +216% in searches to last year, within the market as consumers lean into gender neutral products within beauty. Unisex perfumes focus on richer blends bringing muskier, woody notes to the forefront for a more universally sensual scent. Woody perfumes are a safe bet trend with low discount rates as Maison Margiela rules the market, offering up to 13 different woody fragrance products.
FRAGRANCE TYPES
In the beauty industry, there is no greater buzz word than "clean" as consumers search for safe and sustainable products in the market. Clean perfumes are up +32% to last year with 7 Virtues as a notable brand for its planet positive initiatives. As earthy fragrances are in demand, natural perfumes continue to grow steadily with over 2K average weekly searches. Pacifica and Defineme perfumes are natural and vegan fragrance consumer top picks. Alcohol free perfumes are a safe bet trend for months to come as market saturation is up +150% to last year––brands are opting for naturally extracted oils for the base of their fragrances as an alternative. A variety of perfume formats are now entering the market as perfume oil has a high search volume and strong engagement online often applied with a roll on. Solid perfumes are an accelerated growth trend with over 7K average weekly searches as consumers opt for this fragrance format as it is easy to take on the go and allows for freshness all day with just a few swipes of the wax base perfume. A TikTok favorite, Glossier You (227M views) comes in a mist as well as a solid for functional application.
BRANDED FAVORITES
Social media has become a go-to source of inspiration, even for a product that is less about visuals and more experiential like perfume. At the moment, Sol de Janeiro's Rio Radiance perfume is +4,094% to last year with 8M views on TikTok as this buzzy product offers a clean floral fragrance combined with creamy coconut notes making it the perfect nostalgic perfume. Yves Saint Laurent's Black Opium perfume is a seasonal top pick with 16K average weekly searches––this fragrance includes rich coffee scents with sweet vanilla and subtle floral. An emerging trend, Ralph Lauren Polo Black is +33% in market saturation in the last 30 days often described as the "sensual gentleman's" fragrance as it is a bold fusion of mango, armoise and patchouli noir for a musky, herbaceous blend. Issey Miyake perfumes are on the rise, up +33% to last year in searches, as this brand focuses on clean, fresh fragrances with Japanese simplicity and French flair offering a variety of luxury perfumes and colognes suitable for everyday wear.
---
Ready to learn more? Be sure to set up a demo to learn more about Trendalytics' platform capabilities.