The State of Denim: Post-Lockdown
Denim is re-entering our wardrobes as cities open up and people return to a state of normalcy. Given the circumstances, retailers will have a hard time relying on 2020 sales data to understand denim trends for this fall and beyond.
While classic black denim remains a high volume trend, colorful denim is experiencing rapid growth. As maximalist dressing gains popularity, so do brighter hues and bolder prints. Colorful denim found its way into Chanel's SS21 collection and has since been offered by brands like Zara and ASOS. A safe bet, purple jeans are the most noteworthy, garnering 14.8k average weekly searches. The post-lockdown market reflects a consumer looking for ways to combine comfort with their social craving.
The Rise of Denim
2M people are searching for 'jeans' every week. This is +33% since the same time last year and +13% to 2019, growing at an accelerated rate. As a comparison, there are 940K avg weekly searches for WFH bottoms (i.e., leggings, sweatpants, and joggers). Still, +37% to 2019, search interest for these comfort staples is relatively flat compared to 2020 (-2% to LY) and starting to decline slowly.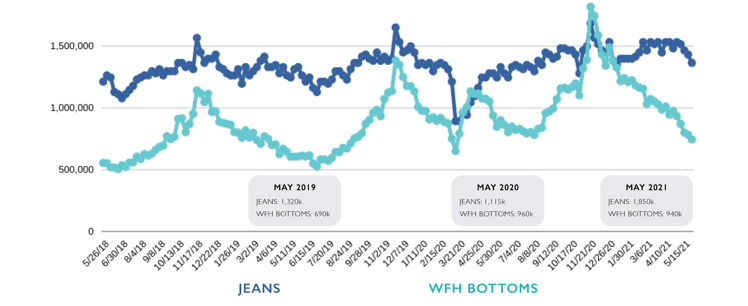 Silhouette Shifts
Searches for looser fits have more than doubled from 2019 (+101%) and continue to grow at an accelerated rate. On average, 640K people are searching for baggy styles (+74% to LY), led by interest in mom jeans. That being said, skinny jeans remain relevant. Searches are flat to 2019 (+4%), and +33% to the dip last year (in line with the growth in searches for 'jeans')

Top Brands
Currently, the top growing denim brand, Zara jeans are being searched for 49K times weekly, +80% to last year. Known for its unique offerings, the brand quickly adapts, pushing new silhouettes such as the wide leg jean (+460% to LY) into stores while the styles are still on the rise. Earlier this year, Zara's wide-leg colored jeans went viral on TikTok as teens in the US and UK hurried to buy the trend in time for spring. Wrangler, the second most popular denim brand based on TY/LY growth, takes the opposite approach to the category, focusing on classic styles and heritage branding. Levi's offering of denim is the most searched for with nearly 200K average weekly searches, +24% to last year.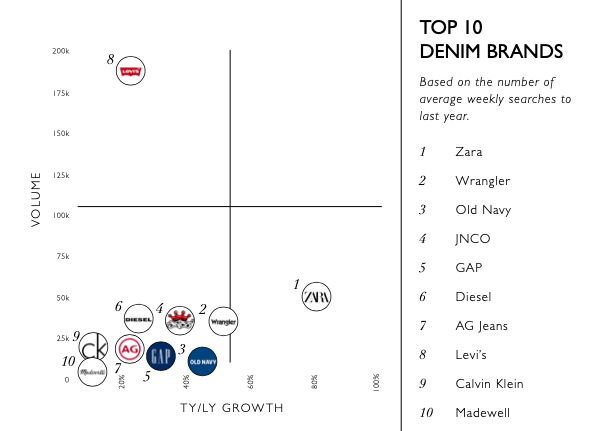 Denim Planning
Key styles for your assortment based on average weekly searches.

Denim Forecast
Styles expected to grow over the next year.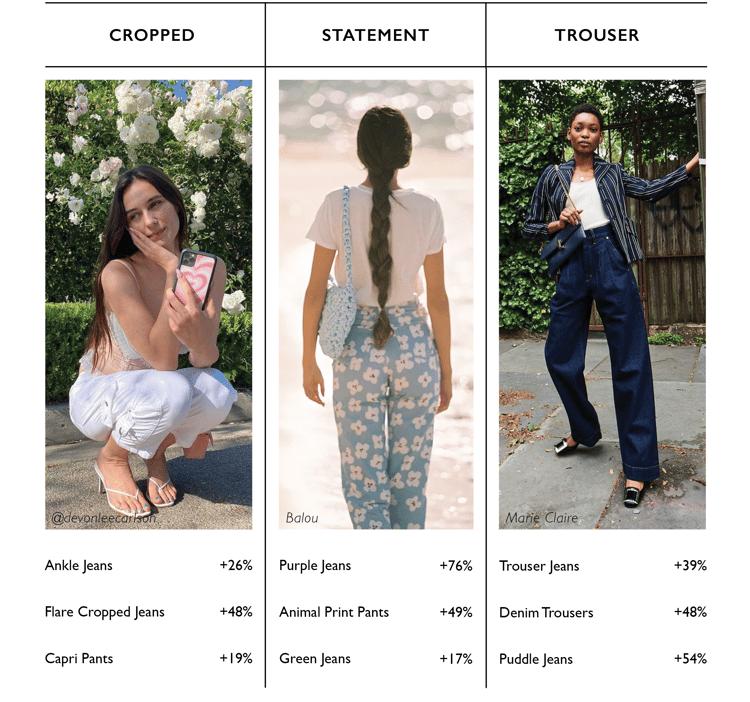 ---
For the full report or to learn more about trends that are growing — and dying, click here.