Just the Data: Bridal Trends 2024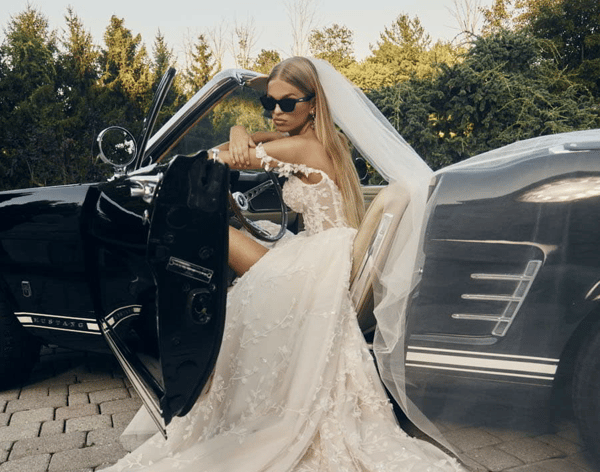 Bridal trends are becoming more diverse and fashion-forward as brides opt for multiple outfits for their wedding activities. Below, discover the top bridal trends for 2024, including wedding dress styles, accessories, and bridesmaid dresses, all supported by Trendalytics data.
---
Engagement Party & Bridal Shower
When it comes to engagement parties and bridal showers, think quiet luxury. Lace is resonating in a huge way as white lace dresses are up +19% in market adoption to last year. Similarly, white midi dresses are an emerging trend with 25K average weekly searches while tea length white dresses are up +12% to last year, giving a refresh to elegant lengths. Brides are opting for classic white kitten heels (+18% to LY), luxurious pearl jewelry (+2% to LY) and embellished accessories such as the pearl handbag (+17% to LY) as they celebrate their upcoming weddings.

Bachelorette Party
As of late, bachelorette parties have been inspired by Barbiecore (no surprise there) as bridal parties go out on the town adorned in shades of pink and head to toe sequins––with the occasional cowboy hat, too. White mini dresses are a brides go-to up +28% to last year whereas white sequin dresses are steadily growing with +61% market adoption to last year, paired with white heels (49K AWS) or even white cowboy boots (+17% to LY). Pink mini dresses (+48% to LY) are a top pick for the bride tribe paired with pink cowboy boots (+61% to LY) and pink cowboy hats (+29% to LY) for extra Barbie flair. For tropical bachelorette moments, bridal bikinis are +8% compared to last year with pink bikinis for the girls up +6%. All in all, brides are embracing Barbiecore and all things girly when it comes to their bachelorette parties.

Wedding Day Glam
For the 2024 wedding season, brides are ditching the classics in favor of fashion-forward wedding gowns, playing with color and 3D appliqués in a whimsical way. Pastel wedding dresses are an emerging trend up +7% in searches; many brides are opting for pastel blue wedding gowns, making their "something blue" much more literal. Similarly, gold wedding gowns (8K AWS) made a statement at Bridal Fashion Week this year and are expected to continue growing in popularity as a winter wedding favorite. Embroidered wedding dresses (+10% to LY) are a bridal top trend as floral designs and beading–– whether on satin or lace––grow in the market.
For a sartorial touch, bow wedding gowns are up +30% to last year as women can't get enough of the oversized bow look. Sculptural wedding gowns are emerging in the market as rosette details and structured skirts are design favorites. Within the romantic aesthetic, alluring styles like the sheer wedding dress (+2% to LY) and sparkly wedding dresses (4K AWS) will reign supreme as favorite styles, no matter the season. The drop waist wedding dress (+33% to LY) is back after making a splash on the runways, bringing an elevated vintage look back to the aisle.
Other design details such as layered ruffles, lace necklines, embellishments and even feathers are on the rise. As for accessories, floral wedding veils (+143% to LY), lace wedding gloves (+5% to LY), pearl heels (+17% to LY) and bow heels (+12% to LY) are consumer top picks paired with elegant pearl or diamond jewelry pieces.


Rehearsal Dinner & After Party
Rehearsal dinners and wedding receptions are where brides show off their fun and flirty sides with embellished dresses and jumpsuits fit for dancing and socializing. Bridal jumpsuits are a cult favorite with +8% market adoption in the last 30 days with Adrianna Papell as a top-selling brand. We are also seeing bride's take an interest when it comes to texture as white feather dresses are saturating the market, up +116% in market adoption to last year, along with white pearl dresses (38% to LY) that are a top market mover. After the wedding ceremony, the wedding mini dress is a bridal favorite up +17% in searches to last year along with bridal separates. Top shoe options include feather heels (3K AWS), pearl sandals (5K AWS) and even sequin sneakers (+6% to LY) for an easy-to-dance-in shoe choice.

Bridesmaid Dresses
The bride tribe is essential to the wedding as they are the pop of color for any ceremony and need to be dressed to impress––but not enough to upstage the bride. More recently, mismatched bridesmaid dresses (+10% to LY) have been having a moment, whether the colors vary from dress to dress or the style itself. This way, bridesmaids can have a bit of individuality when it comes to picking a dress style that they feel fits them best. We are seeing midi lengths and column dress styles lead in the market along with pleating details. The strapless bridesmaid dress is a top style, up +30% in market adoption to last year. For spring and summer weddings, pink bridesmaid dresses (+5% to LY) are an emerging trend whether in a soft blush hue or bright magenta – the magenta bridesmaid dress (+72% to LY) is a safe bet trend for the year to come. Other popular spring/summer colors include ice blue bridesmaid dresses (+41% to LY) and sage bridesmaid dresses (+1% to LY), too. Deeper tones are trending for fall and winter weddings like the burnt orange bridesmaid dress, up +26% in searches to last year. Olive green bridesmaid dresses (+41% to LY) are on the rise along with black bridesmaid dresses (+5% to LY) as top winter colors.

"Guest Of" Styles
Guest-of dress trends have taken an elevated turn, leaning into the quiet luxury aesthetic. Column dresses (+14% to LY) are a classy dress choice, perfect for any season along with midi dresses (117K AWS) as consumers embrace midi and tea lengths. Pleated dresses, particularly in lustrous fabrics, are a guest top pick up +16% to last year. Floral dresses are an emerging trend with 57K average weekly searches and make for an elegant look. Kitten heels (+28% to LY), pointed toe pumps (+22% to LY) and ballet flats (68% to LY) are top shoe trends while guests opt for molten jewelry and metallic accessories, too.
---
To learn more about trends that are growing — and dying, please contact hello@trendalytics.co.