June 2022 Top Trends
From ocean-side aesthetics to new age athletic wear, these are the June 2022 top trends that are expected to impact the womenswear, menswear, kids, and beauty markets for months to come.
Women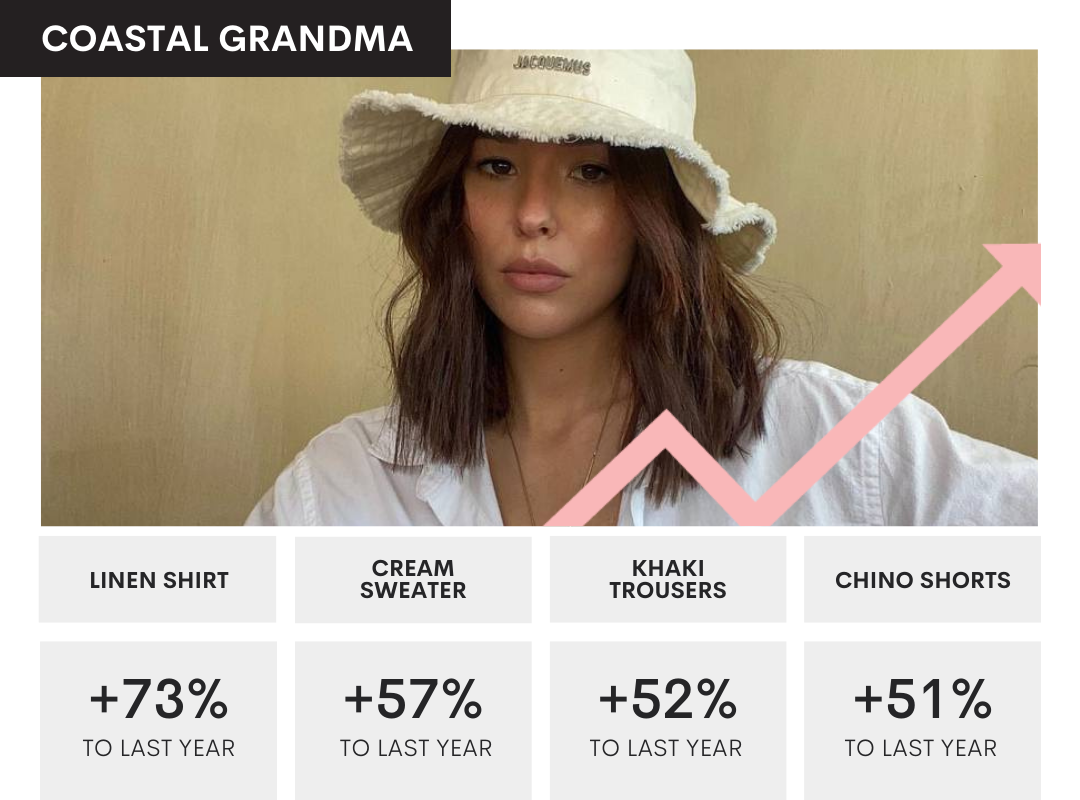 Characterized by ocean-side aesthetics and a classic wardrobe inspired by your grandma's closet, coastal grandmother has taken TikTok by storm. With over 94M views on the app, the popularity of coastal grandma (+4,533% to LY) is pushing women to purchase summer staples. Cream sweaters (+57% to LY), khaki trousers (+52% to LY), and chino shorts (+51% to LY) are safe bets. A coastal grandmother essential, searches for linen shirts are +73% to last year and social buzz is +12% to last year.
Men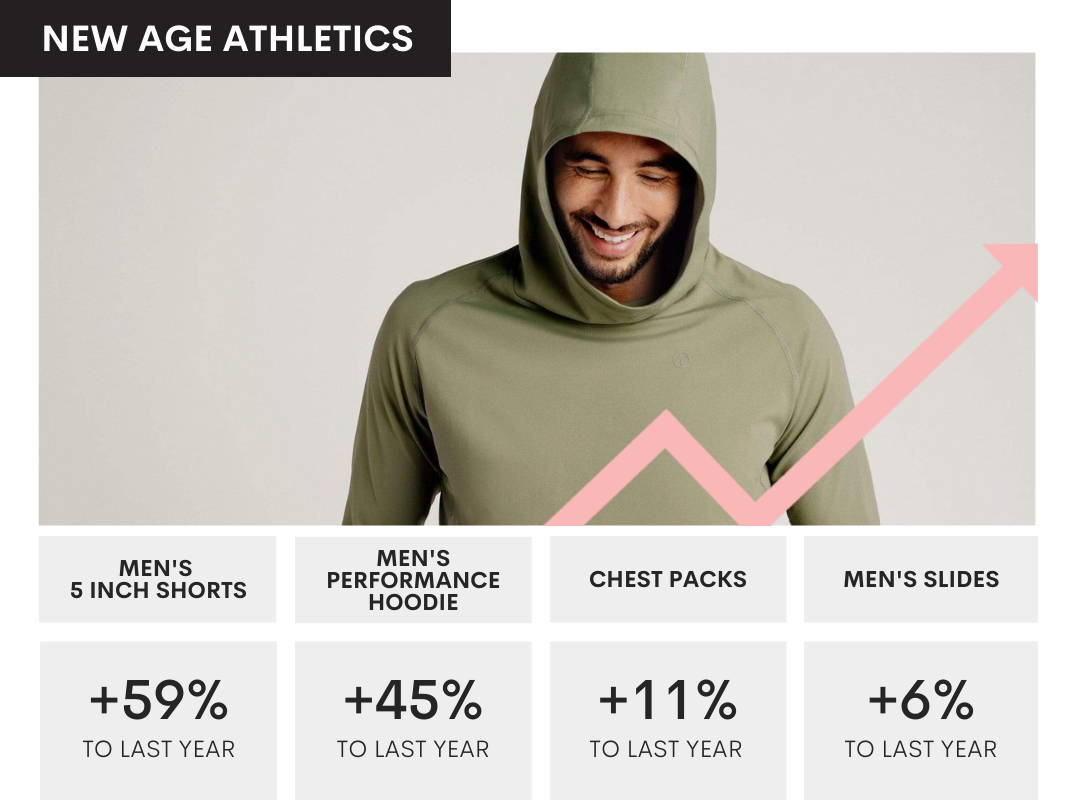 Men's athletic wear is taking a utilitarian, but minimalistic, turn. Chest packs (+11% to LY) and men's performance hoodies (+45% to LY) are emerging trends to watch, while men's 5 inch shorts (+59% to LY) are a safe bet. Men's slides (+6% to LY) and men's baseball caps (+11% to LY) are both high volume trends and essential for men looking to get active.
Beauty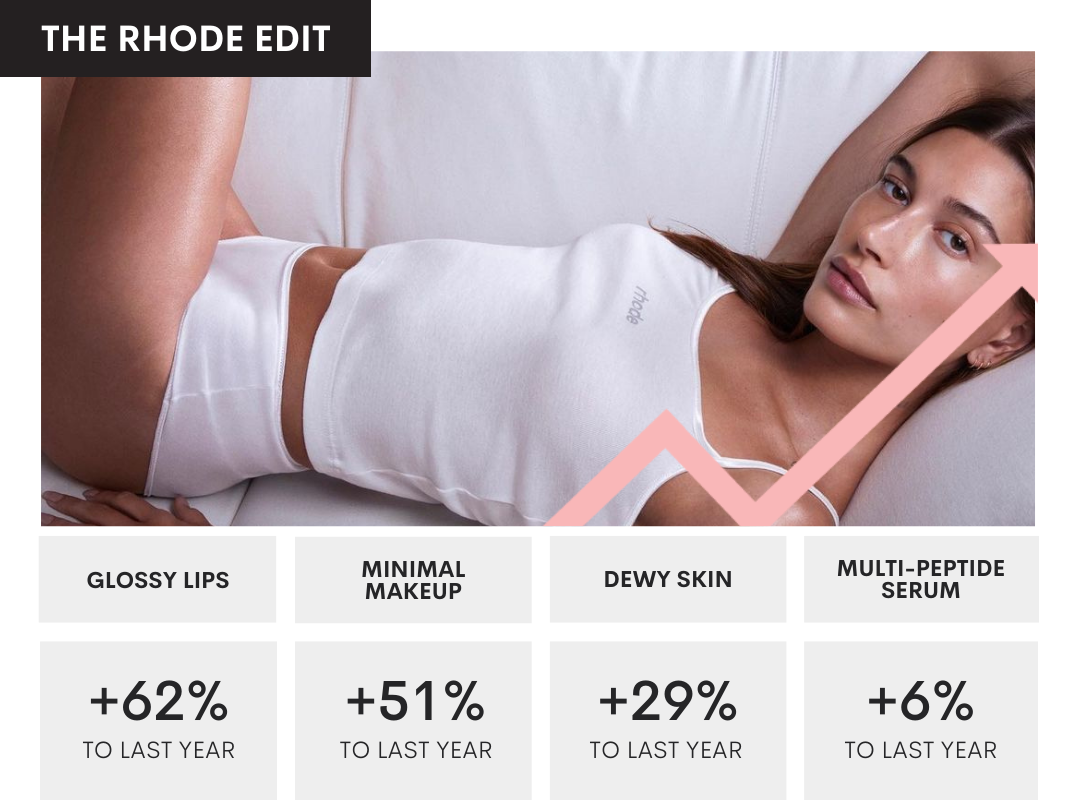 Launched on June 15th, Hailey Bieber's new skincare brand Rhode is a line of intentional skincare essentials that give an instant dewy glow. In line with consumer searches, the initial collection includes peptide lip treatments, peptide glazing fluid, and barrier restore cream. Copper peptides (+81% to LY), tripeptides (+18% to LY), and multi-peptide serum (+6% to LY) are emerging trends, along with dewy skin (+29% to LY). Minimal makeup (+51% to LY) and glossy lips (+62% to LY) are safe bets.
Kids
With a renewed appreciation for the earth, a range of nature-inspired graphics are gaining popularity for the summer. Earth graphics (+4% to LY), horse graphics (+8% to LY), and moon graphics (+28% to LY) on children's apparel are emerging trends to watch–likely to grow in the next few months. Furthermore, sustainable fabric (+3 to LY) is a key trend this summer as parents search for more eco-friendly clothes for their kiddos.
---
To learn more about trends that are growing — and dying, please contact hello@trendalytics.co.