TikTok Beauty Brands To Watch
With over 11 billion views for the hashtag #TikTokMadeMeBuyIt, it's clear that TikTok drives sales. Just one short video can help a product sell out time and time again, and brands are doing their best to achieve TikTok virality. While not all succeed, there are a handful of beauty brands that have found unparalleled success on the Gen Z-favorite platform by capitalizing on the public's desire to discover new products, learn different techniques, support skin health, and attain aspirational beauty looks.
Rare Beauty, the top brand to watch based on Instagram engagement rate, was founded by Selena Gomez during the pandemic. The brand's feel-good approach to beauty and breathable, buildable formulas are resonating with the Gen Z consumer. Focused on skin wellness, Tower 28 and Kosas embrace the values of clean color cosmetics with ingredients for sensitive skin. Merit and Saie champion the minimalist, no-makeup makeup look, as does Jones Road Beauty, whose multi-use products like Miracle Balm have skyrocketed to popularity on TikTok–#miraclebalm has over 22M views on the app. Both founded by celebrity makeup artists, Makeup by Mario and Charlotte Tilbury are quickly selling out of their products. Charlotte Tilbury's highlighter and contour wands are nearly impossible to come by after Madison Beer's Voguemakeup tutorial, featuring the products, went viral. Even established brands like Tarte and e.l.f. are finding success on TikTok with new product releases and more affordable "dupes" of luxury products.
Read on to discover the top three beauty brands that have mastered their TikTok strategies and become mainstays on the FYP.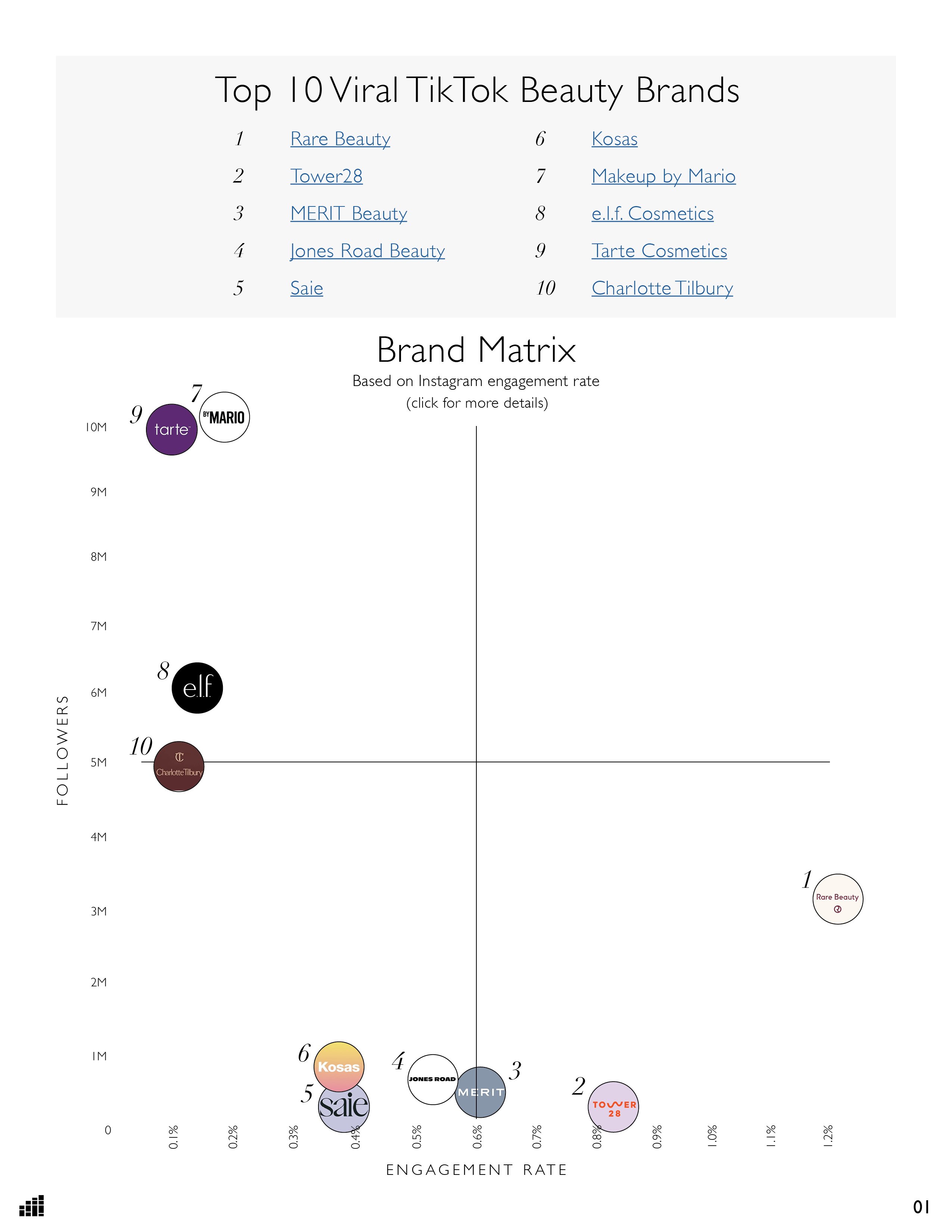 1. Rare Beauty
IG: @RAREBEAUTY
Launched in September 2020 by Selena Gomez, Rare Beauty was quick to succeed and has built an impressive presence on TikTok over the past two years. With over 775K followers and 16M likes on the platform–in addition to 3M Instagram followers–Rare Beauty's popularity stems from the countless creators and consumers who rave about the brand's highly pigmented Soft Pinch Liquid Blush.
2. Tower 28
IG: @TOWER28BEAUTY
Founded by Amy Liu and named after a real lifeguard tower in Santa Monica, Tower 28 offers vegan and cruelty-free products for sensitive skin. With over 343K likes on TikTok, this LA-based clean beauty brand has found success on the platform with its SunnyDays SPF 30 Tinted Sunscreen Foundation. The item continues to sell out as it helps people achieve the aspirational "glass skin" look.
3. MERIT Beauty
IG: @MERIT
Dubbed "the new Glossier" on TikTok, Merit Beauty prides itself on its minimalist approach to beauty. The brand's curated lineup of multipurpose products is ideal for daily use, including the Flush Balm Cream Blush and The Minimalist–which works as both a concealer or foundation. Famed on TikTok for their #FiveMinuteMorning routine videos, Merit promises accessible, effortless beauty.
---
To learn more about trends that are growing — and dying, or to get access to the full report, please contact hello@trendalytics.co.