Trending Themes: Maximalism
Trending Themes translates macro cultural shifts into product-level insight in order to offer a deeper understanding of the movements that will impact current and emerging design, consumer, and retail trends. Maximalism is quickly becoming the trend of this summer and beyond. Read on to discover how it translates across market categories.
Women

After a year of monochrome sweatsuits and comfort dressing, it's no wonder that women are re-emerging from lockdown ready to make a statement. Bright colors and mismatched prints have taken over our Instagram feeds as brands like Paloma Wool, House of Sunny, and Lisa Says Gah skyrocket in popularity. Dubbed 'avant basic' by editor and consultant Emma Hope Allwood for its cult-like following, this maximalist aesthetic is expected to be the cool girl's post-pandemic uniform.
Brand To Watch
BALOU
Launched in March 2021, BALOU is a made-to-order brand based in France. Taking a zero waste approach, the brand offers pre-orders for any piece and print in the collection. Inspired by an island called l'Île de Ré, the prints are the primary focus and bring each of the brand's classic styles to life. Every month, BALOU collaborates with another small business–recently, the brand's recognizable prints were featured on handmade rugs and ceramics.
Update
Retro-Futurism
A notable trend on the SS21 runway, retro-futurism blends the bright colors and one-of-a-kind statement pieces characteristic of maximalism with edgier silhouettes and unexpected details. Referencing 70s- and 90s-era styles, the future of maximalism is defined by sheer fabrics, trippy prints, extreme cutouts, and asymmetry. The head-turning designs at Auné embody this emerging trend, as do the printed corsets at Charlotte Knowles and strappy sets at Kim Shui.
Men
Men are embracing maximalism as they experiment with patterns, fabrics, and accessories. Emerging trends like men's satin shirts (+80% to LY) and men's rectangle sunglasses (+7% to LY) are experiencing accelerated growth. Virgil Abloh stressed 'more is more' in his FW2021 collection for Louis Vuitton that featured culturally-inspired accessories, including African wraps, red cowboy boots, and metallic LV-patterned suits adorned with airplane buttons.
Brand To Watch
Endless Joy
Founded by UK-based artists Stevie and Alexandra Anderson, Endless Joy is an art project that aims to elevate menswear through artistic expression. The brand presents original artworks that depict the human condition on eco-friendly fabrics. By doing so, they hope to achieve their goal of zero waste. Viewing clothing as a canvas for the artist, Endless Joy connects a network of craftspeople, artisans, textile experts, and environmental stewards to elevate menswear as art.
Update
Outfit Additions
As men continue to hop on the maximalist fashion trend, men will look to elevate their over-the-top looks by embracing embellishment. When Harry Styles wore a custom pearl necklace from Miami-based jewelry company Eliou, their sales from male customers skyrocketed. Women's jewelry brands like Kendra Scott are looking to capitalize on this accessorizing opportunity. The brand is launching Scott Bros., its first line of men's jewelry, just in time for Father's Day.
Beauty

At the start of the pandemic, consumer behavior drastically shifted. According to NPD, makeup sales fell 22% in Q1 2020. As lockdown continued and salons remained closed, beauty enthusiasts modified their routines, leaning into DIY forms of self-expression. The categories that were the first to fall—nail art, perfume, and lipstick— are re-emerging as trends to watch. Notable nail looks include glitter (+424% to LY), evil eye (+742% to LY), and smiley face designs (+405% to LY).
Brand To Watch
Youthforia
Youthforia is going out makeup for sleeping in. Created and founded by Fiona Chan, Youthforia was inspired by the feeling of excitement and exhaustion that comes from a night out. Each product is formulated with USDA-approved botanical ingredients, so forgetting to wash your face is totally fine. For the testing process, Chan slept in Youthforia makeup and reported having better skin. Bold colors, innovative formulas, and interactive packaging define the brand.
Update
Anti-Beauty
The desire for experimentation and self-expression paired with the flood of online tutorials has resulted in an anti-aspirational aesthetic. With more confidence to step out of their comfort zones, consumers are dismantling traditional beauty norms with playful looks and radical self-acceptance. Brands are echoing this new lexicon, redefining the language used for a more inclusive industry. In March 2021, Unilever announced that they would be banning the use of the word "normal."
Kids

With over a year of Zoom school under their belts, kids are ready to trade out their online school uniform of sweatpant sets with something more exciting. As they do away with casual and comfy, they'll embrace over-the-top styles like girls ruffle swimsuits (+137% to LY) and sequin backpacks (+10% to LY) to formalwear like girls polka dot dresses (+63% to LY) and baby tulle dresses (+37% to LY). Kids will rely on these outfits to express themselves in ways they couldn't during lockdown.
Brand To Watch
Lola and the Boys
Reimagining kid's fashion to be outrageous and eye-catching, Lola and the Boys allows kids to have fun with everything they wear. Founded in 2016 by Irina Ovrutsky, Lola and the Boys promises to remain playful and affordable while offering kids an outlet to express their imaginations and creativity. Glitter, unicorns, tulle, and rainbows are a mainstay. The brand's designs, including matching sets for mom, can already be found at Nordstrom.
Update
Embellished Essentials
Kids' post-pandemic desire to get dressed up will impact the back-to-school market come this fall. With an IRL return imminent, kids will trade out sequin slippers for sequin backpacks. They'll be sure to keep their styles recess-friendly as they look to pair tulle skirts with comfy sweatshirts and glitter sneakers. Retailers like Target are redefining the day-to-day essentials kids will live in, offering assortments full of sequins, rainbows, and unicorns.
Home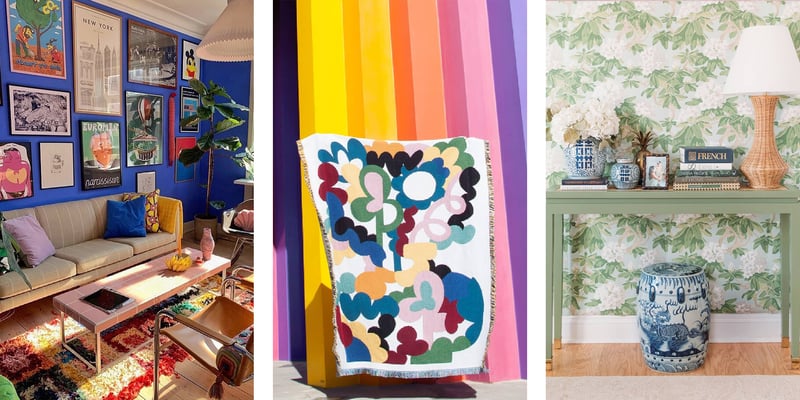 A full year into lockdown, we've spent more time at home than ever before. Decorating our living spaces has become a priority and consumers are investing in objects that spark joy and express individuality. Fashion influencers are bringing interior design to the forefront, and, scrolling through a feed full of postmodern furniture (like the Ultrafragola mirror and the Murano glass mushroom lamp) and unexpected pops of color, it's clear that maximalism is resurfacing as a trend in the home market.
Brand To Watch
Slowdown Studio
Founded in LA in 2015, Slowdown Studio celebrates the discovery of emerging and established artists from across the globe. Slowdown Studio offers unique artist-designed blankets, rugs, towels, and other home goods from brands like Katie Gillies, Maison Balzac, and Neenineen. With over 350k followers on Instagram, Slowdown Studio is catering to a growing consumer base looking for standout decor. Mismatched colors, patterns, shapes, and textures bring maximalism to the home.
Update
Grandmillennial
Grandma's decor is making a comeback. "Grandmillennial style is a generational rebellion against the sleek minimalism of midcentury modern design," explains Rebecca Breslin, senior design manager for Wayfair Professional. The trend is quickly growing in popularity as it spreads from living rooms and bedrooms to kitchens and bathrooms. Searches for grandmillennial are up +106% to last year and #grandmillennialdecor contains over 55k posts on Instagram.
---
To learn more about trends that are growing — and dying, please contact hello@trendalytics.co.