March 2021 Top Trends
From crafty essentials to virtual spring break apparel, these are the trends that emerged in March and are expected to impact the womenswear, menswear, childrenswear, and beauty markets for months to come.
Women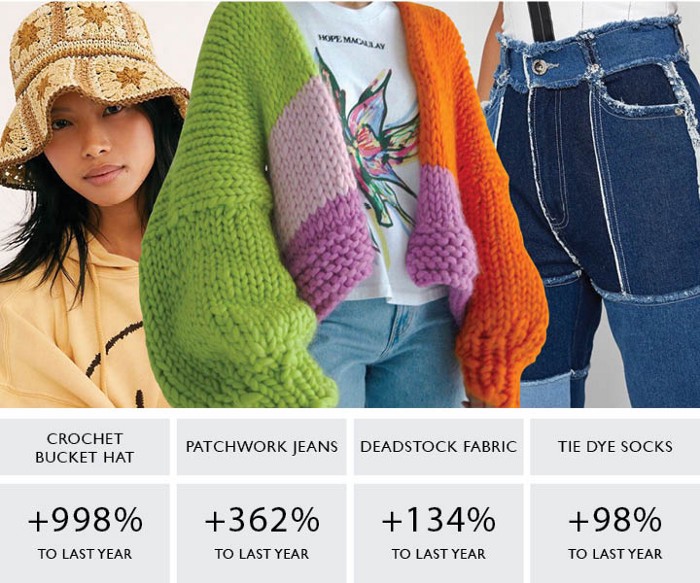 Rooted in our desire for escape and connection, the craftcore movement that exploded during quarantine shows no signs of slowing down. Macrame, crochet, and tie dye are making a major comeback in the retail world, and consumers are searching for everything from crochet bucket hats (+998% to LY) to tie dye skirts (+62% to LY) and socks (+98% to LY). An opportunity for sustainable craft, patchwork jeans (+362% to LY) and sweaters (+162% to LY) made with deadstock fabric (+134% to LY) combat the industry's negative environmental impact.
Men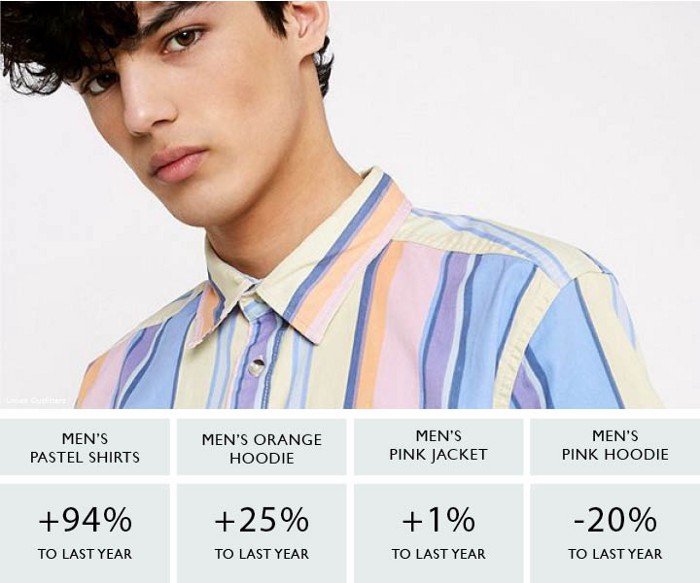 Men's wardrobes are starting to reflect the change in seasons — as spring hues like pinks, purples, and blues — take over their closets. Men's pastel shirts (+94% to LY) and men's pink jackets (+1% to LY) are emerging trends. They'll be phasing out pink hoodies, which are down 20% to last year, while men's orange hoodies (+25% to LY) are currently peaking. It's evident that with warmer weather comes more colorful attire, and menswear is no exception.
Beauty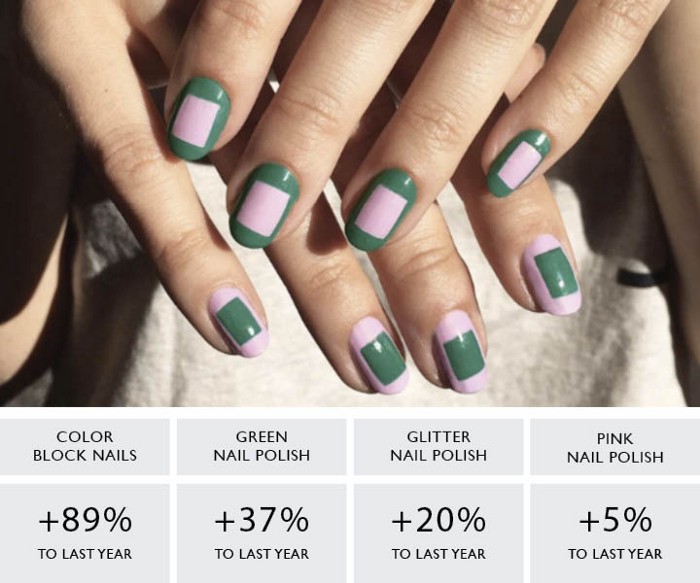 Nail polish and nail art are steadily recovering to meet their pre-pandemic popularity. Colorblock (+89% to LY), glitter (+20% to LY), and flower nail art (-4% to LY) are emerging trends to watch, while nail stickers (+38% to LY) and wraps (+17% to LY) have reached peak popularity. This season's trendiest shades? A pastel palette of blue (+1% to LY), green (+37% to LY), pink (+5% to LY), and purple (-2% to LY).
Kids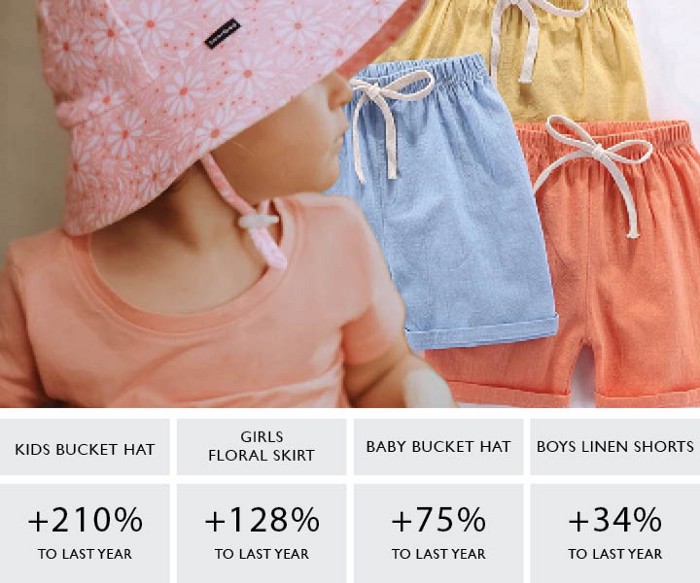 With (virtual) spring break here, parents are shopping vacation attire for kids. Boy's linen shorts (+34% to LY), girl's Bermuda shorts(-15% to LY), and girl's floral skirts (+128% to LY) are emerging, in addition to kid's sunscreen, an essential up +31% to last year. Safe bets, baby bucket hats (+75% to LY) and kid's bucket hats (+210% to LY) will keep the sun out of their eyes as they forgo girl's and boy's slides, which are down 19% and 21% to last year.
---
For the full report or to learn more about trends that are growing — and dying, please contact hello@trendalytics.co.