SS22 Womenswear Forecast
Using our proprietary algorithm, we've identified themes and trends that are likely to grow over the next year. Read on for the trend stories that will shape the Spring/Summer 2022 season.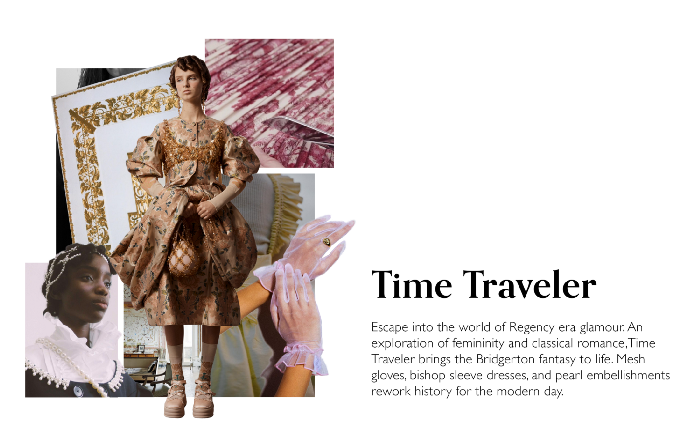 Context
Bridgerton Buzz
According to Netflix, around 82 million households immersed themselves in this steamy historical romance. Season 2 of Bridgerton will begin filming in the spring of 2021.
#REGENCYCORE
On TikTok, the hashtag Regencycore has one million views.
Simone Rocha x H&M
Simone Rocha is bringing historical silhouettes and feminine details to H&M in a limited edition collection launching March 11.
Key Items
Brand To Watch
Grete Moeller
Rooted in the principles of gender-neutral fashion, the designs of London-based Grete Moeller reinvent 16th-century style. Moeller creates Regency Era styles for 21st-century individuals across the gender spectrum — rejecting the queerphobic norms that once ruled at the time. The designer's signature looks feature crinoline skirts, quilted textures, lace accessories, and toile patterning.

Context
Etsy x Gee's Bend
Etsy has partnered with the quilting collective Gee's Bend to enable women to sell their world-renowned quilts on a global online platform. There are 120 quilts currently on the site.
Secondhand Surge
Resale and second-hand markets look set to soar to $51 billion by 2023, according to GlobalData.
Upcycled Interest
The term 'upcycle' has 39k average weekly searches, up +12% to last year.The trend is new to market–53% of products are new within the last 3 months.
Key Items
Brand To Watch
String Ting
What started as a crafty fundraising initiative for frontline workers has now blossomed into a bead-centric brand that screams bright colors, optimistic expression, and effortless cool. Started by Rachel Steed-Middleton at the start of the pandemic, String Ting is a line of handmade phone straps, frame chains, and bracelets. Described as a "bizarre standout accessory" by Vogue, the brand's acrylic, glass, and resin bead designs have captured the attention of consumers across the world.

Context
The North Face x Gucci
High fashion meets high performance in The North Face x Gucci collection, which celebrates the spirit of exploration. Cozy puffer jackets, goose down skirts, leather hiking boots, and even a monogrammed tent are here to elevate your next outdoor adventure.
Outdoor Escape
According to a survey by CGPR, 20% of consumers are spending more time outdoors since the onset of COVID-19. In a separate report by McKinsey & Co., researchers said 90% of those new to the outdoors plan to continue the activity once the virus subsides.
Functional Future
Searches for the term 'utilitarian' are up +11% to last year, with 70k average weekly searches. Market adoption is +3% in the last 30 days.
Key Items
Brand To Watch
Volleback
Combining the worlds of technology and the outdoors, Volleback is way ahead of their time. Not only is every new release a style-forward option, but the ingenuity that goes into the R&D phase of each piece simply sets them apart from your traditional outdoor gear brand. From hoodies designed to last 100 years to solar jackets that illuminate after dusk to the world's first ceramic clothing system and hoodies that have been scientifically proven to help you relax.
---
If you're interested in the full SS22 Womenswear Forecast report or want to learn more about trends that are growing — and dying, please contact hello@trendalytics.co