Top 10 Black Fitfluencers
The historically whitewashed wellness industry has often excluded Black women from the conversation around fitness and health. With Black History Month almost here and wellness on our minds, it's more important than ever to expand the lens of the fitness space to celebrate Black fitness influencers.
The pandemic has boosted interest in at-home fitness and overall wellness, with searches for the term virtual wellness up 151% to last year. Rather than fit into the mold of a growing, white-dominant industry, Black fitfluencers are challenging and redefining the fitness industry as we know it. With different body types and different exercise interests in mind, these fitness phenoms turned influencers are building a fitness industry that focuses on body-positivity, strength-building, and wellbeing, and more importantly, one that celebrates and includes the Black community.
As the Black fitness community continues to gain well-deserved recognition, so do Black-owned activewear brands. From Lukafit's "squat-proof" bodysuit to Melt Fit's assortment of eye-catching styles that range from size S to 3X, Black-owned activewear brands offer a wide array of products for every one of your fitness needs.
Read on to discover ten Black fitness influencers that are finding success online as they challenge and improve the global wellness space.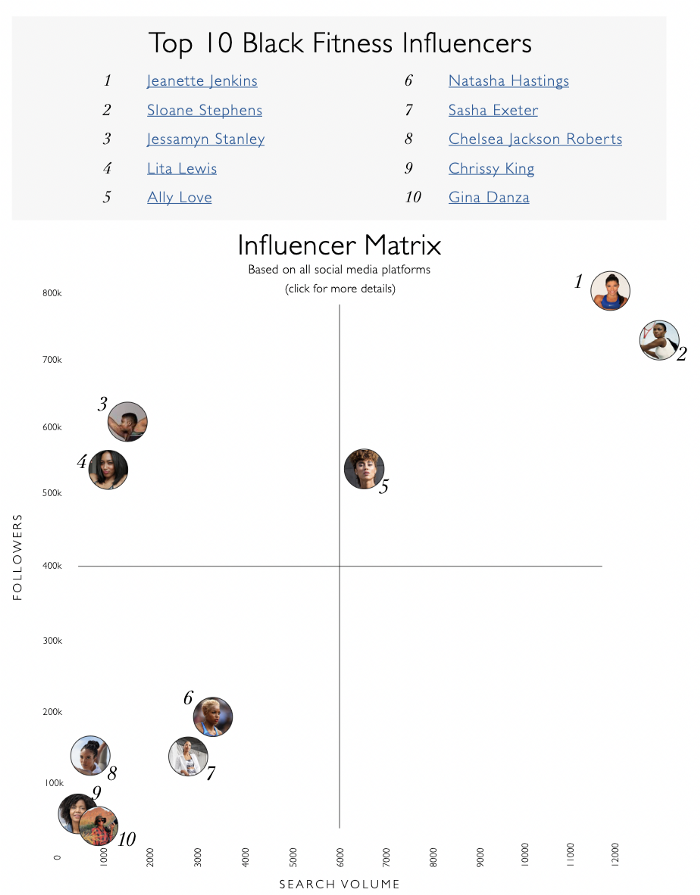 1. Jeanette Jenkins
Founder of The Hollywood Trainer Club, Jeanette has over 30 years of experience as a trainer and health coach. Raised by a single mother, she found solace in sports. Fast forward to today, she strives to help everyone find the athlete within themselves by sharing quick workouts on her Instagram Live. After recently collaborating with Apple to create a Fitness Walk and with over 11K average weekly searches for her name, Jeanette's influence is the one leading this space.
2. Sloane Stephens
IG: SLOANESTEPHENS
With 500K Instagram followers, up-and-coming tennis pro Sloane Stephens is making a name for herself. At Wimbledon in 2018, she achieved a career-best ranking of №3 in the world. Her avid fans follow her every step of the way and often join in on her Instagram workouts. In addition to showing followers that perfect tennis form, she's passionate about her foundation that inspires underprivileged girls to dream big on and off the court.
3. Jessamyn Stanley
IG: MYNAMEISJESSAMYN
Body-positive yogi, author, podcaster, and more, Jessamyn Stanley helps her students move past mental and emotional barriers, just as she's broken so many barriers in the yoga industry. This February 2021 Cosmopolitan cover star also founded The Underbelly: a community for everyone overlooked and underserved by the wellness industry. A firm believer in upcycling, she also crafts her own yoga props made out of anything that is lying around the house.
4. Lita Lewis
IG: FOLLOWTHELITA
Born in LA but raised in Sydney, Australia, Lita has traveled the world motivating people to reach their goals. Her African American and Samoan ancestry encouraged her to break into the fitness space when she felt there was not enough representation for Black women. This bodybuilder contestant turned fitness coach is known for her Ab Chiseler program, in addition to advocating for body-positive athletes as she owns clothing brand Thick Athletics.
5. Ally Love
IG: ALLYMISSLOVE
Peloton instructor turned wellness coach and founder of the Love Squad, Ally Love empowers followers to reclaim their lives by facilitating honest conversations. Through her Instagram segment The Basics of Bossing Up, Ally discusses tangible takeaways for everyday life. A Brooklyn Nets host, TEDx speaker, Adidas Global Ambassador, and model, Love now has a devoted 535K Instagram follower base and growing.
6. Natasha Hastings
IG: NATASHAHASTINGS
As a 2x Olympic Gold Medalist in Track and Field, Natasha Hastings is as fit as it gets. On her feed, she often highlights her favorite fitness gear and her Under Armour partnership. She also promotes her vegan beauty brand 400M Diva Collection, named after her Olympic event. She created a foundation to encourage girls to become women of confidence in life and sport.
7. Sasha Exeter
IG: SASHAEXETER
Canadian blogger Sasha Exeter brings equal parts HIIT and handbags with a feed focused on both fitness and fashion. As a former athlete turned global brand marketer and entrepreneur, Exeter founded So Sasha, a fitness, fashion, and lifestyle blog, where she shares her experience finding refuge in exercise to overcome two chronic illnesses. She is more than just your typical fitness influencer and has partnered with brands like Nike, Clinique, and Jo Fresh Active.
8. Chelsea Jackson Roberts
IG: CHELSEALOVESYOGA
Dr. Chelsea Jackson Roberts is a Peloton Yoga instructor and Lululemon ambassador who makes classes accessible for all body types and wants to challenge the idea of who can be a fitness instructor. She received her doctoral degree in Education Studies from Emory University after researching the connections between literacy development and yoga. She founded the Yoga, Literature, and Art Camp at Spelman College Museum of Fine Art.
9. Chrissy King
IG: IAMCHRISSYKING
Passionate about achieving racial equity in the fitness space, fitness coach Chrissy King welcomes and empowers individuals from all backgrounds to feel welcome in her Body Liberation Project. She encourages her 70k Instagram followers to exercise and move. Her mission is to help people embrace their bodies just how they are without emphasizing the idea of "fixing" their bodies through weight loss.
10. Gina Danza
IG: WILDGINAA
With 60K Instagram followers, Gina Danza is an outdoor photographer that is expanding outdoor fitness to include the Black community. After spending weekends hiking in national parks, she quit her corporate job to capture moments in the great outdoors. As an outdoor enthusiast who believes being in nature creates a unique sense of growth, she strives to increase Black representation in nature and beyond.
---
If you're interested in becoming a member and want to learn more about trends that are growing — and dying, please contact hello@trendalytics.co.