How To: Comp Shop at Home
With many retail stores still closed and employees working from home, COVID-19 has revealed a new challenge: competitive shopping from the comfort of your home. Now that methods of remote comp shopping no longer exist, retail professionals are forced to revolutionize how they analyze competitor assortments and discover new trends.
First, let us set the scene.
Even well before the pandemic, countless retailers were struggling to adjust to changing consumer demand and an influx of digitally-native competition.
Dramatic shifts in demand, a drop in spending, and brick-and-mortar disruptions have presented insurmountable challenges, particularly for those who were already struggling to pay off debt.
Figures from Coresight Research predict that as many as 25,000 stores could shutter this year due to our current crisis. The brands and retailers most likely to survive a shock like the current pandemic are those who remain innovative and flexible in adjusting to the demands of the post-pandemic consumer.
Cities are starting to reopen, and with them, so are stores. But questions remain over what the new retail environment will look like: How and when will post-COVID shopping bounce back? Will consumers stick to essential-based purchases or will they lean into optimistic opulence? Given the unprecedented nature of the current cultural landscape, retailers need to listen to consumer insights gathered through quantitative research to combat unreliable historical data. The answer is in the data.
ACTION ONE: Identify aspirational brands and retailers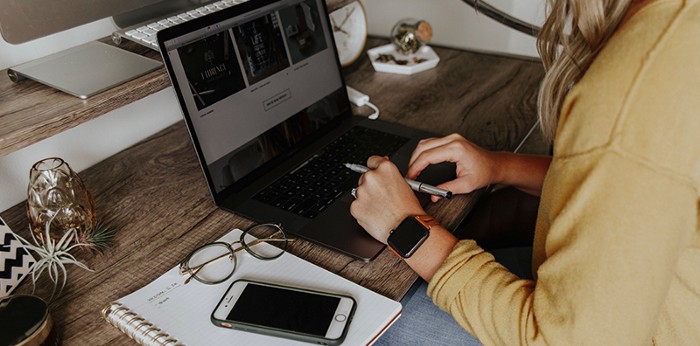 Aspirational competition does not need to include direct competitors, but people you look to for inspiration from an aesthetic perspective. Once you've identified aspirational brands or retailers, navigate to each e-comm site to explore their assortment levels.
Tools like Trendalytics serve as a one-stop-shop where you can seamlessly explore product count by gender, category, brand or retailer, and color or color family.
▷ TL TIP: On average, Trendalytics users save 60+ hours every quarter by automating comp shopping and assortment analysis.
ACTION TWO: Explore new arrivals and top market movers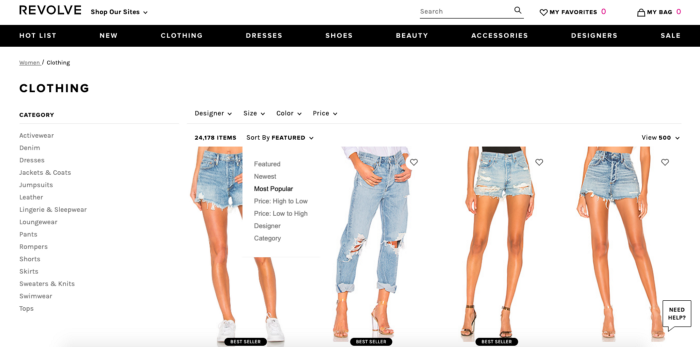 If your aspirational competitor's e-comm site allows you to sort by new arrival and/or best-sellers, opt to view their assortment in that way. This will allow you to identify new trends or best-selling styles and silhouettes. As you scroll, be sure to keep an eye out for any recurring patterns. This will help you pick up on any themes that could be an ideal fit for your business.
In this example, I'm noticing several new arrivals in the denim category, high rise silhouettes being the most popular. Many of the new denim arrivals also have a best-seller icon, signaling to me that this is a popular item for Revolve.
▷ TL TIP: On average, Trendalytics users save at least one week every quarter per product developer by automating trend discovery and Instagram inspiration sourcing.
ACTION THREE: Harness the power of Google search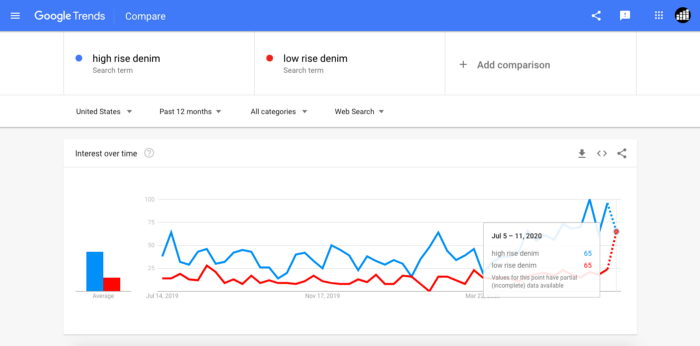 Navigate to Google Trends, where you can validate any trends or themes noted in the previous steps. Observing trends from a search perspective can give you insight into demand during a time when historical data is unreliable and unavailable.
While high rise is the most searched for silhouette, low rise is showing upward momentum and could be an untapped white space opportunity.
▷ TL TIP: Trendalytics Trend Discovery platform analyzes over 15,000 trends, empowering you to discover endless white space opportunities that may not be in your competitor's assortment, but have strong search demand.
Trendalytics Impact:

Trendalytics' smart filtering system allows you to view products by arrival date, best-sellers, or discount rate. Weekly e-comm updates show movement and price trends amongst specific categories, keeping you in the know. With nearly 200 brands and retailers, from fast fashion to luxury, you can explore the retail world while staying safe at home.
The Trendalytics process includes five easy-to-follow steps, helping clients stay informed with real-time assortment coverage of top brands and retailers. This process and our platform will save time, increase sell-thru, and capture higher margins.
STEP ONE: Identify aspirational brands and retailers.
Similar to step one in the exercise above, we encourage Trendalytics users to identify aspirational brands and retailers that are relevant to their business. Our MarketPulse section allows users to explore product count by gender, category, brand or retailer, and color or color family.
STEP TWO: Analyze top market movers in seconds
The Trendalytics platform allows users to create custom sets of brands they are interested in tracking. Once users have built a set of aspirational brands and retailers, they can view all e-comm products in an easy to digest stream, with a smart filtering system that allows users to sort by new arrivals or best-sellers.
STEP THREE: Ideate trends with the power of Google search
Trend Discovery is where Trendalytics users can discover trends that are growing and declining at a glance. Observing trends from a search perspective can give you insight into demand during a time when historical data is unreliable and unavailable. Discover untapped white space opportunities by noting any trends that have strong search demand and are not in your competitor's assortment.
STEP FOUR: Run a default attribute comparison report
In the Reports suite, users can analyze default attributes (fabrics, colors, and prints) from the Trendalytics product dictionary across your aspirational brands and retailers.
STEP FIVE: Run a custom attribute comparison report
Once users have parsed through default attributes, we encourage them to run a Custom Attribute Comparison report using themes they may have noticed throughout the exercise. Comparing these assortment levels to your own will help you determine what you should be investing in for future assortments — and what you should be phasing out.
---
If you're interested in becoming a member and want to learn more about trends that are growing — and dying, please contact hello@trendalytics.co.