Top 10 Eco-Home Brands
Sourcing Style
The past year spent at home has brought new life to the home market as many reworked their living spaces to better accommodate life in lockdown. Comscore e-Commerce research indicated that online spending in the furniture, appliances, and equipment categories shot up to over $12 billion in Q2 2020, making it the highest quarter ever, a nearly 50% increase compared to Q1 2020.
As it forced us to spend more time at home, the pandemic also heightened our awareness of systemic issues like climate change. A survey conducted by BCG reported that 70% of participants were more aware that human activity threatens the climate now than before COVID-19. Furthermore, the pandemic is changing how and what we consume as our behaviors shift to align with our ethics. Featured in BBC News, a 2020 global survey showed that 60% of participants reported making more environmentally friendly or sustainable purchases since the start of the pandemic and that 9 out of 10 of that percentage said they were likely to continue doing so. Keywords like sustainable (+16% to LY) and circular economy (+17% to LY) are currently experiencing accelerated growth.
Proving that style doesn't have to hurt the planet, many brands are focusing on the intersection between home decor and sustainability. One such brand, The Joinery, emphasizes quality over quantity. The Portland-based company's small but mighty following makes it the top brand to watch based on Instagram engagement. From bath decor to bedding to kitchenware, brands like Goodee and Our Place also offer a range of eco-friendly options. Read on to discover the top ten sustainable home brands engaging the conscious-minded consumer.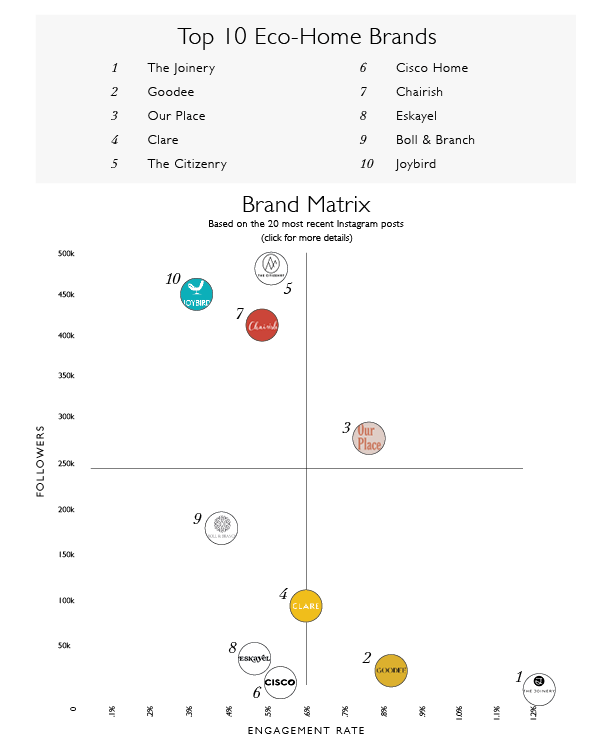 1. The Joinery
IG: @THEJOINERY
Using primarily locally sourced wood from Oregon and Washington, The Joinery creates handcrafted furniture from sustainable forest resources. In an effort to go green, the Portland-based brand also embraces solar and wind energy, and uses biodiesel to fuel its delivery trucks. Additionally, the facilities have high-efficiency lighting and reuse or recycle scrap lumber.
2. Goodee
IG: @GOODEEWORLD
This ethical design shop is an online marketplace that features a wide variety of sustainable brands, ranging from furniture to lifestyle to baby products. Embodying their motto of being givers, Goodee is part of the 1% for the planet movement. They are committed to donating 1% of annual sales to environmental causes, regardless of whether or not the company was profitable that year.
3. Our Place
IG: @OURPLACE
This Los Angeles-based kitchenware startup uses plastic-free, fully recyclable packaging made from recycled materials. The brand's famous Always Pan, made partially of recycled materials, is an 8-in-1 pan designed to do it all–fry, boil, sauté, and more–which cuts down on the need to purchase multiple products. Additionally, Our Place's factory workers are paid above living wages, and the facilities are audited by third-party organizations.
---
If you're interested in the full report and want to learn more about trends that are growing — and dying, please contact hello@trendalytics.co.