Earth Day 2020: Sustainability In The Time of COVID-19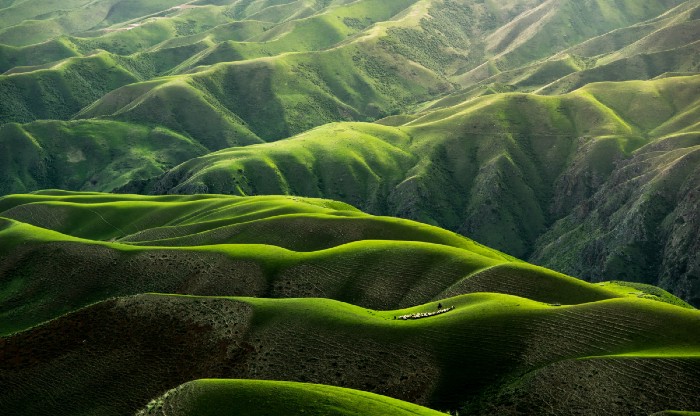 On April 22, 1970, over 20 million Americans gathered across the country for teach-ins, rallies, and public cleanups on the very first Earth Day. Now, 50 years later, we gather for many of the same reasons: to demonstrate support for environmental protection, explore innovative climate solutions, and push for action at all levels. Since that first historical gathering in 1970, we have made significant strides in sustainable innovation and cultural sentiment, but with alarming reports and apocalyptic predictions being released every year, it is clear that climate action is more urgent now than ever. This year, we are asked to consider the most effective ways of mitigating climate change, while in the midst of an even more immediate crisis. COVID-19 has and will continue to shape the future of our world, and how society responds to this crisis will directly impact the efficacy and timeliness of our ongoing fight for climate justice.
This pandemic is disrupting everything, from global supply chains to public health systems to our day-to-day lives. Many are hoping the crisis will force systemic change on a massive scale. In an interview with Dezeen, Li Edelkoort discussed the possibility of a better world post-pandemic. "It seems we are massively entering a quarantine of consumption where we will learn how to be happy just with a simple dress, rediscovering old favorites we own, reading a forgotten book and cooking up a storm to make life beautiful," she said. We have known for years that we cannot sustain our current rate of consumption. We must change the way we live, travel, consume, and entertain — and this pandemic is giving us no choice but to do just that. Climate and labor activists are hoping that the current system will be replaced by one that has more respect for the planet and human rights. Brands like Allbirds and Outerknown are already using this period of stalled sales as an opportunity to further their sustainability plans. Others are likely to follow suit as analysts advise them to consider this hiatus as an ideal time to make progress toward large, industry-wide goals like circularity.
Recent images showing pollution levels in affected areas like New York, Los Angeles, Wuhan, and New Delhi are providing proof that slowing down can improve air quality and produce a healthier environment on a large scale. In March and the first week of April, NO2 pollution fell around 22% in New York compared to the same period last year, according to Descartes Labs. In India, where 1.3 billion people are now under lockdown, New Delhi has seen a drop of 70% in both nitrogen dioxide pollution and PM 2.5, fine particulate matter. While pollution levels are sure to return to pre-pandemic levels after shelter-in-place orders are lifted, these unprecedented times have shown us what is possible. "When people see the world that could be, it is harder to take it away," says Gretchen Goldman, a research director at the Union of Concerned Scientists. "When people see how much easier it is to breathe outside, when you see that possibility, I think it will make it harder for decision-makers to avoid taking steps to make this the norm, not the exception."
However, the outlook is not as positive when we shift our focus to less developed countries and the essential workers that reside there. Garment factory owners face financial ruin and the livelihoods of thousands of garment workers are at risk as several retailers cancel orders or refuse to pay for products that have already been completed, and government-mandated lockdowns continue indefinitely. As of March 31, Bangladesh alone had seen more than $2.8 billion worth of orders canceled or postponed due to the virus. According to the New York Times, ready-made garments comprised 84% of Bangladesh's total exports, and this loss compromises the ongoing employment of more than two million Bangladeshi garment workers.
The current situation is revealing just how unsustainable many of the fashion industry's practices really are. As many retailers fight off bankruptcy and cut costs wherever possible, there is concern that workers' conditions will only get worse. The lockdowns and health concerns that come with COVID-19 compound the already severe economic hardship of many garment workers. In a global crisis, sustainability commitments often take the backseat to more urgent matters, and economic downturns are very rarely favorable for labor movements. While many brace for a potential humanitarian crisis, others hope that the pressure felt by the industry will result in the adoption of comprehensive protective measures as they did following the Rana Plaza collapse in 2013.
In a recent op-ed for Business of Fashion, Eugene Rabkin, the editor of StyleZeitgeist magazine, argues that the post-pandemic consumer will be far from enlightened. He refutes the argument that the virus will prompt people to consume more responsibly, predicting that consumers will return to previous patterns. Conspicuous consumption and the need to feel cool will still be present after this is over. Sustainable clothing is more expensive than fast fashion, and there's no reason to believe consumers will opt for the pricier option during the coming financial crisis. Along the same lines, larger, often less sustainable retailers are in a much better position to survive this crisis than their smaller, more sustainable counterparts.
Both the eco-friendly and eco-averse predictions for post-pandemic life are grounded in facts and anything is possible at a time when no one knows what's next. Whether the current situation leads to more support for change or a reversion to business as usual, one thing is for sure: Climate change isn't going anywhere and neither is consumers' interest in sustainable fashion. Searches for sustainable fashion over the last three months are up +35% to the same time last year, while social buzz is up +26% compared to last year. COVID-19 isn't slowing down the spread of sustainability. Even during the week of March 29, 2020, at the height of the pandemic, social buzz for sustainable fashion was up 20% to last year.
At the very least, COVID-19 has shown us that it is possible for the world to mobilize against a common threat. Provided that no meaningful action is taken to fight climate change, the virus may very well be only a taste of the crises to come. But, rapid change is possible. This mandatory break represents an opportunity to re-evaluate the current way of doing things and explore solutions that more equitably account for people, planet, and profit. When enough of us come together to advocate for the greater good, as we do on Earth Day, we can all more clearly see the light at the end of the tunnel.
By The Numbers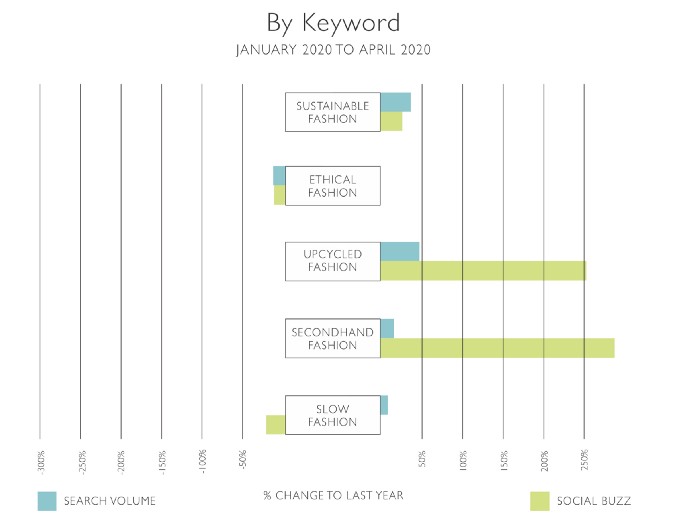 Although searches and social buzz for sustainable fashion continue to grow year after year, it is upcycled fashion and secondhand fashion that are capturing consumers' attention.
Searches for upcycled fashion are up +45% to LY, while social buzz is up +255% to LY. Melanie Kobayashi, WWD, and Beacon's Closet are among the social profiles with the highest engagement on this topic. The term secondhand fashion is even more talked about on social media, with social buzz up +286% to LY. Sarah H., Amanda Bloom, and Buffalo Exchange are the top profiles associated with it.
As consumers get more excited about sustainability through upcycled and secondhand options, they seem to be losing interest in terms like ethical fashion and slow fashion. While searches for slow fashion are slightly higher than last year, social buzz is down -22% to LY. Searches and social buzz for ethical fashion have both decreased since last year.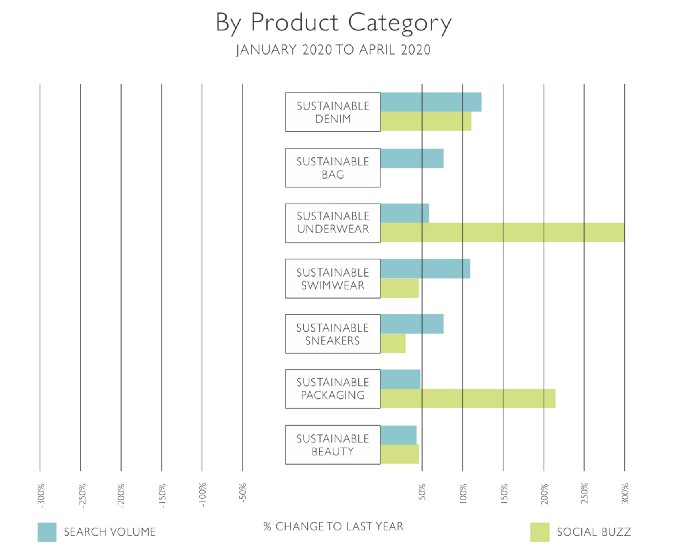 Denim is one of the most unsustainable product categories in the industry, and consumers are eager to find a more responsible alternative. Sustainable denim is the most searched for product category, with searches up +123% to LY. Search volume for sustainable swimwear comes in a close second. Searches for the term are up +112% to LY, with brands like TYR, Mara Hoffman, and Fisch among the brands with the highest number of associated products.
Despite the higher search volume for other categories, sustainable underwear and sustainable packaging are generating the most buzz on social media. Odlo, Bonds, and Teen Vogue are among the profiles posting about sustainable underwear on social media, while Mary Kay, W3LL PEOPLE, and Pacifica keep people engaged with sustainable packaging content.
---
For the full report or to learn more about trends that are growing — and dying, please contact hello@trendalytics.co.