Just the Data: Perfume Ingredients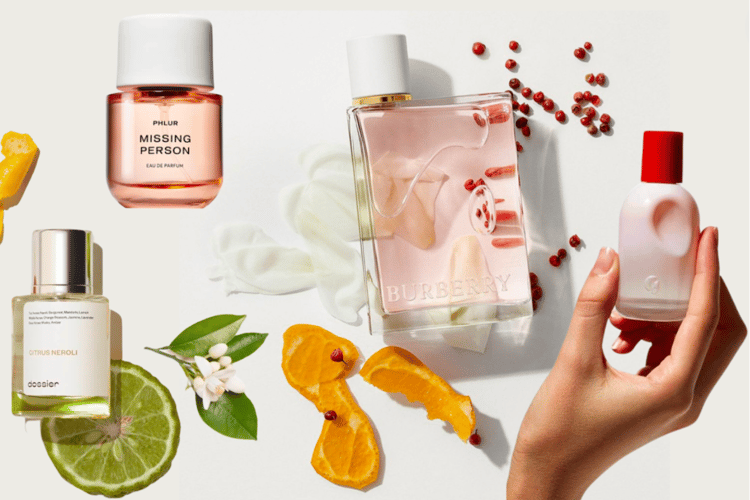 Perfume never fails to be a best-selling gift during the holidays, so we've gathered a list of the top trending perfume ingredients that consumers will be on the lookout for this season and into 2023.
Pheromone Perfume
Products like the 7 Virtues Vetiver Elemi blend with your skin's natural oils to create a personalized scent
A high volume search trend with over 19,000 searches, Pheromone Perfume is +94% to last year and will continue to grow over the next year
Popularized on TikTok, the hashtag #PheromonePerfume has 63.3M views
Citrus
Citrus has extremely high search volume at almost 98,000 average weekly searches and Citrus Perfume is +22% to last year
While you may expect this to be a summer scent, this trend spikes in November and December
Citrus has close to 4000 products in the market and is most saturated in specialty stores
Musk Perfume
With over 9,700 average weekly searches, this seasonal perfume scent is +73% to last year
Musk has become an increasingly popular note in unisex fragrances, as seen in the growing popular Glossier's "You" perfume, with growing searches +494% compared to last year
Selfridges is the top retailer carrying Musk Perfumes with 48 products in the market currently
Almond Perfume
Despite having a lower volume of searches, Almond Perfume is growing at an accelerated rate and is up +68% to last year
The sweet almond scent is proving to be the ultimate gender-neutral fragrance, featured as a top note in popular unisex perfumes like Molton Brown's "Flora Luminare", Prada "Infusion d'Amande", and Jo Malone's "Green Almond & Red Current"
Fruity Almond by Dossier mimics the Carolina Herrera "Good Girl" perfume for a fraction of the cost, with notes of peach and almond creating a perfect blend of fruity and nutty scents.
Neroli
With a high number of searches (over 20,000) for Neroli, Neroli Perfume is also growing at an accelerated rate and is up +101% to last year
This fresh scent is popular among many fragrances, with notes of citrus, honey, and flowers completing its profile
Luxury brands seem to be capturing most of the market share with this note like Dior, Prada, and Armani
Jasmine
There has been a +24% increase of Jasmine Perfume products the last 30 days
Gaining popularity on TikTok, Phlur "Missing Person" is +3,299% to last year, as hints of Jasmine and Orange Blossom make up its unique fragrance
Burberry Her Elixir perfume - with key notes of berries, jasmine and vanilla - is showing extreme popularity with a 66.6% stockout
---
To learn more about trends that are growing — and dying, please contact hello@trendalytics.co.