Fashion Month Spring/Summer 2024 Street-Style Trends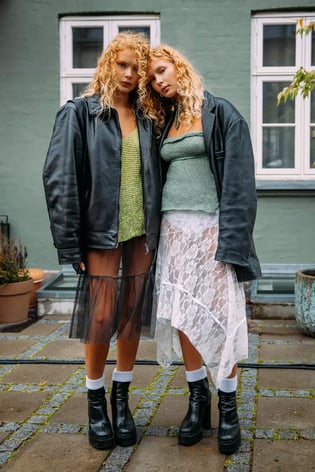 This season's street style was eclectic and daring as show-goers played with pops of color, silhouettes, texture and print while adding a personal touch to every look. A variety of outfits felt undeniably feminine with a punk rebellion undertone. Below, discover the top street-style trends we've gathered from all over the globe during the Spring/Summer 2024 fashion month, supported by Trendalytics data.
---
Pops of Color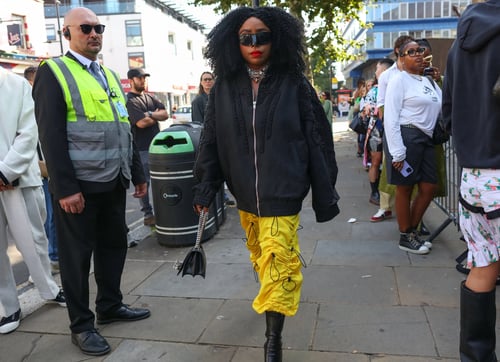 Neutral-toned outfits reigned supreme this fashion month as show-goers mostly stuck to a quiet palette––especially in Europe––yet mixed it up with a vibrant pop of color. Cherry red was the "it" color this season––up +12% to last year in searches––as we saw this hue having a moment whether in the form of heels, sweaters or handbags. Similarly, fluorescent greens (4K AWS) and sunshine yellows (+4% to LY) stood out, too, bringing an of-the-moment feel to any look.
Denim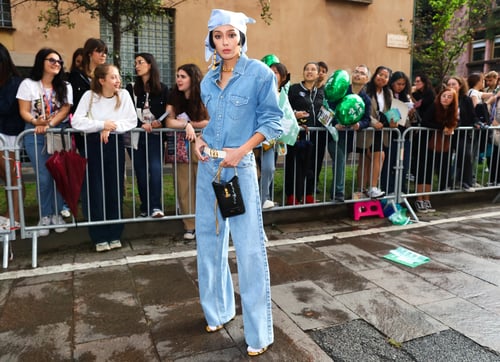 Denim was a top fabrication this season as the street-style set played with layering and baggy silhouettes. Oversized denim shorts (+31% to LY) and oversized denim jackets (+18% to LY) proved to be popular, especially with embellishments, along with denim on denim (+15% to LY) looks––the Canadian tuxedo definitely made its mark this fashion month. As for accessories, denim boots (+66% to LY) and heels (+92% to LY) were a hot trend paired with a denim bag (+47% to LY), paying homage to the early aughts.
Balletcore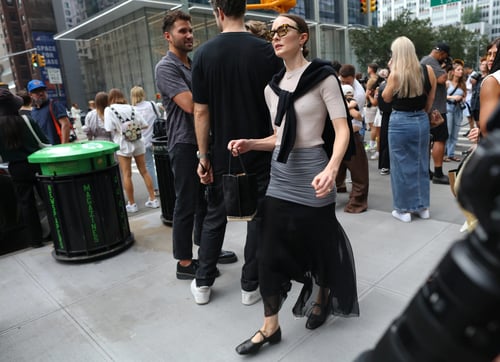 Balletcore, the internet's latest obsession and TikTok favorite trend, took over cities around the world bringing a feminine flair to the streets. Tulle skirts (+3% to LY), schoolgirl tights (+65% to LY), ballet flats (+68% to LY) and heels (+54% to LY) were popular pieces to accomplish the balletcore look. Ribbon bows (91K AWS) of all sizes were tied to garments or put in the hair for an extra sartorial touch.
Leather Jackets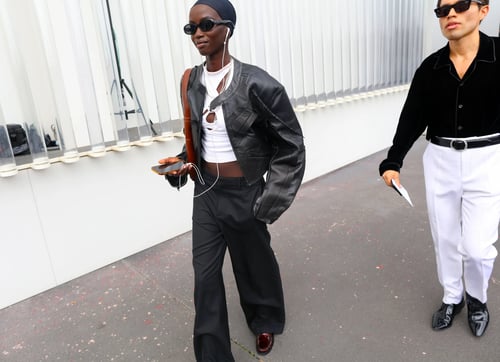 Leather made a statement during fashion month, giving rise to the punk rebellion aesthetic. Leather jackets (+5% to LY) were a go-to layering piece as we saw a wide variety of distressed leather jackets (+63% to LY) -- a safe bet trend -- and moto jackets (6K AWS). Leather footwear made an appearance, too, with pointed toe boots (+41% to LY), knee high boots (+1% to LY) and embossed loafers (+8% to LY).
Metallics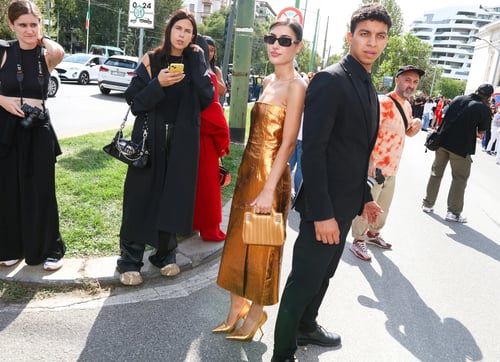 All things metallic have been making their mark on the fashion industry, and the street-style set brought an elevated update to this trend during this season's fashion month. Metallic bags (+41% to LY) and metallic heels (+60% to LY) have become wardrobe staples, especially with the holidays approaching, and we are seeing metallic molten jewelry (+41% to LY) emerge as well. Unsurprisingly, metallic dresses (+50% to LY), skirts (+144% to LY) and pants (+99% to LY) allowed for a more exciting look with variations in leather and denim, too.
Red Hair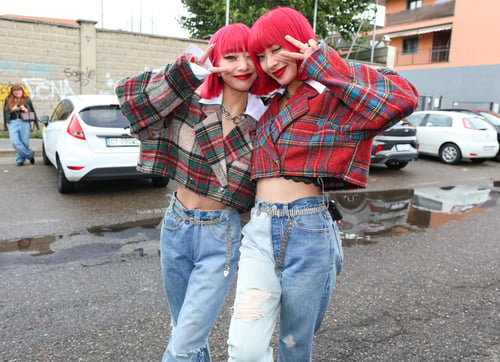 As the colder months approach, darker hair proved trendy in each city. Vibrant red hair (55K AWS) stood out in the crowds as the color red continues to be on the up and up in the fashion and beauty space. Darker, vampy red hair was popular, too, along with the latest TikTok hair trend copper hair (+23% to LY), offering a beautiful rust color perfect for the change of seasons.
Dark Lip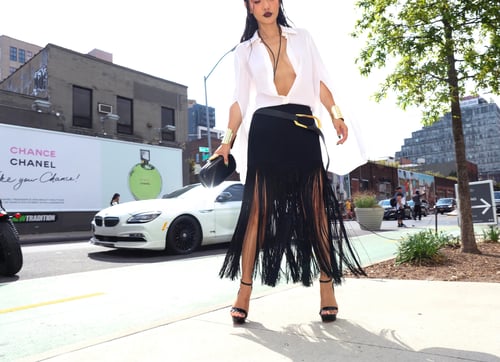 A twist on the classic red lip, dark lips (+9% to LY) were a top beauty trend this fashion month as show-goers wore deep reds, plums and even black lipstick. What made this look even more intriguing -- and punk -- was the use of dark lip liner (+30% to LY) to compliment and highlight the lips. A deep color palette will reign supreme this fall and winter when it comes to beauty.
---
To learn more about trends that are growing — and dying, please contact hello@trendalytics.co.