Op-Ed | A Sign Of The Times: Why Hippies Are Back In Style
Young women draped in peasant dresses and crowned in flowers bring your cultish nightmares to life at a fabled midsummer festival. At the same time, you're transported to the infamous Spahn Ranch as you land in the grips of Charles Manson and his denim-clad followers. It takes as much as a glance around to see that our modern culture is captivated by the visuals of 1960s counterculture and the hippie archetype. With Midsommar and Once Upon a Time In Hollywood, the entertainment industry shines a sinister light on the era.
The fashion industry, however, tends to take a more subtle approach. In fact, many of the trends we wear today are rooted in the counterculture of the 1960s. Although some may argue that this is merely a coincidence made possible by the cyclical nature of fashion, it is evident that this movement is intentional. One of the most tumultuous and divisive decades in American history, the 1960s were subject to tensions that are still very relevant today. So too are our reactions to them. Counterculture movements in the 1960s, and hippies in particular, had a distinctive brand of rebellion that designers and marketers are instinctively drawn to. If not for the aesthetics, the industry is fascinated by the era for the underlying meaning of its tie-dye t-shirts and flowing silhouettes.
The cultural impact of the 1960s continues to reverberate through to today, and it's fairly easy to draw parallels between then and now. A period of profound societal change, the 60s brought with it the civil rights movement, environmental movement, second-wave feminism, and sexual liberation. A young and educated generation put their anti-establishment beliefs into action, using non-violent protests and civil disobedience to challenge the status quo. They were the Greta Thunbergs and Emma Gonzalezes of their generation. And although we've seen some progress since this time 50 years ago, we still seem to be fighting for the same things. Are we not currently entrapped in a period of great unrest and protest? Institutionalized racism still exists. You need only watch a few documentaries to know that our criminal justice system is in need of reform. Police brutality and mass incarceration plague our system, while a resurgence of white supremacism leaves us questioning what we've learned from our nation's troubled past.
Progress has also been made in the environmental sector, but not enough. An outgrowth of 60s counterculture, the environmental movement set us on a path toward eco-consciousness and sustainability. Rachel Carson's Silent Spring turned heads as people began to embrace back-to-the-land living, organic farming, vegetarianism, holistic medicine, and marijuana use. We're now in the midst of an environmental crisis. The situation is more critical than ever as hurricanes devastate coastal cities and wildfires tear through the Amazon. Sustainable practices developed in the 60s are finding new meaning as we scramble for a solution.
Second-wave feminism broadened our meaning of the word to include issues such as sexuality, family, the workplace, and reproductive rights. Since then, we have broadened our meaning even further to focus on intersectionality. At the same time, we regress back to a time before our nation's sexual liberation in the late 60s and early 70s. With the current administration has come a wave of anti-abortion laws across the United States that threaten Roe v. Wade, the 1973 landmark victory for the feminist and sexual liberation movements. The question of a woman's bodily and reproductive autonomy remains.
Just as we did in the late 60s, we react to the recent escalation of social conflicts by clinging to a more idealistic worldview and embracing the hippie movement. A movement that promoted peace and love in the presence of hatred and war. One that made us reexamine our lives to better understand what we were doing and why we were doing it. As we once again question our nation's actions and crave an escape from conflict, we embrace the same colorful styles and freeing silhouettes we did 50 years ago.
The fashion industry has become fascinated with hippies' distinctive ethos, as the archetype has been resurrected on the runways. The late 60s and early 70s proved to be an era of great influence for designers in their Resort 2020 collections. The pleated skirts and fluid maxi dresses presented at Missoni celebrated a sense of freedom, discovery, and individuality that is just as vital today as it was five decades ago. The collection featured long hair, gender fluid silhouettes, and erratic pattern play that would look right at home among the flower children of 1960s San Francisco.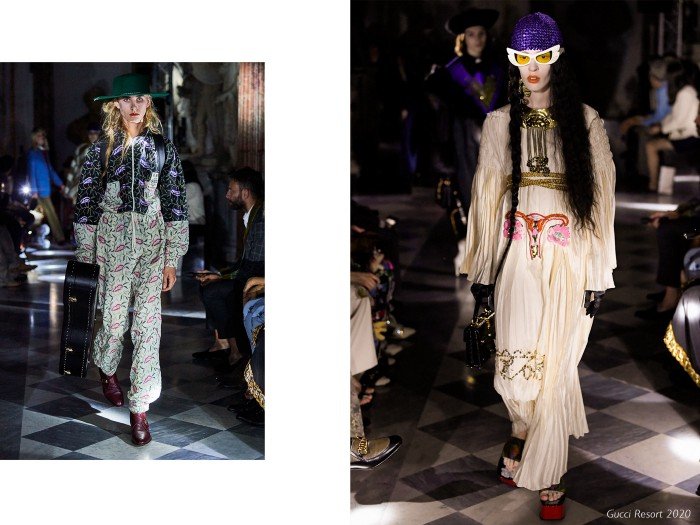 Gucci channeled the more political side of the counterculture, taking a clear stance against reproductive injustice. As a reaction to recent news, Alessandro Michele chose to use the collection as a form of activism. He sent the common protest slogan "My Body, My Choice" down the runway, as well as an ivory dress embroidered with the shape of a uterus and a capelet with 22.05.1978, the date that the Italian law protecting legal abortion took effect, plastered across the front. The eclectic aesthetic of the collection seemed to be just as much a part of the message as the protest elements themselves. Mismatched prints had a patchwork-like quality to them that brought to mind images of Woodstock-era hippies. The styling reinforced these images as both men and women wore their hair long and models carried guitar cases in place of handbags.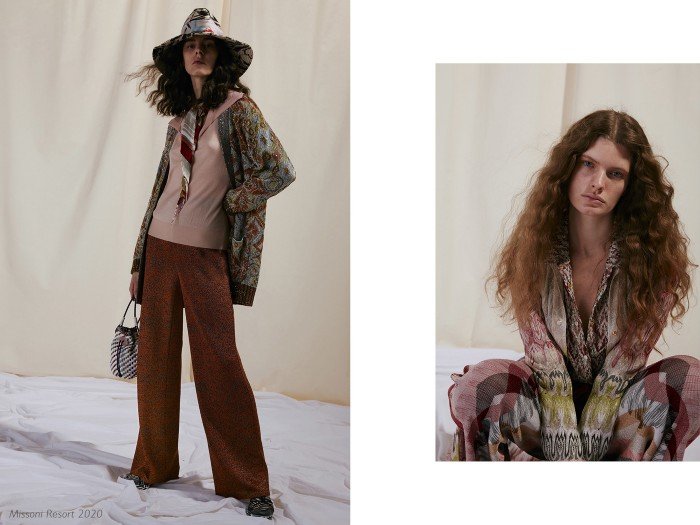 Known for her eco-conscious efforts, Stella McCartney collaborated with members of activist group Extinction Rebellion for her Winter 2019 campaign. Citing the civil rights movement as inspiration, Extinction Rebellion is a climate awareness group that uses non-violent civil disobedience to fight against mass extinction and minimize the risk of social collapse. In a short video for the campaign, model and activist Amber Valletta lists her five ways to save the world: "Everything should be circular, get rid of all guns, reform prisons, make love not war and, besides being kind and grateful, we should definitely make sure we can feed everybody on this planet".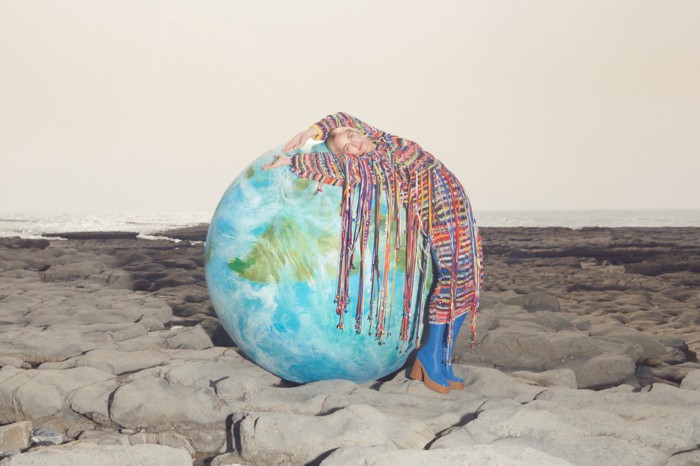 Consumers are embracing the hippie aesthetic with the same enthusiasm as designers. Tie dye has burst onto the scene this season, while milkmaid dresses, puffed sleeves, and ankle-skimming hemlines have dominated our Instagram feeds. Searches for milkmaid dresses are up +695% compared to last year, while searches for puff sleeves are up +153% to last year. The industry's overall shift toward the more casual may also be attributed to this counterculture movement. The ubiquity of blue jeans and the use of message tees as political and social commentary can be linked back to this era, as well as the simple concept of women wearing pants.
Hippie culture found expression in music, literature, fashion, and the visual arts, so it's only fitting that it reemerges on the runway. Both a cultural force and a communication tool, fashion has a reach unlike any other art form. As we look toward the future, we must learn from it what we can. The fact that we are embracing a movement grounded in peace, love and positive change in the face of seemingly insurmountable conflict should give us hope. Let this optimism and activism be what informs us as we enter the next decade.
---
If you're interested in becoming a member and want to learn more about trends that are growing — and dying, please contact hello@trendalytics.co.