Men's Grooming Trends 2020
WFH culture is having an impact on every category — and men's grooming is no exception. With people stuck at home in the name of social distancing, many popular trends are experiencing dramatic rises and substantial falls. To help you get caught up on everything your customers are searching for, we broke down the data into three sections that are of utmost importance this season: men's skincare, men's grooming, and men's cosmetics.
Men's Skincare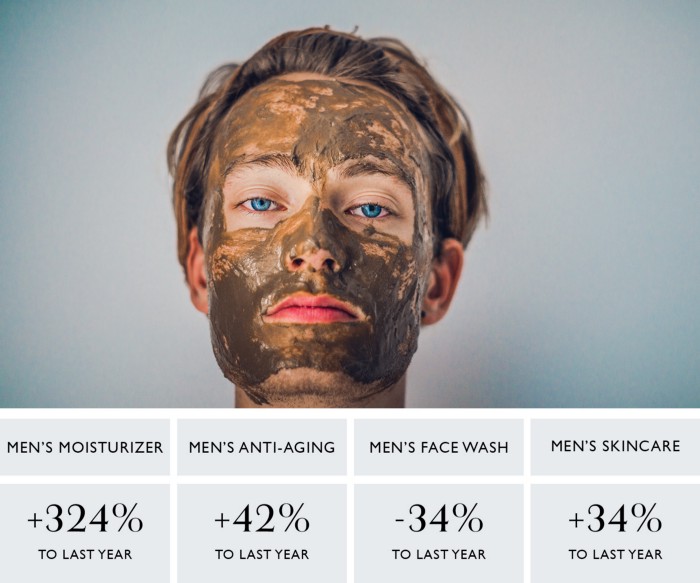 We may not be going out as much, but men are increasingly concerned with their skincare regimen. Men's moisturizer is a current favorite, with searches up +324% compared to last year. Men's skincare (+34% to LY), including serums and those in the anti-aging category, are seeing accelerated growth, with searches up +9% and +42% to last year, respectively. Interestingly, men's face wash is down in search (-34% to LY), meaning it might be time to switch out cleansers for moisturizers in your next promotion.
Men's Grooming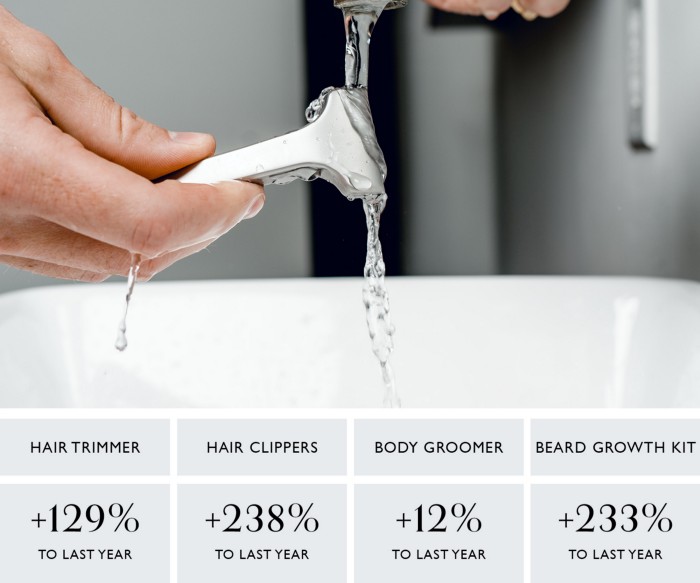 With many barbershops closed due to COVID-19, men are taking the clippers into their own hands. Hair trimmers and hair clippers are both seeing accelerated growth, with searches up +129% and +238% to last year, respectively. This may be a potential SEO opportunity, with hair clippers being searched, on average, 544K times a week as opposed to hair trimmers, which are only searched for an average of 122K times a week. There is also a rise in searches for body groomers (+12% to LY), showing customer's rising interest in grooming at-home. Additionally, beard growth kit has risen dramatically in search (+233% to LY), showing a possible opportunity for products such as beard oil (+1% to LY) and beard butter (+25% to LY) to continuing rising this season as men grow out their facial hair. While search is high for beard growth kit, with an average of 11K weekly searches, there are little to no products on the market, signaling a potential product opportunity for retailers.
Men's Cosmetics
In November of 2019, men's cosmetics were up in search +166% compared to the year prior. Now, men's makeup (-4% to LY) is on the downturn, with terms such as men's concealer and men's nail polish down -24% and -16% to last year, respectively. This is no surprise, as WFH culture is causing the makeup category as a whole to slow in search (-5% to LY). Now is the time to switch away from color cosmetics, and turn your focus to natural skincare.
Brands to Note
Clinique for Men offers a variety of paraben and phthalate-free cleansers, exfoliators, moisturizers, shave care, cologne, and targeted solutions. 1821 Man Made offers a curated selection of products inspired by the bootlegging of the American prohibition. Categories include beard & shave, hair, body, and fragrance. Every Man Jack offers men's grooming, haircare, and skincare products that are all formulated with plant-based, naturally derived ingredients.
---
For the full report or to learn more about trends that are growing — and dying, please contact hello@trendalytics.co.