Top 10 Street-Style Trends from Fashion Month Spring/Summer 2023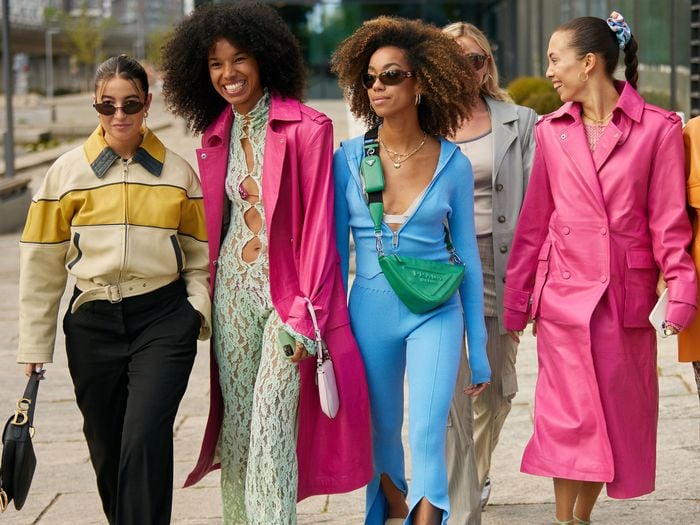 While the runways remain the focal point of Fashion Month, oftentimes, the most innovative styling cues emerge on the streets; plus, understanding how fashion insiders expertly translate emerging trends is the perfect indicator of the key styles that are set to continue to rise over the course of the next year. Ahead, discover the top 10 trends that showgoers are wearing to the Spring/Summer 2023 Fashion Weeks around the globe – and don't forget that you can download our NYFW SS23 Runway Recap here.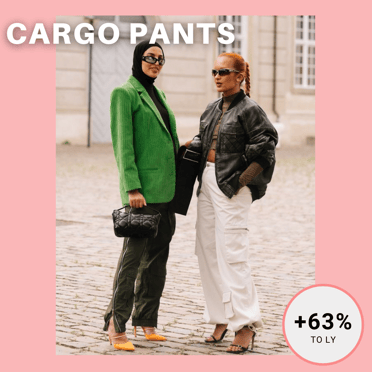 After emerging on the runways of trendsetting labels like Fendi and Collina Strada, cargo pants are proving to be a must-have on the street-style scene this Fashion Month. Cargo pants are +63% to last year, a safe bet trend, and will be seen taking an elevated turn as it continues to grow over the next year.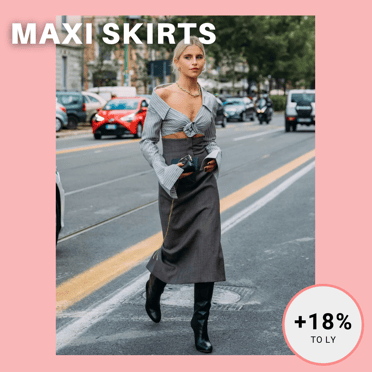 Skirts are all the rage this year with the return of the Y2K micro-mini length —especially after Miu Miu took this trend to the runways last season–– but let's not forget its more mature sister, the maxi skirt. While this trend may be more covered, it can be just as fun with fabrications like mesh, denim, satin, or tulle come into play. Currently, maxi skirts are up +18% to last year and are most saturated in the luxury market.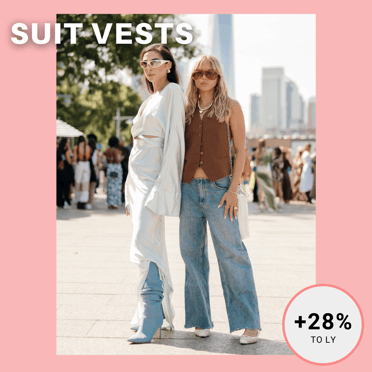 While suiting has been on our post-pandemic radar for a moment now, the suit vest (+28% to LY) is the newest addition to the trend. To note, this doesn't have to be styled as a three-piece suit or even worn in a "buttoned up" fashion for that matter –– the style set is adding an indie sleaze twist by pairing it back to cargo pants or a mini-skirt, too.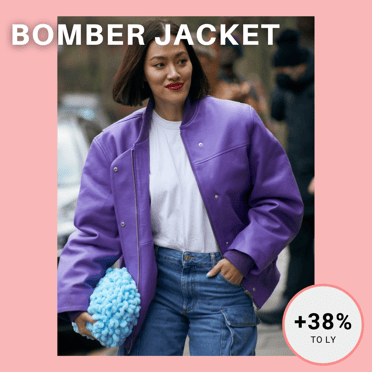 The oversized bomber jacket (+38% to LY) is back and the style set is in agreement that this is a must-have staple to add to your outerwear arsenal. On the runways, Simone Rocha interpreted it in a more feminine, sartorial direction while Khaite kept it feeling edgy.
The statement-making naked dress is here to stay; this trend is +18% to last year after gaining popularity on TikTok for it's empowering sex appeal. Naked dresses were all over the runways as designers embraced the female form, adorned in beautiful sheer fabrics, and showgoers were ready to adopt the fashion risk.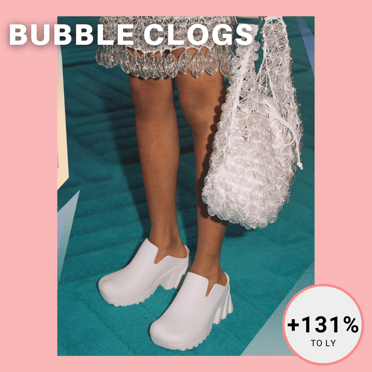 The street-style set is no stranger for embracing bizarre fashion pieces and bubble clogs are no exception. At the intersection of comfort and unconventional, bubble clogs (+131% to last year) are a maximalist's new go-to shoe and, most notably, Simon Miller's vegan bubble clogs are becoming iconic for their exaggerated shape and brilliant hues.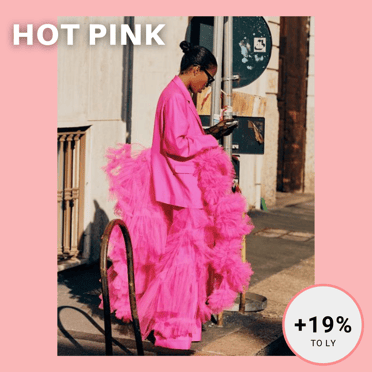 You can barely scroll the internet without seeing the phrase "barbiecore" –– from Valentino's hot pink AW22 collection to celebrities like Zendaya and MGK embracing the hue, social media-savvy showgoers wore the look-at-me shade across fashion weeks this season, too. In fact, hot pink (+19% to LY) is a top market mover and is maintaining a high search volume.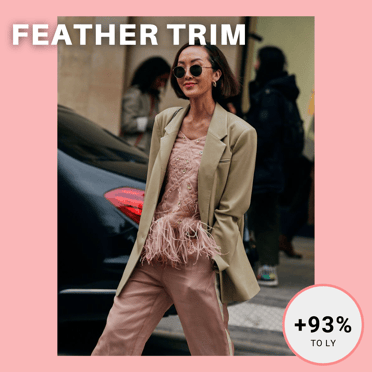 Feather trim is +93% to last year as the glam revival continues to own post-pandemic fashion. Designers like PatBo and Christian Cowan influenced embellished styling cues for both partywear as well as daywear and insiders were in agreement that feather-trimmed pieces are a playfully chic way to amplify a look.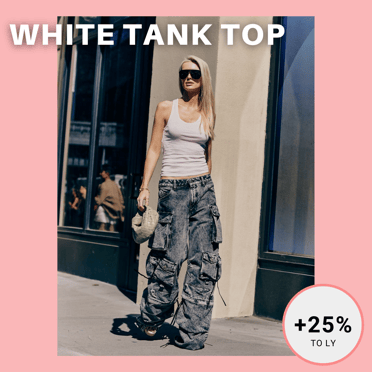 After the white tank top made its comeback on the Bottega Veneta runway last season, the street-style set embraced the simplistic style for daytime events. Paired back to cargo pants, mini-skirts or tailored trousers, the style is currently up +25% to last year with social buzz up +380% after NYFW.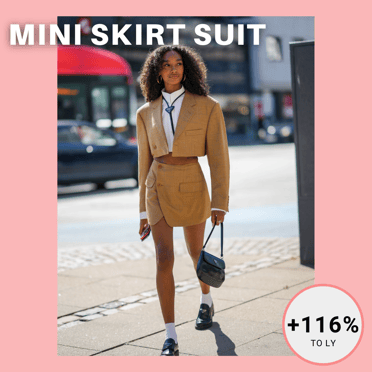 Mini-skirt suits are +116% to last year as power-dressing transcends traditional suiting. This new play on the power-suit proves that female empowerment doesn't need to look one particular way and brought a fashionable twist to showgoer-style.