Suncare & Tanning Trends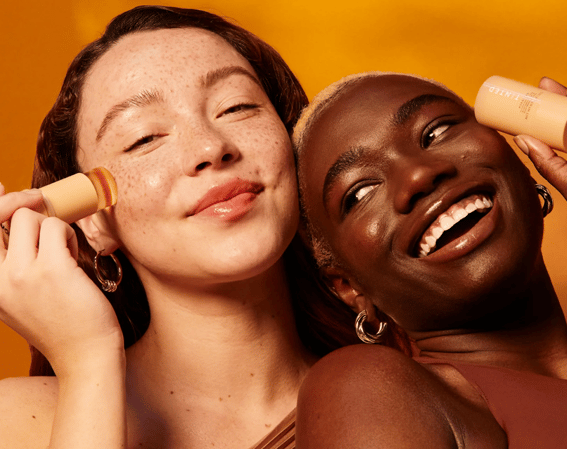 While suncare has long been seen as a summer necessity, sun protection is now incorporated into consumers' everyday skincare routines year- round. According to Mintel, over half of US sunscreen users (54%) are using sunscreen more often than they were a year ago. As consumers grow more informed about addressing and preventing signs of aging––driven by the pandemic's skincare boom––they recognize that sun protection is a vital part of any effective routine. The suncare market is evolving accordingly as innovations designed to be worn under (or instead of) makeup without leaving a residue, ocean
Searches for sunscreen (+36% to LY) have risen year-over-year as consumers become more educated about the damaging effects of UV. The category is ripe for new, innovative formats, ingredients, and applications that enhance the consumer experience, provide multiple skin benefits, and are easy to use-safe formulas, and ease of application are top of mind.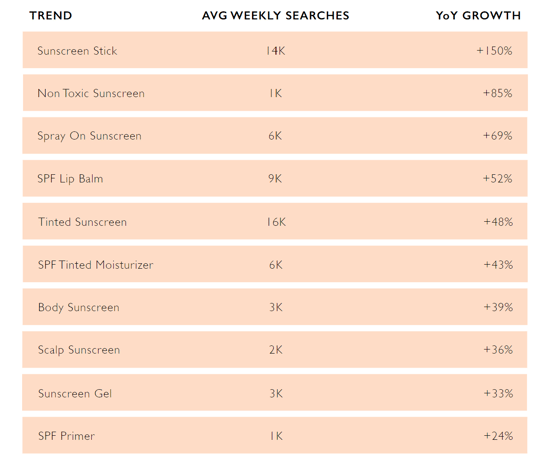 Supergoop! Unseen Sunscreen Body SPF 40 Vacation Classic Whip SPF 30 Kosas Dreambean SPF 40
---
Searches for self-tanner (+10% to LY) have remained relatively stable over the past five years despite disruptions to our routine during the pandemic. Tanning drops in transparent, serum-like textures as well as unexpected viral uses for self-tanner (i.e., contour, brow tint) drive category growth.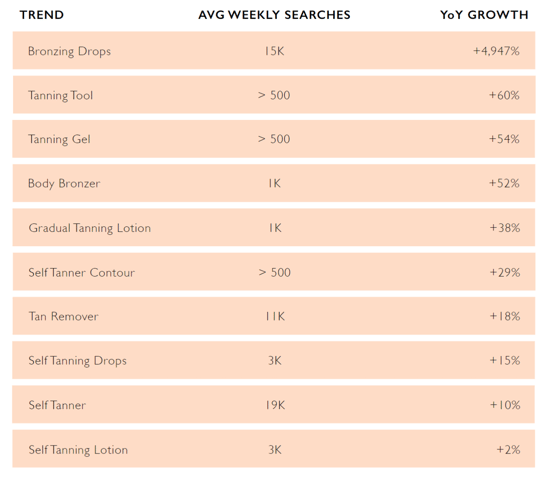 Nakery Beauty Tanning Treatment Serum Tarte Park Ave Princess Tanning Drops Bondi Sands Skin Illuminator Lotion
Ready to learn more? Be sure to set up a demo to learn more about Trendalytics' platform capabilities.