Menswear Spring/Summer 2024 Trend Recap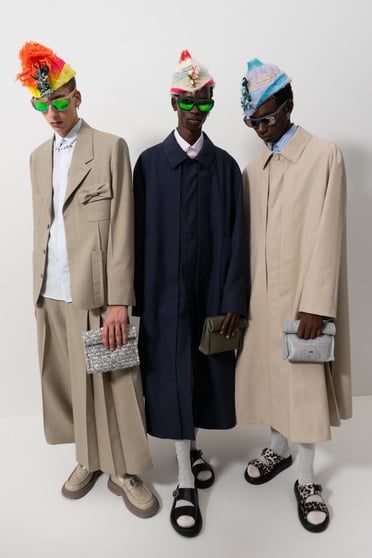 Menswear Trends
Spring/Summer 2024
There was a celebratory spirit in the air at the Spring/Summer 2024 Menswear shows in June. While literal celebrations––like Pharrell's debut as Creative Director at Louis Vuitton––took place, the fashion reflected the ethos, too. There was head-to-toe shine at Loewe and decorated pieces at Dior; Saint Laurent offered up an array of elegant attire fit for spring's chicest soirée, and showing skin was certainly in, celebrating the masculine form itself. In true spring fashion, the color palette felt refreshed and refined with baby blue, sage, and rose reigning supreme; plus, looks were punctuated with pop colors like cobalt, lime, and cherry red.
Click here to download the full report.
---
RUNWAY


STREET STYLE


---
TRENDSETTERS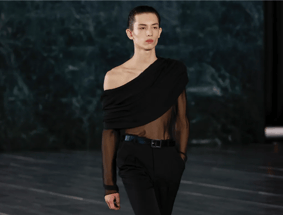 SAINT LAURENT
Titled "Each Man Kills The Thing He Loves", Anthony Vaccarello's latest collection for Saint Laurent nodded to the sentiment of duality and juxtaposition. On the runway, broad shoulder blazers and impeccable tailoring was complemented by lustrous silks, soft draping, and sheer moments––all in all, a modern take on elegance.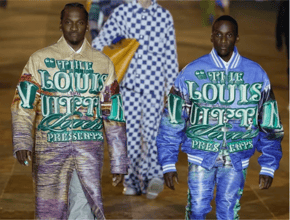 LOUIS VUITTON
This season, Louis Vuitton welcomed Pharrell Williams' debut collection. The star-studded show featured a performance by Jay-Z and an array of celebrity attendees. William's take on the heritage house included a bold color palette, avant-garde prints, and fresh takes on suiting. Case in point, we can expect a "more is more" ethos at Louis Vuitton.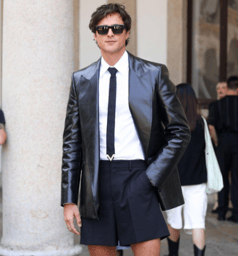 Australian actor Jacob Elordi has come to fame through his roles in cult favorite shows and is quickly becoming a fashion icon in menswear, too. Elordi indulges in trend-forward looks opting for tailored fits that feel undoubtedly of-the-moment. He has 12.4M followers on Instagram while the hashtag #jacobelordi has 5B views on TikTok as users obsess over the actor's good looks and style.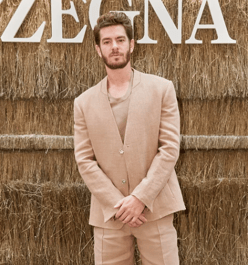 ANDREW GARFIELD
Andrew Garfield, British Golden Globe and Tony Award winning actor, remains one of the best dressed celebrities on and off the red carpet. He's known for his sophisticated and minimalistic style. Though the actor is not on social media, he receives over 327K average weekly searches and has over 26B views on TikTok with the hashtag #andrewgarfield.
---