Just the Data: Men's Bottoms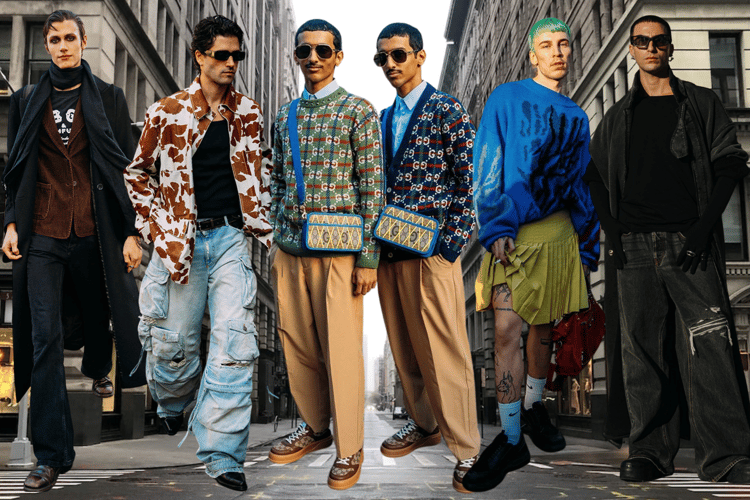 From updated silhouettes to nostalgic styles turned modern, here's a quick look into what we can expect to see in men's bottoms this upcoming season.
Staple Skirting:
New York Fashion Week shined light on men's skirts, which has quickly become a top market mover this season. Men are taking this trend to new lengths, literally, by layering skirts over denim or a baggy trouser to create a trendy skirt-over-pant look. Men's skirts are +23% to last year with over 7.5k average weekly searches, showing steady growth into 2023.
Baggy Bottoms:
"The baggier the better" has taken over as the new mantra for men's bottoms in 2023. A high search volume trend, men's baggy pants has seen significant growth over the last 3 months with searches up +117% to last year with over 11.5k average weekly searches. Baggy jeans, +68% to last year, were also popular on the runways as houses like Gucci highlighted the trend by playing with emphasized baggy shapes in a variety of men's looks. This slouchy, oversized trend is considered a safe bet trend and is set to continue to rise over the coming year.
Suit Central:
Men's pleated trousers are following "suit" with the baggy, relaxed fit by further playing into the casual yet elevated aesthetic that comes with the "laid back suiting" trend. We are seeing this pant worn in a plethora of ways, whether paired with a blazer, worn as a true set, or worn separately for a casual look. Men's pleated trousers are a go-to staple in men's bottoms as top brands including Issey Miyake play with color, texture and print within this trend to create a forward look. This safe bet trend has over 3k average weekly searches, +97% to last year, and will continue to grow throughout this year.
Nostalgia Core:
Kicking it back to the '70s, flared pants are back! A staple silhouette within Nostalgic Necessities, we are seeing the traditional straight leg pant become more elevated with a trend-forward flare. Men's flare jeans are up +63% to last year and picking up quickly with over 118 products in the market, +19% in the last 30 days.
Short & Simple:
As warm weather approaches, brands aren't ready to ditch the baggy, oversized look that has dominated men's bottoms so far this season. Instead, they are keeping the relaxed fit and applying it to other styles like men's shorts. Oversized shorts are +26% to last year, and this to-the-knee style is proving popular within the market as the street style set is enjoying this trend along with retailers like Farfetch and ASOS, carrying 40+ products in their assortments.
Denim Refresh:
Denim is on the rise within several categories this year, and menswear is no exception. Last year, we saw this trend begin to emerge on the runway, most prominently exhibited at Prada's S/S 2023 menswear show. Featured here were men's denim shorts which we can expect to see grow as a seasonal trend; searches for this style will begin to accelerate in April and peak in July.
Utility-Driven:
Fashionable and functional? Yes, please. Serving a purpose of extreme comfortability while also proving useful with many pockets, men are leaning into this tactical trend as men's cargo pants are seeing extreme growth with 117k average weekly searches. Taking to the runway, Hed Mayner offered an exaggerated version of this trend with an incredibly oversized pair of cargo jeans, accompanied by a large denim bomber jacket that completed this utility look.
To learn more about trends that are growing — and dying, please contact hello@trendalytics.co.