Just the Data: Jewelry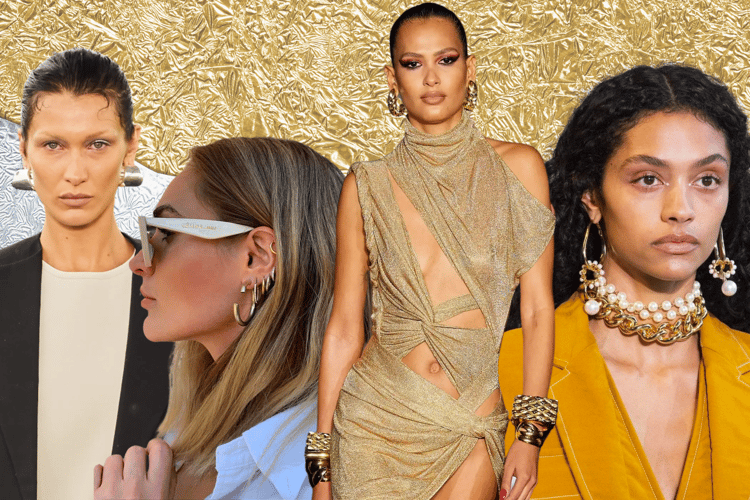 With new jewelry trends on the rise, note these trends that are set to gain popularity throughout 2023.
A safe bet trend, magnetic earrings have a high search volume, culminating over 14K average weekly searches, ranking in at a +71% increase to last year. This accessory is growing at an accelerated rate as those who are looking for a more temporary jewelry option are seeking these out as a quick and easy solution to spice up their look.
Made popular on TikTok, permanent jewelry has a high search volume with 32k average weekly searches. Permanent bracelets, more specifically, have 322M views on the app, increasing social buzz by +3,200%. This safe bet jewelry trend is +400% to last year.
Bangle sets are making a comeback as searches are up +17% to last year with a high search volume reaching 5.9K. Bangles are being reintroduced to consumers with a modern twist as products in the market are up +6% in the last 30 days while this emerging trend continues to grow at a stable rate. This jewelry trend is an avenue to introduce different metals, exaggerated shapes and bright colors into your look.
Easy to wear and functional, nap earrings are so comfy that you can even sleep in them - hence the name! These earrings are showing significant search growth as searches are +374% to last year. These flat back earrings are typically used for non traditional piercings - think cartilage piercings - however, brands like Maison Miru are bringing this accessory to mainstream with a wide assortment for all piercing types.
Metallics are having a moment in the fashion industry, bringing metals to the forefront of accessories. Two tone jewelry was a hit on the SS23 runways as the combination of silver and gold proved to resonate well among consumers. Searches for mixed metal jewelry are +90% to last year with 772 average weekly searches - we expect this emerging trend to continue growing over the next year.
Playing into escapism and Mermaidcore, we are seeing an increased interest in all kinds of pearl jewelry. More specifically, pearl drop earrings are showing strong engagement as searches are up +22% to last year and social buzz is up +32%. Pearl choker necklaces

are another favorite growing at an accelerated rate with 8.4K average weekly searches and products in the market up

+11%

in the last 30 days

.
Gen Z'ers are loving the maximalist look, and we are seeing

dainty jewelry

(

-8%

to LY) decline in searches as consumers are opting for bigger and bolder statement making jewelry pieces. Huggie hoops are becoming a go-to staple growing at a stable rate with 1.8K average weekly searches, +4% to last year. Oversized hoop earrings are gaining popularity due to their appearance on Jil Sander's SS23 runway, worn by Bella Hadid. These bold earrings are growing at an accelerated rate while searches are +98% to last year and expected to continue growing in months to come.
---
To learn more about trends that are growing — and dying, please contact hello@trendalytics.co.