Just the Data: Home Trends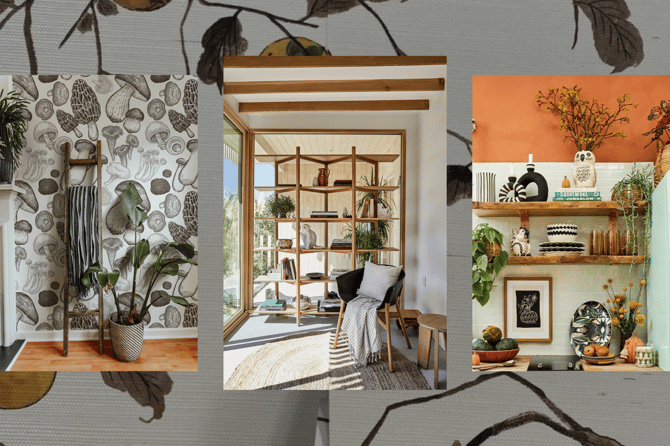 From need-to-know aesthetics to decor favorites, here are the in-the-know trends to note within the Home market for 2023.
Home Accents
As interest in interior design was refreshed during the pandemic, consumers turned to easy updates that didn't require breaking down any walls. Traditional wallpaper (-6% to LY) was infamously known for being a headache to install and remove, which introduced the alternative: peel-and-stick wallpaper. Whether adding accent walls or decorating full rooms, peel-and–stick wallpaper saw a notable increase in searches right as the pandemic hit in 2020, going from an average of 30,000 to over 70,000 average weekly searches. This simpler alternative still has over 63,000 weekly searches and is +3% to last year––even mega Fast Fashion brand Shein added peel-and-stick wallpaper to their site in March.
The Do-It-Yourself mentality has become increasingly popular as many search for new ways to create budget-friendly iterations of their favorite home trends. TikTok has become a great place to look for tips and tricks using DIY methods, with searches for #DIYHomeDecor currently at 4.6B views and #DIYHomeRenovation at 272M views. We are seeing people tap into their creative sides as they take on new home projects, whether it be building custom furniture pieces or using different paint techniques like Limewash paint, which is proving to be a great way to rejuvenate and add depth to a plain space. A Safe Bet, this paint style is seeing a +52% increase in searches to last year and is gaining popularity on TikTok with 96M views for this trend.
For those looking for better ways to keep their spaces tidy, washable rugs and runners are making it easy to clean up any tough-to-get-out messes. Brands like Ruggable are gaining traction with their assortment of washable rugs (+10% to LY) and washable runners (+22% to LY), as TikTok helps to bring notice to the brand with 50M views for the hashtag #Ruggable on the platform. Many are making the swap from traditional runner rugs (+2% to LY) to its easier to clean alternative. Although Ruggable has been around since 2010, searches for the brand have been increasing steadily since 2019, growing from an average of 30,000 searches in January 2019 to 146,668 searches in April 2023.
While neutral color palettes are the most popular trend, pops of color and print are still important to bring personalization into the home to create a sense of happiness with unique pieces. Also known as Dopamine Decor (133M views on TikTok), consumers are personalizing their spaces with home accents like needlepoint pillows (+47% to LY), striped throw blankets (+73% to LY), and knotted rugs (+25% to LY) to make their homes perfectly suited for them. Others are taking a greener approach, adding small hanging planters (+71% to LY) and floral arrangements in unique flower vases (+5% to LY) to make their spaces more lively.
As noted, homes are transitioning into lighter colors and a neutral palette as people are leaning towards a modern minimalism feel when it comes to home design. Many are opting into softer color palettes and simplistic decor pieces, embracing the Quiet Luxury aesthetic that has begun to translate into home, too––think the show Succession or an "old money" ethos. Accents like gold pendant lights (+1% to LY), textured wall art (+18% to LY) and silk sheets (+43% to LY) are helping to add to the luxurious feel of this aesthetic.
Aesthetic Trends to Note
Complementary to the sophisticated ambience of the Quiet Luxury aesthetic, we are also seeing an uptick in Grandmillenial (+7% to LY) styles. This style blends together the vintage aesthetic accompanied by modern accents. Those who fit this vibe are reaching for items like patterned curtains (+14% to LY for the month of April), floral quilts (+21% to LY for the month of April) and chinoiserie wallpaper (+6% in April compared to LY) to add comforting accents to their modern built homes. Other items like thrifted furniture (+107% to LY) are sought after as well, with consumers turning to social platforms like Facebook Marketplace and nearby yardsales to find cheaper alternatives to antique goods.
Keeping with the theme of neutrality, the Japandi aesthetic (+61% to LY) offers an organic modern (+8% to LY) approach to design as it becomes a popular choice for those looking for functional ways to create a Zen space. This Scandinavian-meets-Japanese design trend encompasses natural and organic wood pieces, neutral tones, and touches of greenery throughout that makes the space feel both relaxing and inviting. An accelerated growth trend, there are over 22,000 average weekly searches for this interior design aesthetic and 26M views on TikTok related to this trend.
While mushrooms (+6% to LY) continue to emerge in both beauty and apparel markets, we are seeing this trend pop up within home, too. Thanks to the Cottagecore aesthetic, we are continuing to see mushroom decor (+21% to LY) grow well into 2023, with items like mushroom lamps garnering steady growth with over 15,000 average weekly searches, +35% to last year. Also made popular by the Cottagecore trend, mushroom stools are seeing accelerated growth with searches +81% to LY and over 2,000 average weekly searches. Top retailers tapping into this trend are Selfridges and Urban Outfitters. This aesthetic trend is showing popularity on social media as well with Mushroom Decor sitting at almost 8B views on TikTok.
Home Fragrance
Consumers are reaching for long-lasting fragrance options like diffusers and candles to help keep their spaces feeling fresh. Clean fragrances are +8% to last year; notably, Pura, a fragrance brand specializing in smart diffuser plug-ins has made this easy, offering both wall-plug-in and diffuser options to refresh a space with its clean, specialty fragrances. The Pura Diffuser is +99% to last year with over 10,000 average weekly searches as a top smart diffuser (+14% to LY) product. There are 88 products in the market for refillable diffusers and assortments are growing as more consumers look for refillable air freshener options to use in their homes.
Top Home TikTok Influencers & Hashtags
Social media continues to be a creative space for Home creators to share home renovation and design tips in hopes that it will spark creative ideas in others. With 6M followers on TikTok, creator Emily Shaw (@emilyrayna) is resonating with her viewers as she shares home design hacks and full room transformations using her own DIY methods. Her creativity and funky style has landed her as a top Home creator on TikTok. Other popular creators include East Coast DIY (6.1M followers), Lone Fox Home (1.3M followers) and Josh & Matt Design (798K followers), each of which have made names for themselves in the interior design and DIY renovation sectors of social media.
People are continuing to generate buzz around all things Home over on TikTok, with some of the top Home hashtags including #HouseTour (12B views), #KitchenDesign (2.5B views), #BathroomOrganization (504M views) and #LaundryRoomMakeover (298M views).
---
Ready to learn more? Be sure to set up a demo to learn more about Trendalytics' platform capabilities.