The Anatomy of a Trend: Y2K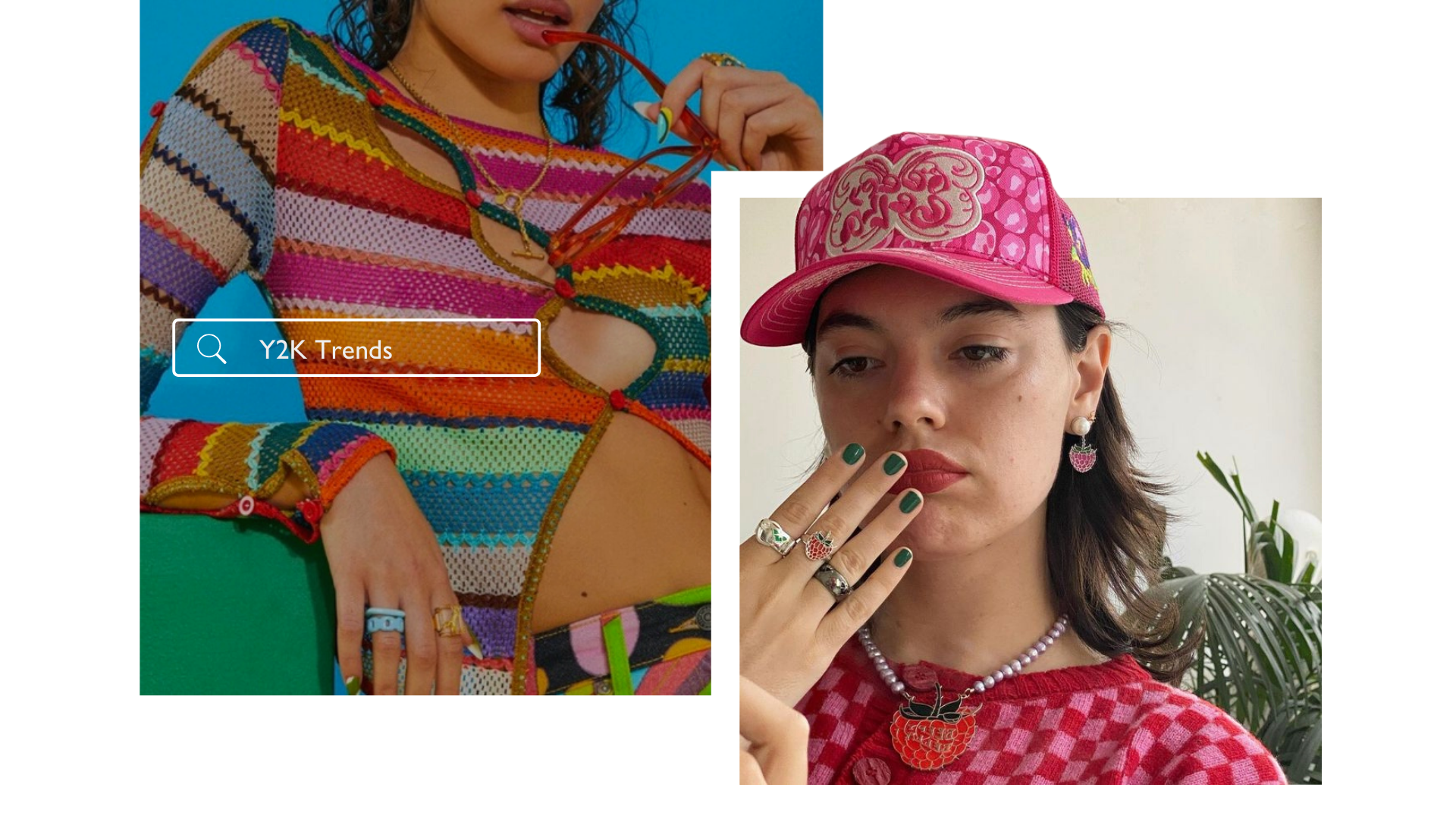 The pandemic has steered us into uncharted territory, changing our present lives and future plans. During uncertain times, consumers gravitated towards familiarity and the comfort of childhood nostalgia. Found rummaging through their parents' closets, sorting through racks of clothing at Goodwill, or splurging on a rare Depop find, Gen Z spent the last year rediscovering vintage gems from eras past. Since the beginning of the pandemic, thrifting saw a sharp increase in popularity, and with it, came the rise of Y2K fashion. An indicator of emerging trends, TikTok has flooded with thrift hauls and Y2K fashion inspiration–#thrifting has garnered over 2B views and #y2kfashion has almost 170M.
Our newfound fascination with 2000s style took root as pop culture icons were thrust back into the spotlight. Shared across social platforms, #FreeBritney brought awareness to Britney Spears' ongoing conservatorship, while J Lo rekindled her relationship with former beau, Ben Affleck. Sex and the City's highly anticipated reboot is expected to reimagine Carrie Bradshaw's infamous looks for the next generation of viewers, and brands are launching a wave of nostalgia-themed collections, from Morphe's Lisa Frank makeup collection to Colourpop's collaboration with Disney's Lizzie McGuire. Juicy Couture relaunched Juicy 2.0 and reported comeback sales are up by more than 300% across all stockists, making it one of the best-performing brands in lockdown. Supermodel Bella Hadid starred in Miss Sixty's global Spring 2021 and Fall 2021 collections, as the denim brand attempts to make a comeback. Another staple brand, Von Dutch, is capitalizing on the Y2K resurgence with a Fall 2021 collection that features low-rise flare jeans and their signature trucker hat.
These brands couldn't choose a better time to re-emerge as consumers gravitate towards bright colors and expressive styles following a year of sweatpants and slippers. Searches for maximalist fashion are +219% to last year, and nostalgia-inducing brands like Ian Charms and Chunks are on the rise. Post-pandemic fashion is sure to reflect the endless hours spent scrolling for vintage style inspo asY2K fashion captivates the masses.
Search Interest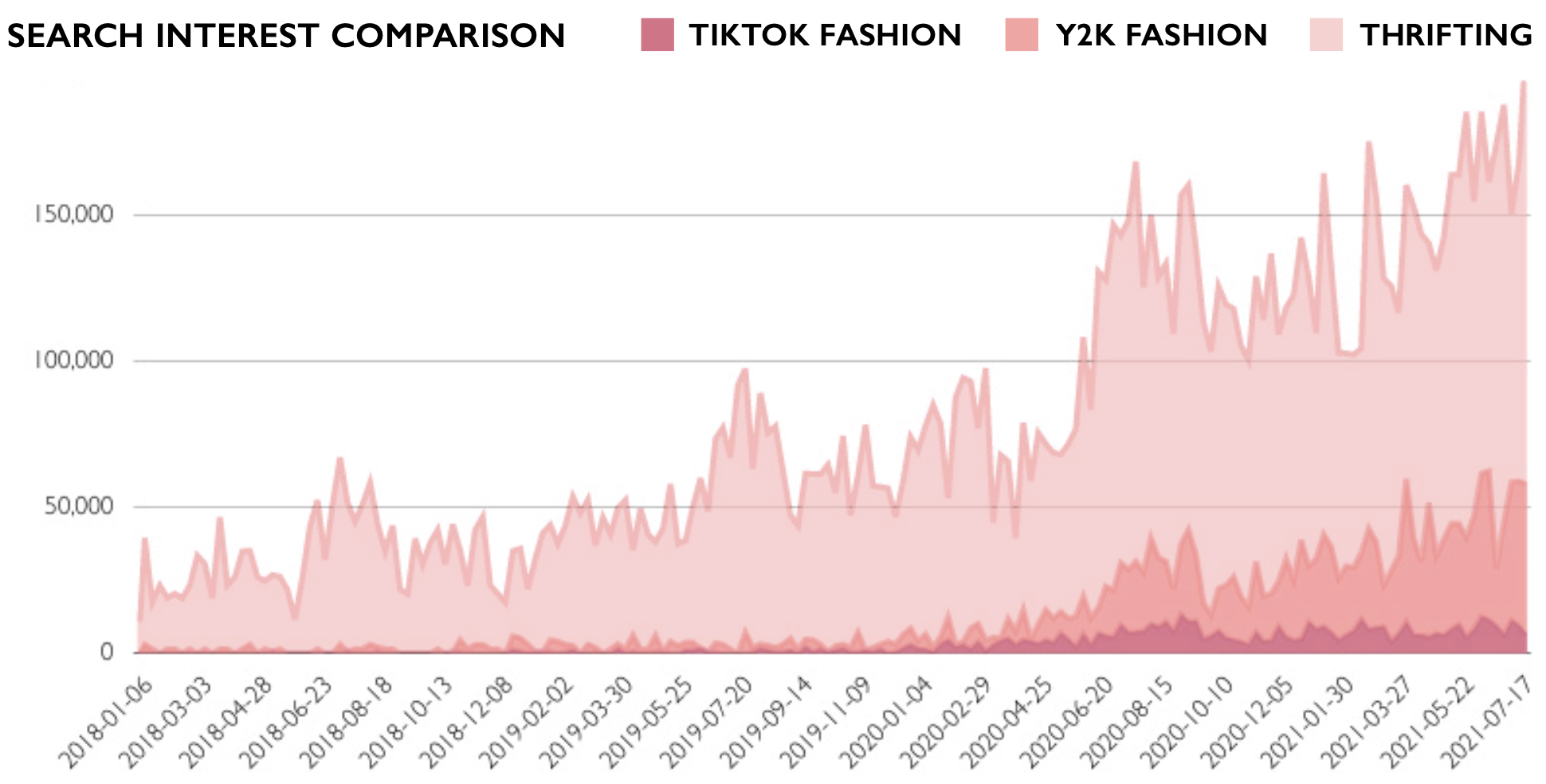 Searches for Y2K fashion are +193% to last year, having more than doubled since January 2021. Search interest began growing in January 2020–directly correlated with the growth of TikTok. In 2020, TikTok increased its US user base by 85% compared to the previous year and the obsession with 2000s fashion began. In 2021, Y2K fashion gained mass popularity after high-profile celebrities started sporting the look.
Trend Evolution

Y2K fashion trends began growing at different times over the past several years. Gaining popularity at the end of 2018, the bucket hat and baguette bag are easy entry points for consumers looking to experiment with the aesthetic. This year, halter tops, platform sandals, and cut out dresses gained popularity after being spotted across social media. Looking ahead, strappy dresses are starting to grow and chain belts are emerging.
---
For the full report or to learn more about trends that are growing — and dying, click here.