Top 10 Scandinavian Influencers
Over the years, Scandinavian fashion has changed. Although currently making the shift from minimalism to maximalism, it was the hype around hygge that put Scandinavian style on the fashion map. A Danish word defined as a general well-being and coziness, searches for hygge peaked in 2017 and garnered an average of 168K weekly searches at the time. While the rise of hygge popularized Scandi's minimalist style, it is now the rise of Scandi influencers that are helping to redefine the region's style as it evolves to be more playful.
The world's increased interest in Scandi style is also a result of Copenhagen Fashion Week's success. In 2017, CFW was restrategized to establish Copenhagen as the epicenter of Nordic fashion, which was the same year the world hopped on the hygge trend. As a forward-thinking presentation of Scandi style, sustainability is their core tenet as they strive to make substantial changes from the way the event is executed to the designers highlighted.
While recognizable for their interior design, it is no longer a secret that Scandinavians influence the fashion community, too. Emerging brands like
Saks Potts, Toteme, and Filippa K, which are all highlighted in our Scandinavian BrandPulse set, are determining global trends. From Ganni's upcycled seersucker dresses to Acne Studio's collection celebrating Hilma af Klint, these brands celebrate sustainability over fast fashion and originality over monotony.
From stylists to founders, Scandinavian influencers are redefining their style to be more playful and less minimalist. Read on to discover 10 Scandinavian fashion influencers that work to put their region on the fashion map.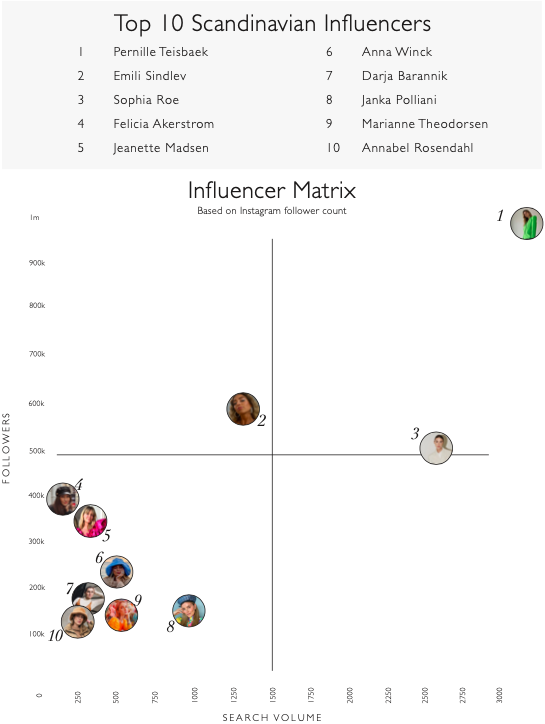 1. Pernille Teisbaek
With 1M followers and an average of 3,600 weekly searches, Pernille Teisbaek is the queen of Scandinavian influencers as she pioneers styles that incorporate mismatched colors. A former model and founder of Social Zoo, an influencer marketing agency based in Copenhagen, Teisbaek recently wrote Dress Scandinavian, a practical guide on how to get the most out of your wardrobe and follow the Scandi way. Her biggest piece of advice? Invest wisely in timeless pieces.
2. Emili Sindlev
IG: @EMILISINDLEV
Reflecting that "Scandinavian style is more maximalist now," Emili Sindlev sits as Copenhagen's top stylist and is known for her unconventional approach to mixing colors and prints in her comfort-first wardrobe. Nicknamed the Carrie Bradshaw of Copenhagen, Sindlev often pairs embellished Manolo Blahniks with newspaper print clothes and brightly colored belts. Her approach? As playful, colorful, and fearless as possible.
3. Sophia Roe
IG: @SOPHIAROE
With an average of 2,500 weekly searches, Sophia Roe is a mega stylist taking over the Scandi scene. Known for her minimalist style and oversized silhouettes, Roe influences the industry's top names as her followers range from Moda Operandi to Danielle Bernstein. In pursuing her passion for timeless minimalism, Roe founded The Garment, a sustainable Copenhagen-based brand that takes a seasonless approach to creating closet classics.
4. Felicia Akerstrom
IG: @FAKERSTROM
Stockholm-based Felicia Akerstrom brings sophistication to minimalist looks with form-fitting silhouettes instead of oversized shapes. Her 380K followers know her for her love of pleated trousers, camel coats, cat-eye sunglasses, and leather blazers. Rarely experimenting with anything but neutral hues, Akerstrom is an ambassador for Zalando, Europe's leading e-commerce retailer who also sponsors Copenhagen Fashion Week.
5. Jeanette Madsen
Serving as creative director and co-founder of Rotate Birger Christensen, a cult dress brand, Jeanette Madsen is passionate about changing the perception of Scandinavian style. Based in Copenhagen, her brand creates eye-catching pieces fit for going out, which is not typically emphasized in Scandi fashion. Known for mixing chunky sweater vests with polka-dot silk slips, it's no wonder Madsen's brand has been named one to watch by Forbes, Elle, and Lyst.
6. Anna Winck
IG: @ANNAWINCK
Followed by Kaia Gerber, Anna Winck is a Stockholm-based personal assistant who offers a different style with every outfit she puts on. Styling patent leather pink pants with psychedelic-patterned bucket hats, Anna aims to express herself authentically through a playful and distinct aesthetic. As much more than just a personal assistant, Winck recently collaborated with a Scandi jewelry company to produce a capsule collection that empowers elegance, femininity, and edginess all at once.
7. Darja Barannik
IG: @DARJABARANNIK
Bridging the gap between sophistication and minimalism, Darja Barannik is known for her ability to make H&M midi skirts and Jimmy Choo heels look equally elegant. She collaborated with Second Female, a Copenhagen-based brand that aims to create Scandinavian styles with a French touch through hand-drawn prints, chunky knits, and sleek suiting. Believing that fashion is an eternal loop, Barannik layers her minimalist blazers with playful fabrics and hues to create timeless styles that present her personality.
8. Janka Polliani
IG: @POLLIANI
Stressing personal style over trends and ethical clothing brands over fast fashion, Janka Polliani is a Norwegian-based consultant and stylist who doubles as a podcaster. She views her Instagram page as a personal style diary and hopes to inspire women to want to be themselves, not an edited or muted version of themselves. Known for mismatching patterns with prints and colorful hues, she aims to never remain in one style or one look.
9. Marianne Theodorsen
Relying on orange eyeshadow and mismatched patterns, Marianne Theodorsen is a Norwegian-based influencer who uses colorful accessories and clothing to bring her style to life. Quirky and ever-changing, she mixes items that don't match and aims to step out of her comfort zone. Theodorsen hopes to convince her community to slow down and appreciate the craftsmanship of timelessness fashion instead of chasing the new trend.
10. Annabel Rosendahl
Based in Norway, Annabel Rosendahl aims to inspire others to express themselves through fashion. As someone who dresses classic and feminine with masculine and relaxed nodes, she never wants to be too simple and minimalistic. By playing with details and accessories to dress up her go-to look of simple jeans, a feminine blouse, and a structured jacket, Rosendahl creates exciting, timeless looks.
---
If you're interested in becoming a member and want to learn more about trends that are growing — and dying, please contact hello@trendalytics.co.