Top 10 Influencers: Skinfluencers
COVID-19 has inspired consumers to focus more on self-care and less on their makeup routines, accelerating the no-makeup movement. Compared to makeup, which is down 7% to LY, skincare is up +75% to LY and is searched for an average of 590K times each week. The pandemic has become prime time for skincare, presenting us with a new generation of beauty influencers, better known as skinfluencers.
YouTube has long been seen as the birthplace of beauty vloggers. As social media continues to evolve and TikTok gains popularity, the majority of these skinfluencers find their following there. Best known for its popularity with Gen Z, TikTok has become an easy way for these young skinfluencers to present their myth-busting and product-raving skincare routine videos. Currently, there are over 12.9 billion views for #skincare on TikTok, and 2.3 billion views for #acne.
From brand founders to dermatologists to your everyday Gen Z vlogger, these skin-loving enthusiasts are quickly gaining popularity, and household brands, like CeraVe and Neutrogena, are paying attention. In April 2020, Hyram Yarbro recommended CeraVe's salicylic acid-based cleanser in a TikTok video covering the best products for acne. His video received 5 million views, helping CeraVe, a 15-year-old brand known for its affordable skincare, draw in a new, younger fan base.
Read on to discover ten skincare aficionados that are generating sales, traffic, and followers.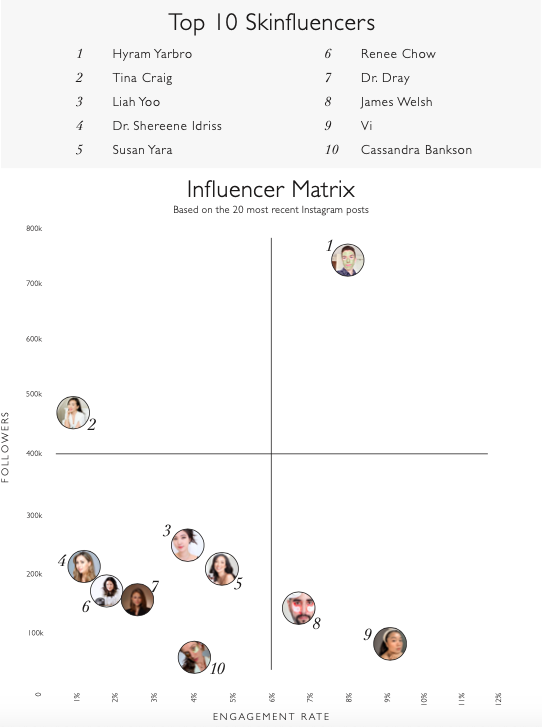 1. Hyram Yarbro
IG: SkincareByHyram
Known for his love of affordable skincare, Hyram Yarbro has become a leader in the Tik Tok Skinfluencer community. Although he may have less than 1 million followers on Instagram, he has gained over 5.4 million TikTok fans in less than five months. Before TikTok, he was posting his skincare routines and reviews on YouTube, where he has over 2.8 subscribers. Brands like CeraVe and PeaceOut have already signed deals with him.
2. Tina Craig
IG: BagSnob
Tina Craig first made a name for herself when she launched one of the world's first fashion blogs, the Bag Snob. Fast forward 15 years, she has taken the skincare industry by storm. Not only did she found U-Beauty, known for its award-winning anti-aging serum, but she has also become a leader in the skinfluencer space. With a following of over 466K, it's clear she relates to a wide range of demographics all across the globe.
3. Liah Yoo
IG: LiahYoo
Based in Seoul, Liah Yoo began her blogger journey onYouTube and has amassed over 1 million subscribers. Although every video she makes is made in English, she overlays Korean subtitles so her global audience can enjoy her content. In addition to posting routines and reviews, she founded Krave Beauty to fight the battle against expensive, ineffective skincare. On TikTok, she now has over 1 million likes.
4. Dr. Shereene Idriss
IG: ShereeneIdriss
As a NYC-based board-certified dermatologist, Shereene entered the influencer sphere as she became increasingly frustrated with the misinformation circulating about skincare. Best known as the Pillow Talk Derm, she dives deep into her 213K followers' questions on Instagram every night before bed. In addition to being featured on Glossier's blog, Allure, and more, Shereen is an extremely reputable source in the skinfluencer sphere.
5. Susan Yara
IG: SusanYara
Former Miss New Mexico, Susan Yara is the founder of Mixed Makeup and co-founder of Naturism, a plant-based biocompatible skincare company. Although she began her career as a journalist at Forbes, she soon realized her passion was for beauty and wellness and began to connect with fellow skincare influencers and founders. As half-Asian, half-Hispanic, she relates to a global community ranging all ages.
6. Renee Chow
IG: Gothamista
With over half a million YouTube subscribers and almost 200K Instagram followers, Renne Chow, better known as Gothamista, first entered the beauty space as a buyer. Based in NYC, she believes that skincare and self-care are what keeps her sane. To help others find a budget-friendly skincare routine, she began sharing tips and tricks on Youtube, and now even has her own blog and website.
7. Dr. Dray
IG: DrDrayZDay
With almost 1 million YouTube subscribers, Dr. Andrea Suarez, also known as Dr. Dray, is a board-certified dermatologist and skincare enthusiast. Although her main following is on YouTube, she has over 165K Instagram followers and racks up an average of 39K weekly searches on Google. Her daily YouTube videos cover everything from how your pillow could be ruining your skin to CVS skincare hauls.
8. James Welsh
IG: James_S_Welsh
London-based influencer, James Welsh first entered the scene as a celebrity stylist, but quickly realized that path wasn't for him. Nearly 900K YouTube subscribers tune in to his channel every day to learn about everything from the best skincare ingredients to busting the outlandish claims made by brands. With almost 72 million views onYouTube and almost 200K Instagram followers, James Welsh may very well be the James Charles of skincare.
9. Vi
IG: WhatsOnVisFace
This self-proclaimed SPF mom has amassed almost 5 million likes on TikTok with her comedic approach to skincare. She has collected over 300k TikTok followers and 90K Instagram followers by criticizing the biggest skincare trends and fads, including jade rollers and Clarisonic tools. To Vi, skincare is self- care, and she hopes to share that with her following.
10. Cassandra Bankson
IG: CassandraBankson
Being able to succeed as a model with acne has encouraged Cassandra Bankson to share her skincare struggles and successes with the world. She has amassed over 1.18 million YouTube subscribers and nearly 200K likes on TikTok. Best known for her reviews on celebrities' routines, science-based skincare videos, and cruelty-free makeup posts, Cassandra is at the forefront of the Skinfluence movement.
---
If you're interested in becoming a member and want to learn more about trends that are growing — and dying, please contact hello@trendalytics.co.