Top 10 Ingredients to Watch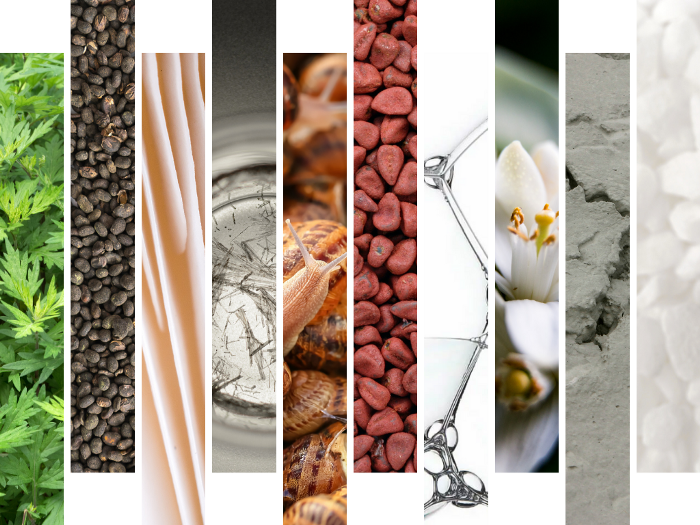 As mask-wearing continues to be the norm, demand for ingredients and products that combat the effects of maskne emerge as a key driving factor for consumers. There are 38K average weekly searches for the skincare concern, +91,500% to LY. With limited access to estheticians and dermatologists, consumers are turning to derm-approved ingredients, like tranexamic acid and salicylic acid, to troubleshoot skincare concerns.
Mugwort — commonly used in traditional Korean medicine to ease pain and restore circulation — has been used for generations and is growing in popularity. The herb has powerful healing and detoxifying properties, ideal for dry or sensitive, acne-prone skin. Like mugwort, some ingredients, like snow mushroom and snail mucin, have been used for decades and are just now gaining mainstream appeal. Others, like bakuchiol, are naturally-derived alternatives to more popular formulas.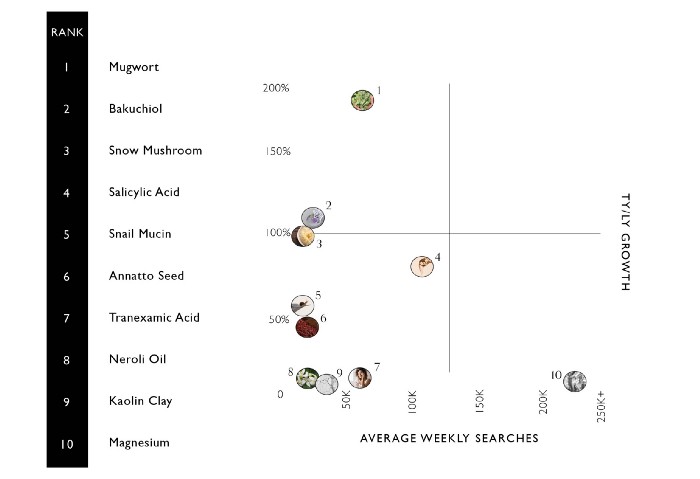 Mugwort—With 62K average weekly searches (+199% to LY), mugwort is a popular K-beauty ingredient exhibiting accelerated growth. A safe bet, the ingredient is expected to continue growing over the next year with 70% confidence.
Bakuchiol—A plant-based alternative to retinol, bakuchiol, has been growing at an accelerated rate since 2018 when the ingredient first gained notoriety. Like retinol, it works to increase cellular turnover, stimulate collagen production, and diminish photodamage. Unlike retinol, the plant is gentle and soothing to the skin, rather than sensitizing, and it can be used safely during pregnancy.
Snow Mushroom—Snow mushrooms have been a staple ingredient in Asian medicine and skincare for thousands of years. The ingredient has been growing for over a year and will continue to grow over the next with 70% confidence.
Salicylic Acid— A safe bet with 1M social engagement (+70% to LY), salicylic acid is a potent acne-fighting ingredient helping consumers combat any unwanted maskne. Benefits and concerns most commonly associated with salicylic acid include acne, hydrating, pores, soothing, and dryness.
Snail Mucin—A low volume trend (2.7K average weekly searches) with average social engagement, snail mucin is expected to continue growing over the next year. Thanks to the high levels of hyaluronic acid found
in snail mucin, the ingredient supports the skin barrier and locks in moisture.
Annatto Seed—Derived from the tropical achiote tree, annatto seeds are an antioxidant that protects the skin and helps restore the skin after burns or scarring. An emerging trend, annatto seed is likely to continue growing over the next few months.
Tranexamic Acid—Tranexamic acid is a powerful anti-inflammatory
that helps heal pigmentation and dark spots — including pregnancy melasma and post-inflammatory hyperpigmentation. An emerging trend with over 51K average weekly searches (+13% to LY), consumers look to the ingredient for brightening, dark spots, and sun protection.
Neroli Oil—A low volume trend (3K average weekly searches) with 23K social engagements (+1,063% to LY), neroli oil is an ingredient to watch, especially as consumers look to reduce stress and soothe anxiety. As a skincare treatment, the oil promotes cell regeneration thanks to its antimicrobial, antifungal, and antioxidant properties, while reducing acne and skin irritation.
Kaolin Clay—Detoxifying and balancing, kaolin clay is used to extract impurities and treat acne. With 10K average weekly searches (+7% to LY) and higher than average social interest, the ingredient is expected to continue growing over the next 3 months.
Magnesium—When applied topically, magnesium acts as a miracle mineral protecting the skin from external damage, as it regulates and repairs. With 233K average weekly searches and over 1.2M social engagements, interest in magnesium is relatively stable but expected to grow over the next 3 months with 60% confidence.
---
For the full report or to learn more about trends that are growing — and dying, please contact hello@trendalytics.co.
About the Data
Using our proprietary algorithm, we've identified ingredient trends that are exhibiting two distinct behaviors: emerging and safe bets. Our goal is to help you make more forward-looking decisions by giving you the ability to capitalize on undiscovered ingredients rather than just jumping on the bandwagon. Each category represents not only where the trend is in its lifecycle, but also where it is heading. This will make it easier to invest in the right trends at the right time for your business.