Fashion Month Recap Womenswear SS24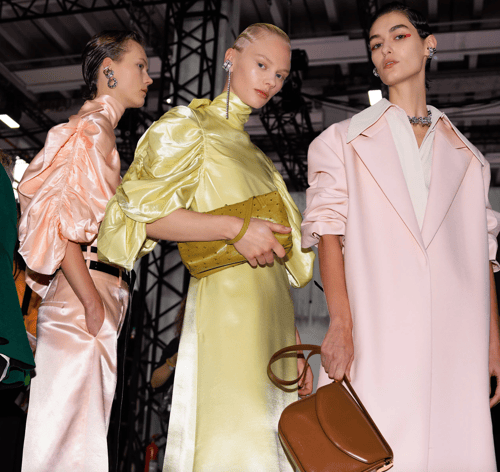 Continuing the overarching trend of FW23, the Spring/Summer 2024 season kept to the tone of introducing clothes that consumers actually want to buy and deem as worth their dollar, especially in an unpredictable economy.
With that being said, this season's collections were far from boring: staples received an of-the-moment upgrade with relaxed silhouettes and a focus on fabric, details leaned romantic rather than sexy, and escapism was seen through nostalgia and artistic nods. There were also various "changing of the guard" moments with debut and farewell collections which were a cause for discussion amongst the fashion set.
Ahead, discover the driving aesthetics of the season and runway-to-retail trends, backed by Trendalytics data and click here to download the full report with all the data-backed trends that you won't want to miss.
---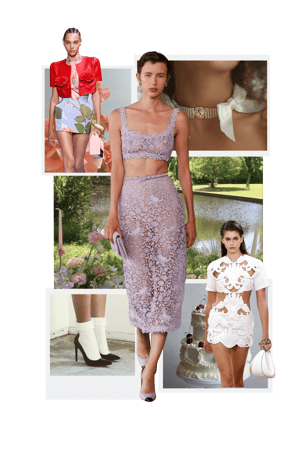 Garden Party Romance
This season, sexy took a back seat to sophisticated––yet, that doesn't seem these collections weren't just as alluring. Sheer fabrications were seen in high-necklines and maxi silhouettes rather than bodycon dresses (note Givenchy and Carolina Herrera), bold colors evolved into sweet-meets-mature pastels, and jewelry felt romantic with pearls and Gibson Girl-style chokers like at Adeam and Christian Dior. The near-viral trend of rosettes evolved to feel fresh through a variety of rose graphics, literal and abstract appliqués, and rosy-hued beauty looks from New York to Paris.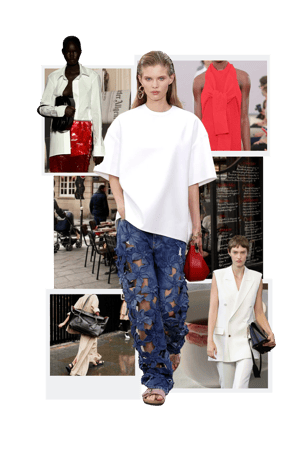 Sophisticated Staples
As mentioned in our 7 Aesthetics of 2023 report, the idea of an investment wardrobe is on the rise and will certainly continue into 2024––and to clarify, investment doesn't have to mean expensive, but it does have to uphold the potential for longevity. We continued to see relaxed suiting in countless collections, fine knitwear, pre-styled pieces (think the draped double-sleeves seen at Fendi, Proenza Schouler, and Brandon Maxwell), most notably, the importance of a "good shirt" was exemplified by Gucci, Etro, Tibi and more.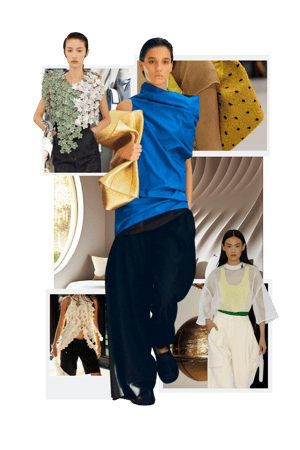 Against the Grain
In a world that undoubtedly feels heavy, this idea of escapism continues to stay top-of-mind for both designers and consumers alike. While, typically, we've been channeling a far-off land or delving into the future, this time, childhood nostalgia played a starring role as well as simply going against societal norms. Ditching the constructs of gender? Tapping into your inner child for a sweet escape from reality? Or, leaning into the appeal of rebellion through a vampy fantasy? All of the above are suitable answers. This was executed with cheeky motifs, genderless styling, and abstract prints––to name a few.
---
COLORS

PRINTS & FABRICS

READY-TO-WEAR

ACCESSORIES

BEAUTY

---
To learn more about trends that are growing — and dying, please contact hello@trendalytics.co.