Top 5 Trends: PFW Fall 2022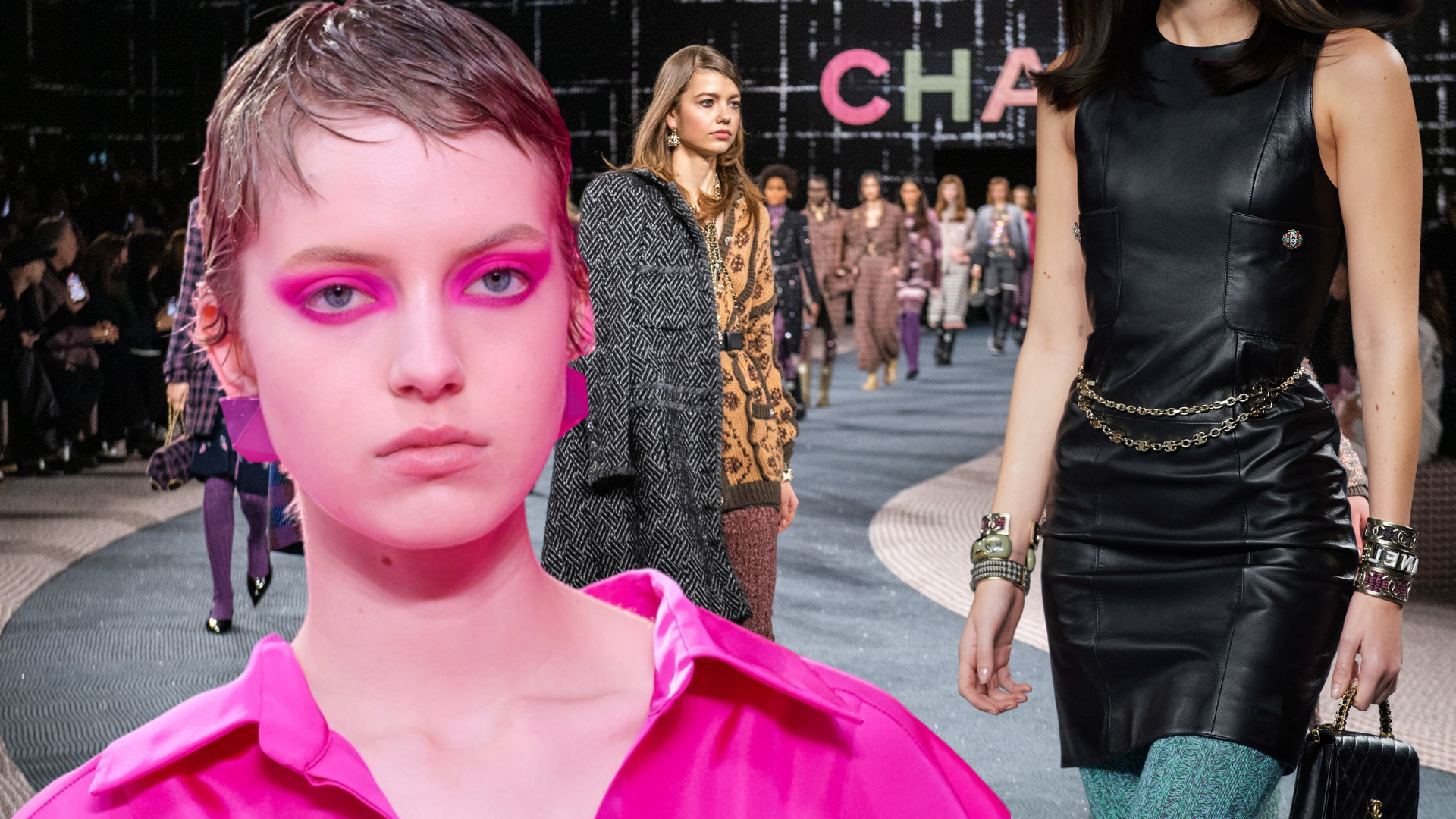 Set against the backdrop of the ongoing Russia-Ukraine war, Paris Fashion Week wrestled with the question of fashion's relevancy at a time like this. Yet, like so many times before, the shows went on. Designers pushed the boundaries both technically and conceptually–Anrealage and Dior put forth futuristic collaborations, while Loewe and Dries Van Noten experimented with surrealism.
Download the full report here.
Sophisticated Sporting
In an attempt to make sophisticated dressing more functional, designers in Paris put an athletic spin on classicism. Making its return to the runway this season, Miu Miu's micro mini skirts received a tennis-inspired update and were styled with ballet flats inspired by Miuccia Prada's junior ballet phase. In Hermes' luxe heritage collection, models sported stretchy unitards, sport jackets, and over the knee socks. Leather, suede, and sheer knits elevated the collection further.
Earthly Exodus
This season, designers suspended reality to explore otherworldly forms through a space-inspired lens. Kunihiko Morinaga of Anrealage brought his collection to the moon, shooting it in a Japan Aerospace Exploration Agency (JAXA) lunar training site. Full of body armor, tactical gear, and protective wear, Balmain'scollection showcased Olivier Rousteing's affinity for futuristic apparel, while Maria Grazia Chiuri of Diorembraced technology, collaborating with D-Air Lab, a technical specialist Italian company.
Irrational State
In response to the challenges of recent times and a collective desire to escape, designers explored fantasy and surrealism by playing with shapes and silhouettes. Arnaud Vaillant and Sébastien Meyer played with garment construction and styling at Coperni, showing hoodie-lapelled blazers, overcoats, and fleeces. Reveling in the freedom of being unshackled from fashion rules and doing things without reason, Jonathan Anderson continued to explore his fascination with the surreal at Loewe, describing his most recent collection as "pushing things toward something that could be irrational."
Sporty Accessories
Designers in Paris relied on athletic accessories to complete their sophisticated, yet sporty collections. Most prevalent across the runway were sporty sunglasses. Paired with sleek blazers and dresses, they created the perfect balance at Givenchy. At Balenciaga, aerodynamic sunglasses shielded models' eyes from the cold blizzard. Beyond sporty sunglasses, other athletic accessories like ballet flats and baseball caps found their way onto the runway at Miu Miu.
Surreal Silhouettes
Avant-garde surrealism—the movement that turned pre–WWII mass psychological tension into art in the late 1930s—found its way to Paris in the form of experimental silhouettes. Dries Van Notenhad been researching the work of Carlo Mollino, the Italian architect and photographer whose life spanned surrealism, which informed his maxi-coat circle shapes. This rounded silhouette also appeared at Courreges, Anrealage, and Saccai.
Don't miss out on a more in depth analysis of PFW, including trending colors, materials, key items, accessories, beauty looks, and more.
Download the full report here.
---
To learn more about trends that are growing — and dying, please contact hello@trendalytics.co.