The Future of Workwear: What will hybrid-office style look like?
The Spring/Summer 2022 runway season has commenced, bringing practical inspiration for the modern consumer, but the question still remains: What will women (and men) really want to wear next year when offices reopen?
The guidelines for traditional workwear were already evolving pre-pandemic, with fewer restrictions on what is deemed office-appropriate. After a year-plus of elastic waistbands and oversized silhouettes, comfort continues to captivate consumers. According to a March survey from Cotton Incorporated, the number of consumers who say they're primarily shopping for comfort increased from 63% in 2020 to 74% in 2021. As lockdowns lift and offices reopen, consumers will reemerge with comfort and movement a top priority—and their return to the office will be marked by even further adoption of business comfort attire.
To meet the evolving demand of consumers, athletic brands like Lululemon and Athleta pivoted to cater to the rise of business comfort—and traditional workwear brands Brooks Brothers used the pandemic as an opportunity to add more casual collections into their assortment. Under the new design of Michael Bastian, who was appointed to the top creative post following SPARC's acquisition of Brooks Brothers last September. Rather than focusing on tailored clothing and dress shirts, the bulk of the assortment is centered around sportswear. Nordstrom, also known for its suits and business attire, reported a 136% increase in online searches for work clothes and has a category called "comfort work clothing" with cotton blend skirts and seersucker shift dresses.
Blazers, trousers, and heels will return as wardrobe staples if the Spring/Summer 2022 runway season is any indication. However, unlike the traditional buttoned-up workwear that came before, consumers will gravitate to soft fabrics, billowing silhouettes, and a continued appreciation for all things comfortable. Whatever the future holds for the in-office work experience—the prevailing custom of dressing down for work will be little changed, and the comfort-first aesthetic we've come to know and love will become even more standard for the office.
The Rise, Fall, and Return of Business Casual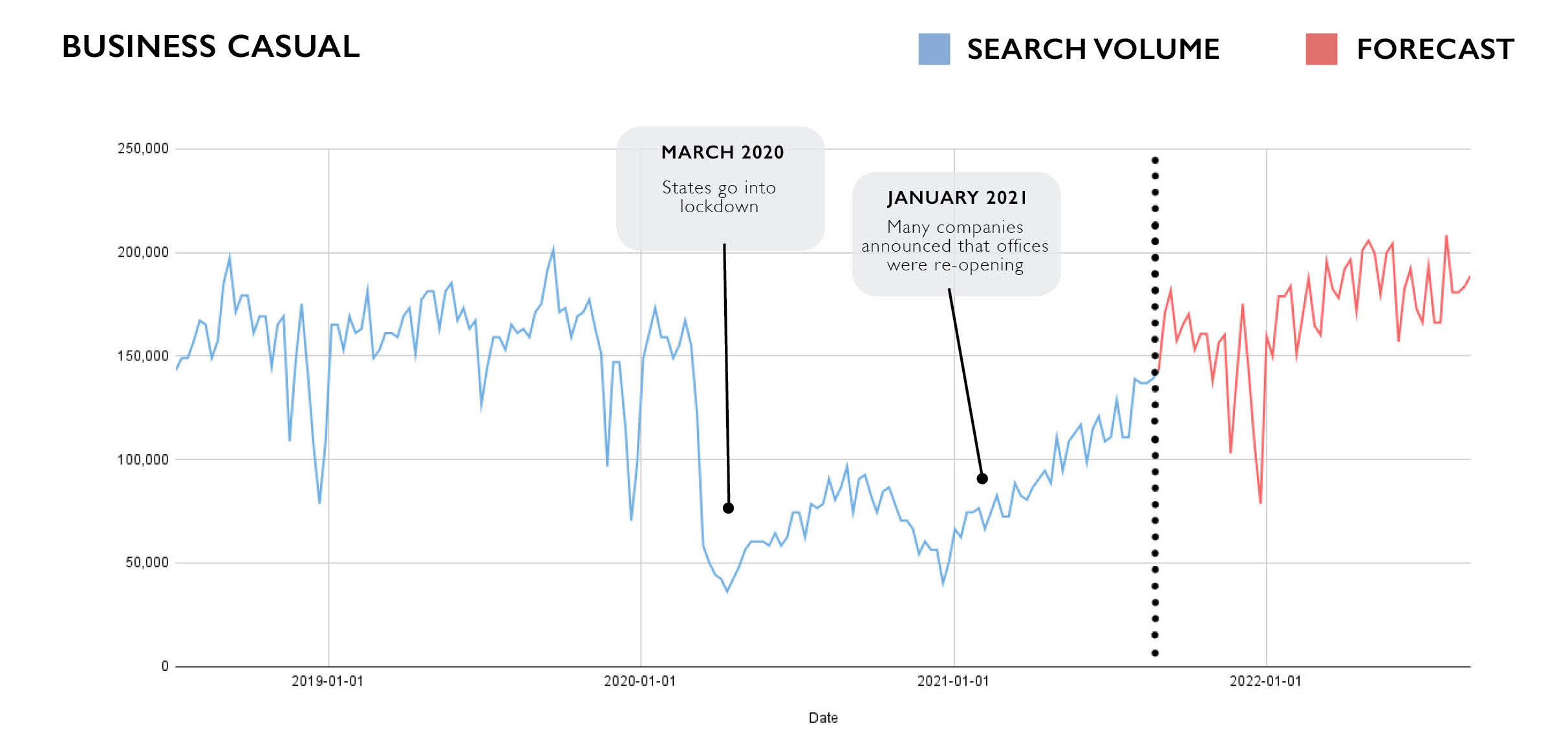 There are 123K average weekly searches for business casual, +62% to last year. Search interest fell in March 2020—directly correlated with the outbreak of COVID-19. In January 2021, as businesses released their return-to-work plan, searches for business casual began growing at a steady rate. Our models predict this trend will continue growing over the next year. To meet the return of demand, brands and retailers are incorporating business casual pieces into their assortment. Products in the market are +12% in the last 30 days.
Key Item Evolution: Sweatpants vs Trousers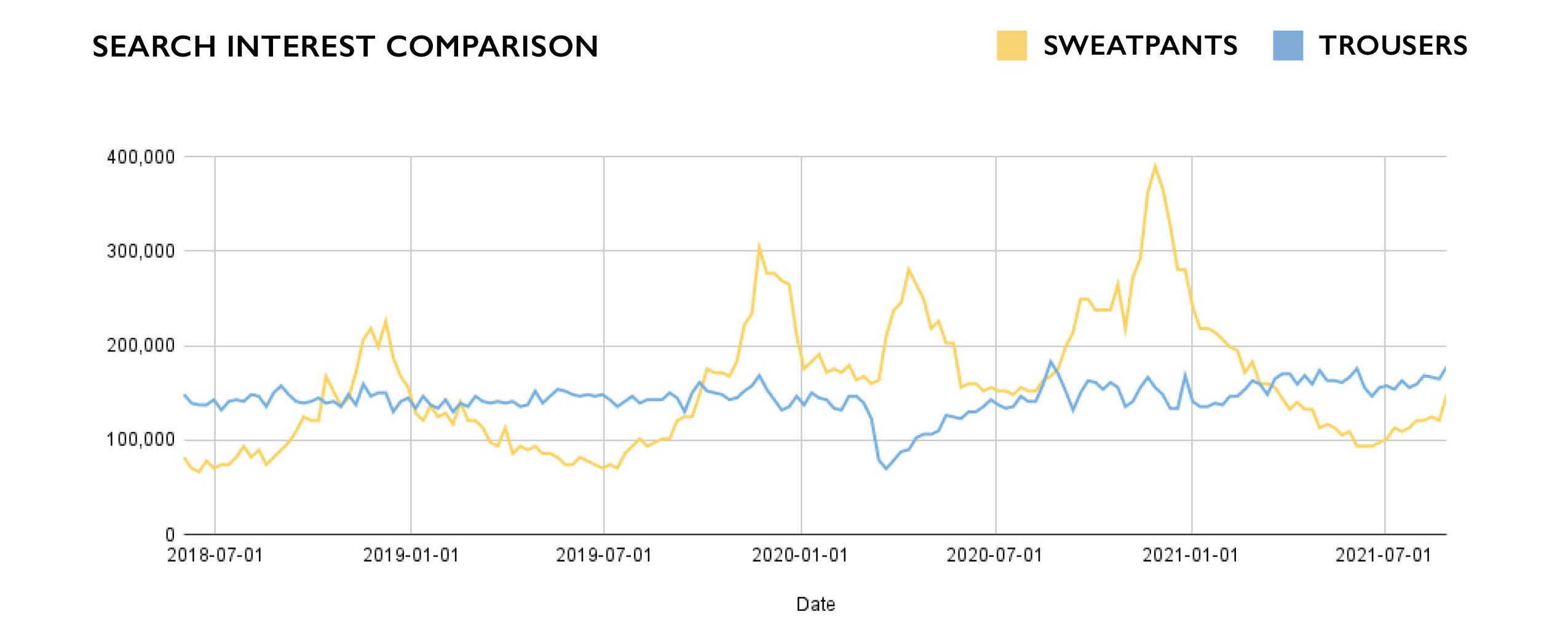 Search interest for sweatpants began growing in March 2020–directly correlated with the outbreak of COVID-19. Searches peaked in December 2020 as trousers climbed to meet their pre-pandemic popularity. This year, wide leg silhouettes gained popularity, drawing inspiration from our preference for comfort. Looking ahead, bright colorways are emerging and luxe fabrics are starting to grow.
---
For the full report or to learn more about trends that are growing — and dying, click here.