Meet Faryl Robin Morse, Founder & CEO of Faryl Robin
The footwear industry has always been Faryl Robin's calling, and the stock room of a shoe store has always been her home. From working for Kenneth Cole at the age of 17 to founding her namesake shoe brand, Faryl Robin has always viewed shoes as a form of empowerment. Believing that well-crafted footwear can boost a woman's confidence, designer Faryl Robin blends bold design with comfort and bright colors, encouraging those who wear her shoes to walk proudly and confidently wherever they may go.
Here is what Faryl has to say about her story and how her brand's partnership with Trendalytics has augmented their real-time understanding of footwear trends now and beyond.
1. Tell us your story. How did you get into the shoe industry?
I am very lucky to have found my calling in life when I was 17. I had a strong desire for disposable income and the freedom to buy my own things, without my parent's approval. After my mom said no to the pair of "it" jeans I desperately wanted, I took my teacher recommendations I was using for college applications and applied to every single store between my high school and my apartment on the Upper West Side of NYC.
Kenneth Cole was the first to call me back.
The rest was history.
Once I started in footwear, I felt like I had found my calling. Being in the stock room of a shoe store felt like home. I filled out a late application to FIT and never left the industry.
I have done every job possible in the footwear industry, from sweeping factory floors in Italy to buying, designing, and merchandising. I continue to be humbled as I learn and grow year over year and feel so fortunate I get to live my dream every single day at Faryl Robin.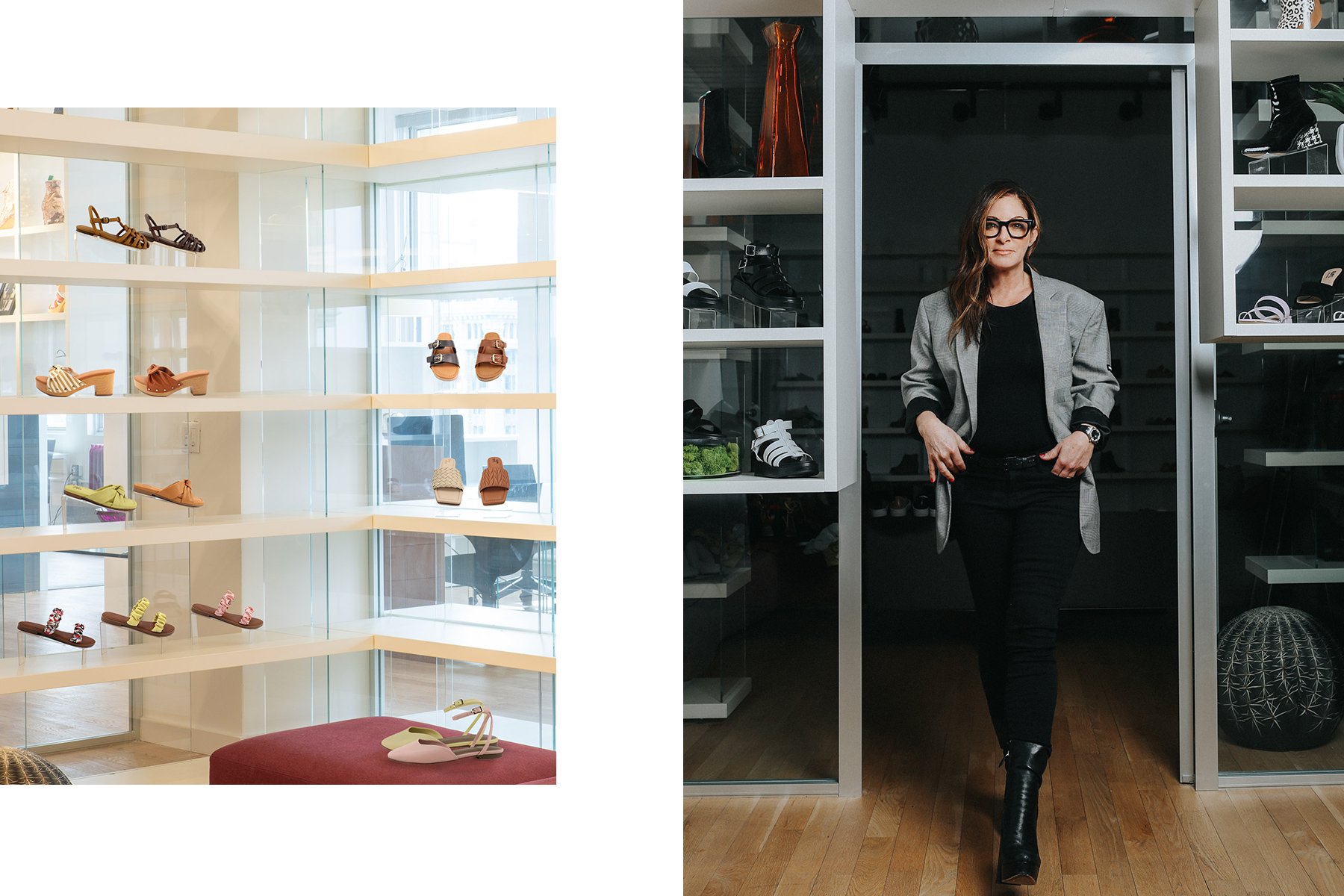 2. How else does the Faryl Robin team use the Trendalytics platform?
We use Trendalytics across design and account management in a huge variety of ways – from runway updates to webinars to full assortments from comp sets; we are able to see and validate overall trends and see how they are growing at different parts of the design and sales process. The synthesized information being available in such digestible ways has added legs to trend based on search volume and streamlined our customer's confidence because so much is tied back to data and provides a full picture.
3. What did the Faryl Robin trend discovery or validation process look like before Trendalytics?
Our partnership with Trendalytics happened at the perfect time!
Prior to the pandemic, we had access to the world market. We had designers shopping both internationally and domestically several times a year. We were in our factories and able to find inspiration. When the world shut down, we very quickly had to shift to find new and creative ways to tap into trends and validate while also listening to our internal intuition. Trendalytics has helped us tremendously as an organization during what would have been a very difficult time.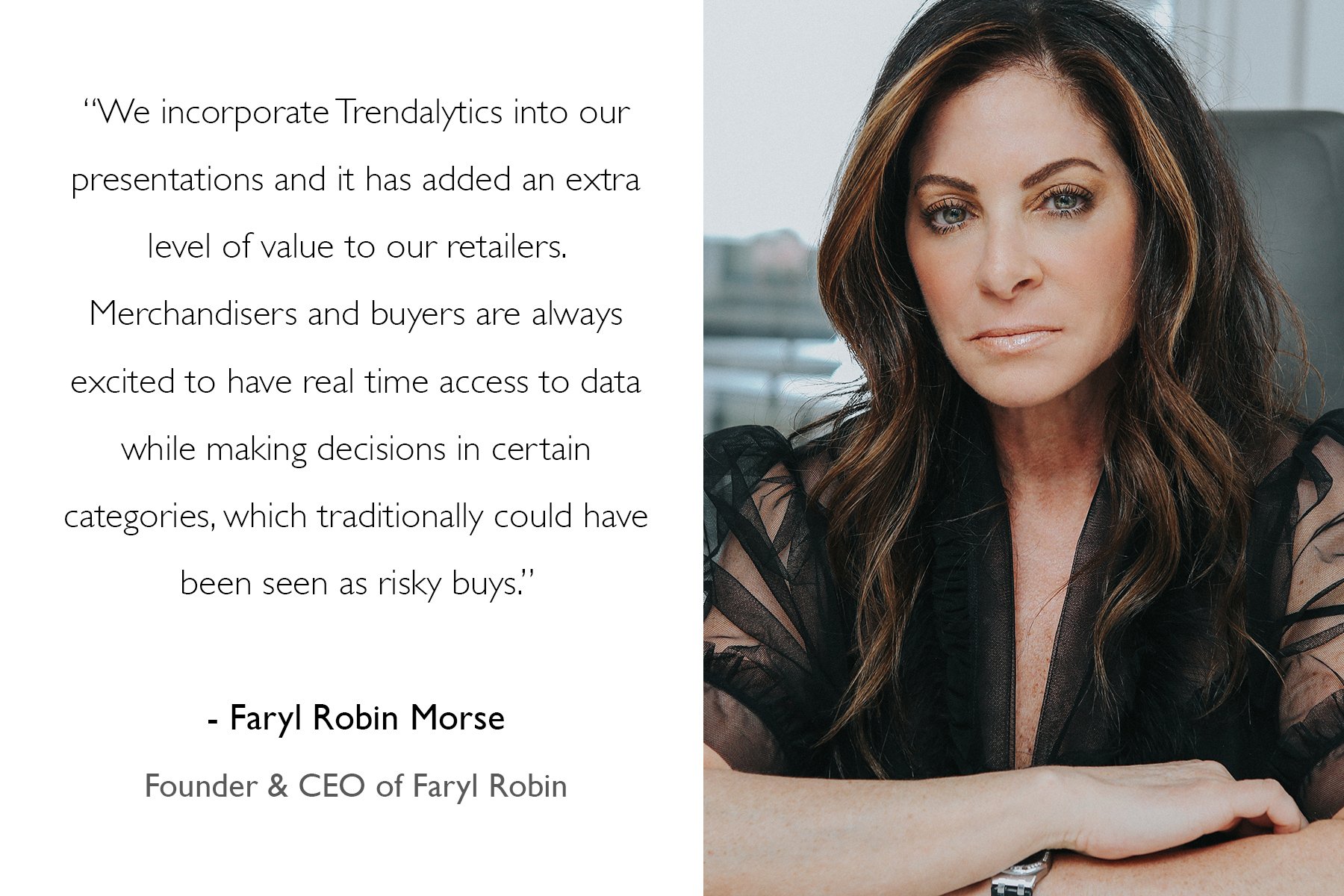 4. What does the Faryl Robin trend discovery or validation process look like after incorporating Trendalytics into your workflow?
We incorporate Trendalytics into our presentations and it has added an extra level of value to our retailers. Merchandisers and buyers are always excited to have real time access to data while making decisions in certain categories, which traditionally could have been seen as risky buys. It opens up more white space opportunities by validating our point of view.
5. What makes Trendalytics a valuable investment for Faryl Robin?
Trendalytics adds a real time understanding of trends based on social media, which we haven't had before. The REAL time vs. NPD, which tends to look back, and WGSN, which tends to be future. Trendalytics gives us the opportunity and ability to mirror data with gorgeous imagery as we present and grow in this new digital world.
6. What has the partnership with Trendalytics brought to Faryl Robin?
Our partnership with Trendalytics has brought an increased level of credibility across all platforms as it relates to market knowledge. It gives us the ability to offer insight to merchandisers that don't have access to this type of information and to make decisions independently going into a season and back them up with very clear, specific data points.
7. The pandemic has made the market more volatile and competitive. How has Trendalytics helped navigate the industry during such a disruptive time?
Real time data is incredibly important during times of chaos because there is an inability to look to the future and history because the world is new. It is an unprecedented moment in time, so knowing what questions to ask, knowing consumer behavior, knowing what they are looking at, and what is becoming more important is not something you can look at because it has never happened before…
In times of chaos, the only thing you can rely on is real time data. There is no predictability in the future because everything is changing, and there has never been a time in history to compare it to.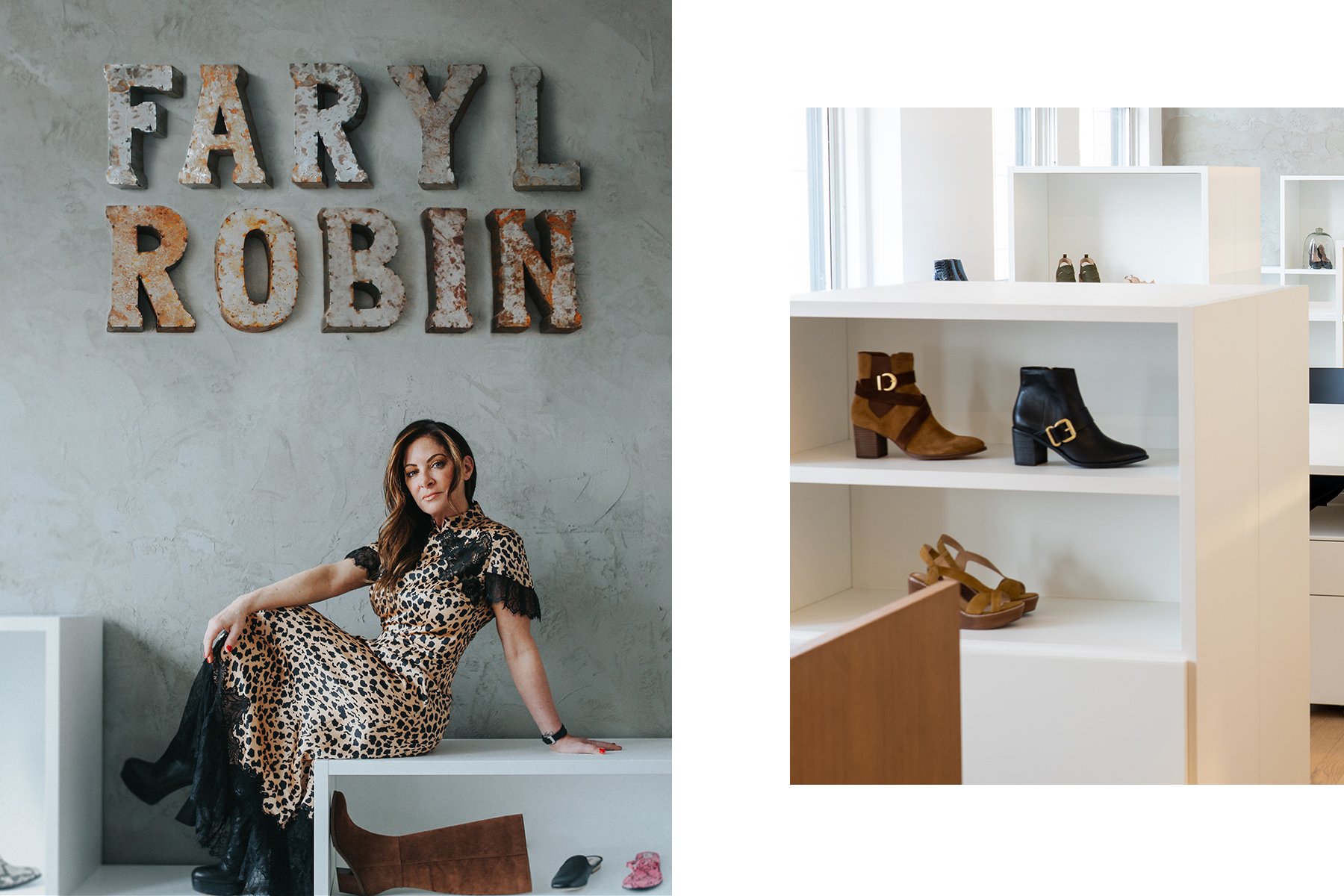 8. What would be your advice for brands looking to integrate more data and analytics into their process?
I have always been a firm believer in analytics and data, but I am also a strong believer in intuition and trusting your internal data. For brands flirting with the idea of introducing more data and analytics, we highly recommend ripping off the band-aid and moving forward.
We have found incredible value in ways we could never have expected with the Trendalytics platform.
9. What do you think the next big footwear trend will be?
We believe the next big footwear trend will lean heavily on individual consumer segments and their behavior. Understanding your consumer is more important than ever. No longer will retailers rely on buying the same style across four brands and expecting sell-through because they are in the same category and price point… Consumers want to know the story behind the brands before making their end decision.
10. What are your goals for Faryl Robin as a brand? Anything exciting on the horizon?
To continue to work tirelessly towards our vision and playing the long game.
---
If you're interested in becoming a member and want to learn more about trends that are growing — and dying, please contact hello@trendalytics.co.