Op-Ed | What Seasonless Fashion Means For The Future Of Creativity
When Alessandro Michele announced in May that Gucci would go seasonless, not only doing away with the traditional fashion calendar but also eliminating the distinction between menswear and womenswear, he sparked an industry-wide conversation. He also gave us permission to question outdated practices that, until now, have remained in place for no other reason than a lack of incentive to change them. A pivot from the traditional calendar seemed to be a welcome change and Michele wasn't the first to suggest it. Just weeks before Michele's announcement came an open letter from Dries Van Noten, and other designers and executives, to the rest of the fashion industry expressing concerns about its excessive pace, output, and waste, and encouraging a fundamental shift to the calendar. "Working together, we hope these steps will allow our industry to become more responsible for our impact on our customers, on the planet and on the fashion community, and bring back the magic and creativity that has made fashion such an important part of our world," the letter read, in closing.
However, the hope that slowing down would lead to a spike in creativity all but disappeared this season as many designers began catering to a more financially conservative consumer. With few exceptions, the SS21 runway was a destination governed by the profit-driven CEO and the risk-averse shopper. Seasonless quickly became synonymous with salable as the same oversized suiting, simple silhouettes, and minimal basics of seasons past reappeared on the runway in almost indistinguishable variations of one another. Even haute couture collections saw the effects of demand-driven design. Normally marked by elaborate gowns and custom-made occasion wear, Dolce & Gabbana's Alta Moda collection pivoted to meet the cultural moment. The couture turned capsule collection was riddled with easier-to-wear items like kimonos and kaftans, demonstrating a shift toward leisurewear mirrored by many other high profile players in the industry. Rodarte and Brandon Maxwell both introduced graphic sweatshirts into their typically formalwear-heavy collections, while brands like Victoria Beckham announced they would be simplifying their assortments to better align with consumer demand — Beckham plans to cut SKUs by 30 to 40 percent in the coming year.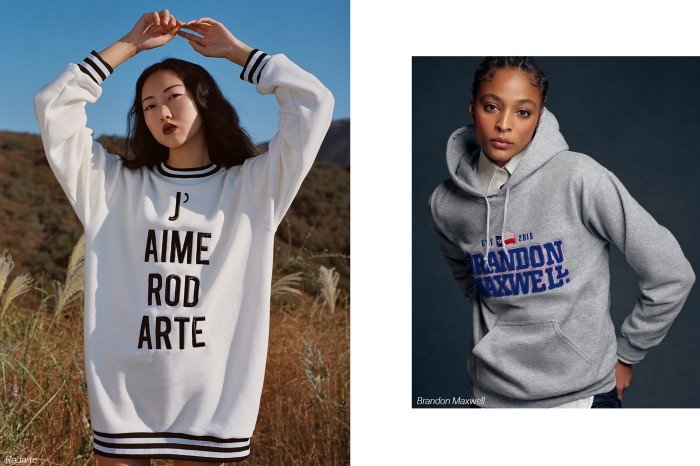 Though fewer collections and more time to create them hints at an environment in which creativity should thrive, the designers creating these collections are no less tethered to the all-important question: will this sell? If anything, they are more concerned with salability than ever before as they attempt to navigate through a crisis that has left very few brands unscathed. The excess inventory problem addressed in the letter has only worsened throughout the duration of the pandemic as brands and retailers have struggled to adapt to a drastic shift in consumer demand and implement damage control. With more consumers adopting a "less is more" purchasing attitude, the issue of overstock is set to worsen. According to a McKinsey survey conducted during the Covid-19 crisis, 65 percent of consumers said they plan to purchase more long-lasting, high-quality items, and overall, consumers considered "newness" one of the least important factors in making purchases.
Given fashion's notoriously large environmental footprint, this isn't necessarily a bad thing. In her latest book Fashionopolis, Dana Thomas highlights the fact that 73 percent of the world's clothing eventually ends up in landfills. In the last 20 years, Americans have doubled the amount of clothes they throw away, from seven million to 14 million tons. With statistics like these in mind, taking a more demand-focused approach to design is not only a smart business decision, but is essential to the survival of our planet. It's also worth noting that there's a reason consumers are gravitating toward the same time-tested styles season after season. Trends are driven by cultural moments, and this particular moment calls for comfort, utility, and longevity. This year has made it clear that the industry's seasonless future will be one in which capsule wardrobes, purposeful minimalism, and the concept of "trendlessness" thrive. But, when newness takes a backseat to net sales, what happens to an industry founded on creativity?
The definition of creativity as it pertains to the fashion industry is evolving. As the creative side of the industry reconciles with the reality of doing good business, brands must shift their focus from the novelty of tangible goods to the intangible signifiers that surround them. In a recent op-ed for The Business of Fashion, Aaron Chamberland makes an argument for the dematerialization of fashion, suggesting that we decouple our fundamental desires from material objects and brands go from selling tangible stuff like clothes, bags, and shoes to selling more intangible stuff like media, experiences, and community. "These objects have little value beyond the meaning we give them," he states. It is in this creation of meaning that the future of creativity lies. The next wave of creative innovation will not come from an entirely new silhouette or a groundbreaking new key item, but rather from the means of creation itself — creating meaning, creating emotional connection, creating community, and creating experiences.
How can brands create meaning? How can they establish an emotional connection with their consumer or build a community that fosters loyalty? How can they create an unforgettable experience that generates excitement and leaves the audience coming back for more? These are the questions that require creative solutions and will continue to push the industry forward.
This year, it was the designers that were unafraid to try something new — think mini documentaries, immersive AR experiences, and interactive computer games — that made the biggest impression, not the ones that clung to the outdated format of a traditional runway show. Just look at Alessandro Michele's GucciFest, an online fashion and film festival that was arguably less about the clothes than it was about the story behind them. "Creativity is circular, you can't stop it. While there is storytelling in the films there is no beginning and no ending," said Michele about "Ouverture Of Something That Never Ended," the 7-part film series presented during the festival. He's right. You can't stop creativity. You can just watch it evolve.
The "magic" and "creativity" that Dries Van Noten and company were referring to in their open letter to the industry may be less about the clothing itself and more about re-establishing fashion's unique ability to create meaning in a world that feels so devoid of it. Covid-19 has changed everything. It has stripped us of so much, both personally and professionally. As an industry, it has made us question our priorities and has completely transformed the way we do business. Fashion will undoubtedly continue to struggle to find its place in this new landscape, but when it does, it will have the opportunity to emerge with more meaning and creative potential than ever before.
---
If you're interested in becoming a member and want to learn more about trends that are growing — and dying, please contact hello@trendalytics.co.